The Urban Fashion Fora welcomes the revival of Sindhi culture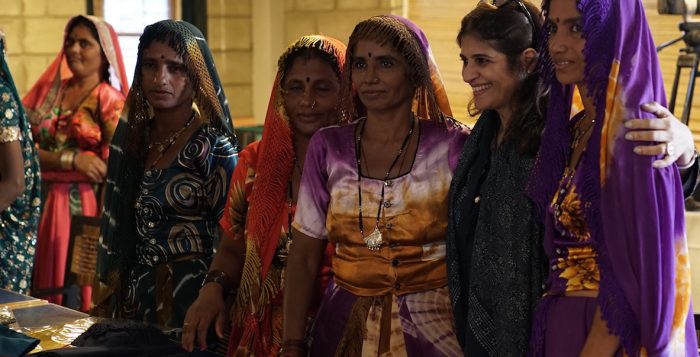 People often do not mind paying more for handcrafted products as each product is unique and a piece of art skillfully manufactured by individuals. Every product has an individuality and a story behind its making. However, these stories are often unheard and untold as there is a huge gap between the producers of these handicrafts and the consumers who truly appreciate and value these products. To bridge this existing gap, it is vital to build rural and urban linkages so that both communities could benefit from the heritage that still lives in the midst of a culturally rich province that is Sindh.
To achieve this, seven meetings were conducted with various well known Pakistani fashion designers to link them with 670 rural artisans belonging to districts Umerkot & Thatta of Sindh. The Textile Institute of Pakistan (TIP) and the Indus Valley School of Art & Architecture (IVS) facilitated these meetings from the designers' end. The designers included Rizwan Baig, Saadique from Taali, Sana Khan Niazi from Paimona, Warda Saleem, Shahroz from Vibgyor Fashions, Masood from Afroze Collections and Samiya from SWANK- all prominent names in the national fashion industry.
These meetings were conducted at TIP city office, IVS campus and Country Inn hotel in Karachi city. The designers appreciated the high skill levels of these experienced artisans and were truly impressed with the quality of work they displayed. Rizwan Baig, Wardha Saleem, and Shahroz gave an open invitation to the artisans to visit their workshops to explore bulk production and learn new ways of finishing products.
Other designers, Saadiqua, Masood, and Samiya expressed their interest in purchasing some of the finished products from the artisans' brand Taanka and planned to market it within their existing customer networks. The designers joined Taanka's facebook page and hoped to visit the KIOSKs set up in the urban malls for the launch of their product volumes in 2017. On the other hand, Rizwan Baig, Wardha Saleem, Sana Khan and Shahroz showed their enthusiasm towards working with the artisans by giving them their own design samples for prototype production.Rizwan Baig also offered two day workshops in both Umerkot and Thatta before the artisans could start working on their designs. Similarly, Wardha Saleem & Shahroz committed to providing raw materials such as fabric and anchor for the production of their handcrafted samples.
The framework and format of the project was much commended by the visiting designers as it ensured the most important factors of product production such as quality assurance, timely provision of products and effective use of raw material. This is all ensured through the Quality Assurance Supervisors and Sales & Marketing Agents assigned at village levels whose capacity is constantly built throughout the project. The designers also acknowledged the confidence and improved communication skills of the rural artisans who could now converse confidently in Urdu with them.
All these meetings are clubbed in the buyer index developed under project and more meetings will be set up by relevant project staff as a follow-up of agreed plans with them. The artisans are expected to deliver as per the demand of the designers and will successfully build and sustain effective and smooth working relationships with these key players of the national fashion market.