The Floods Took Everything, But Not Their Spirit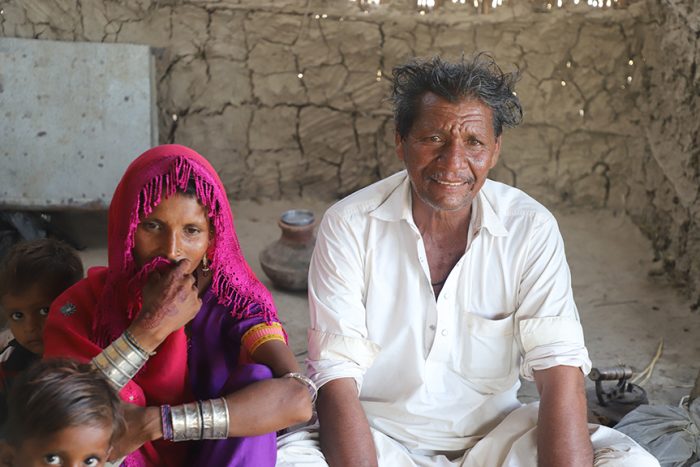 A survivor story
The floods in 2022 left millions of people in Pakistan displaced. Under the ACT Appeal, Community World Service Asia reached out to more than 7000 flood affected people (1099 households) by providing cash assistance to purchase food and essential household supplies. A total of PKR 60,000 (Approx. USD 203.3) was distributed in three separate tranches; in May, June, and July, with affected families receiving PKR 20,000 (Approx. USD 67.3) per month. This monetary support help meet their immediate food needs while also enabling them to save for other essentials, such as medical expenses, clothing, and more.
Hamzu Veerji, a 43-year-old mother of three children from Mir Deen Talpur village in Mirpurkhas district, was one among those supported through life-saving initiatives under this appeal. Hamzu and her husband, Veerji, have been married for fourteen years and have been pillars of unwavering support to each other. They worked together on agricultural fields of a local landlord as a means of livelihood before the flood struck their village. They cultivated and harvested red chillies on one acre of land and received a merger wage between PKR 150 to 200 (Approx. USD 0.51 to 0.68) per day.
Like many others from Mir Deen Talpur, Hamzu and her family was forced to abandon their home and belongings in haste, taking only basic food items (that would barely last them a couple of meals) and their two livestock—a bull and a goat, along with them. With not much money at hand nor a source of running income, the family had to sell their prized bull for a mere PKR 15,000 (Approx. USD 52). "Our bull was very precious to us and had been one of our key source of sustenance for years. We had no choice but to sell it. And that too at a very low price." Hamzu and Veerji had purchased the bull in 2015 from a fellow villager for PKR 4000 (Approx. USD 14) as an investment to increase their livelihoods, as income from agricultural work was insufficient to provide for their children.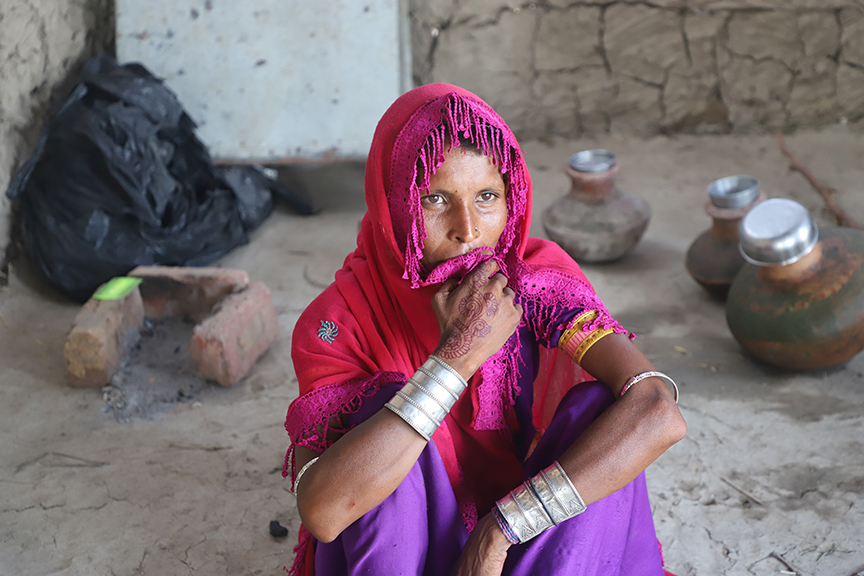 Without their cow and their daily wage, the family lived in a temporary shelter without proper protection on an elevated open ground for two months while waiting for the floodwater in their village to recede. Their village had accumulated up to five feet of water. When Hamzu and family returned to their village, it took them another two months to rebuild their mud-house; that meant more time under the open sky without a structured shelter or a roof to keep them safe. The family of five all lived and slept on just one charpai (a traditional woven bed used across South Asia). The charpai was among the few items they owned that had not washed away in the floods.
Hamzu and Veerji could not bear to see their children suffer these post-flood hardships anymore. But they felt helpless. Building their house again required a lot of time, strength and resources. All they were short on. "Initially, it began with the rain, followed by the challenge of enduring without food and shelter. Later, the heart-wrenching sight of our house reduced to a mere fragment clinging to life greeted us upon our return. Our children were profoundly affected, having already endured a great deal. My husband, Veerji, and I had to act swiftly to reconstruct our home, but the process of mixing water and mud was time-consuming, and allowing the structure to dry also required patience. Nonetheless, we made every effort to expedite the process," shared Hamzu.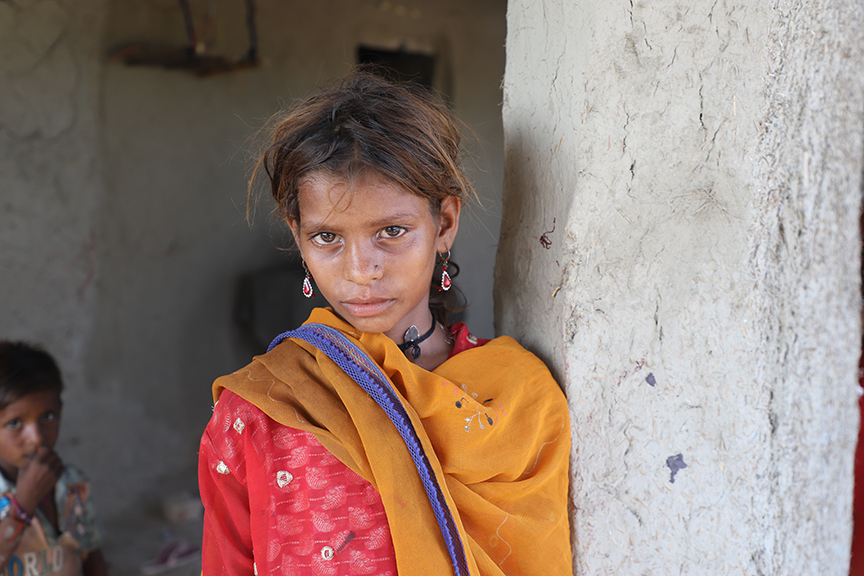 Access to clean water has always been a scarcity in Mirpurkhas. And the floods further exacerbated this issue. This meant increasing health problems among affected communities in villages like Mir Deen. The nearest well to fetch water from is at a six kilometres walk from Hamzu's village and unfortunately this water is not even clean. This was a major challenge and concern for Hamzu and Veerji who really just wanted to ensure the good health and safety of their children. Luckily, with financial support from Community World Service Asia (CWSA) they were able to purchase clean drinking water and some groceries to stock up.
From the first instalment of PKR20,000 received, they spent ninety percent of it (Approx. USD 62) on groceries and drinking water and saved the remainder for future needs. "We used the money to buy sugar, tea leaves, rice, vegetables, and a few gallons of water, as the water we collected from the field was undrinkable. We could only use that to prepare the mud for our house."
Hamzu prioritised purchasing abundant food for her family to protect her children from the risk of malnutrition, a serious concern in rural Sindh, especially among children in their formative years. Her youngest child, Meher, who is just 4 years old, had lost a lot of weight due to the lack of proper nutrition after the floods. Hamzu was now relieved that her children could consume nutritious meals and regain their ailing health.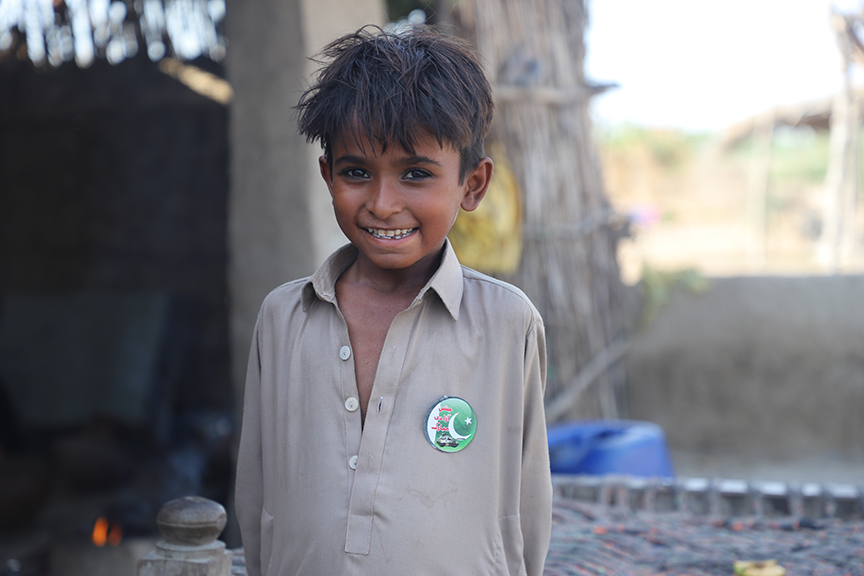 The couple utilised the second instalment then for purchasing another goat (PKR 5000), to buy clean clothes (PKR 5000) for their children and the remaining on restocking food items. Hamzu explained their approach to managing the aid, stating, "With each instalment, we bought groceries and saved between PKR 2000 to 3000 for future needs, as we knew this assistance was not permanent. I discussed with Veerji the importance of saving money so that we can buy another bull, as it is the only way we can foresee now to improve our economic situation."
Following the floods, Hamzu and Veerji found themselves without work and income but now they own two goats that provide milk, which they sell to fellow villagers. They have saved a total of PKR9000 (Approx. USD 30.5) up until now from the cash support provided to them. Hopefully in a few more months this hard-working couple will be able to buy a bull which will enable them to expand their income by selling its milk in the market.
Despite the hardships, Hamzu and Veerji value maintaining stability in their life for their children. With the support provided under the ACT appeal, they were able to rebuild their life step by step, with dignity and respect. Through careful budgeting and prioritising their family's well-being, Hamzu and Veerji not only overcame their flood-imposed suffering but also created opportunities for a brighter future for their family.