Taanka Learning Paper 2020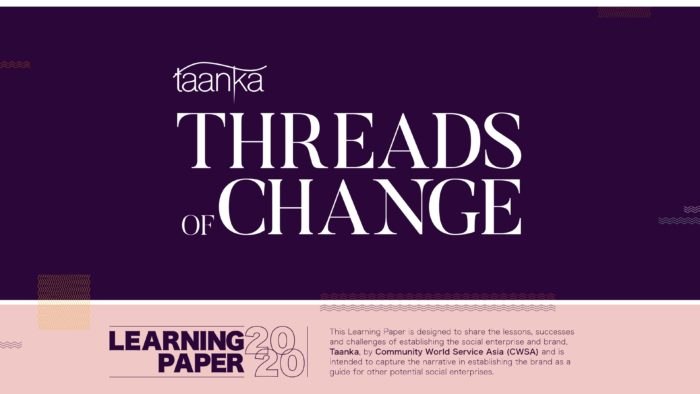 This Learning Paper is designed to share the lessons, successes and challenges of establishing the social enterprise and brand, Taanka, by Community World Service Asia (CWSA) and is intended to capture the narrative in establishing the brand as a guide for other potential social enterprises.
From 2015 to 2018, YCare International and Community World Service Asia worked in partnership to improve financial resilience and promote gender equity of disadvantaged young women in Umerkot, Pakistan. The project addressed extreme poverty, food insecurity and gender inequality faced by young women, their households and communities, and contributed to young women having safer, happier lives, with reduced poverty.
Taanka emerged as a by-product of this project and was launched1 in 2016 as a social enterprise to meet several needs; to promote the finest handcrafted amalgamation of contemporary designs with traditional stitches, produced by rural women artisans from interior Sindh, Pakistan and facilitate collaboration between the women artisans and urban designers, design students, commercial textile companies and fashion brands, to reflect consumers' demands in ethnic designs.