Home
Featured
Newsroom
Supporting Multi-Hazard affected families through Remote Management and Emergency Response in Umerkot
Supporting Multi-Hazard affected families through Remote Management and Emergency Response in Umerkot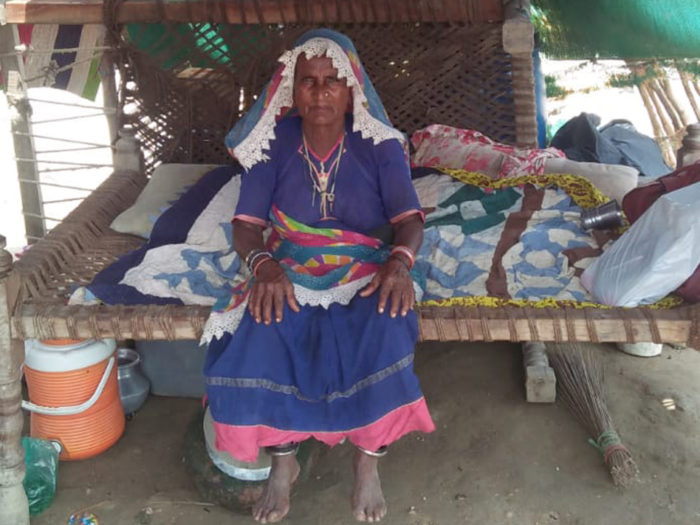 Ratni is a 70-year-old widow who lives with her son and his family in Senate John Colony, located in Pithoro of Umerkot district in Sindh, Pakistan. They all live together in a cob house made of mud and straw.
"My son, Khemchand, is a teacher at a local private school. He used to earn a reasonable monthly income of PKR 8000 before COVID-19 forced all schools in the region to shut down. The school administration discontinued paying its teachers as the school was not equipped to carry out online classes and there were no incoming student fees that could cover teachers' salaries. However, the recent monsoons brought some relief to us agrarian communities. The rains have revived the agricultural activities and have given us opportunities to work on the fields. My son and daughter-in-law started working on the fields and were able to bring home some income through that. It was not much but was better than nothing. Sometimes, I would also assist them on the field to earn a bit more to make ends meets."
The harvest season lasts three months in rain-fed areas of Umerkot and until the next monsoon season arrives, there will be less or no opportunities to work on the fields. Therefore, Ratni, Khemchand and his wife had no work to do once the three-month period ended in August.
"We had no livelihood by then and were forced to sell some of our household possessions to buy essential food supplies for the house and particularly for my four young grand-children. We also had to take some loan from our neighbours when there was nothing left to sell."
Community World Service Asia (CWSA), with support of United Methodist Committee on Relief (UMCOR), is implementing a Humanitarian Assistance project responding to the immediate needs of drought affected Communities in Umerkot. As part of the project, 1, 206 families will be provided with two cash grants, each of PKR 12,000 in September through mobile cash transfer services to address food insecurity caused by drought, repeated locust-attacks and the economic implications of COVID-19.
Senate John Colony's Village Committeeⁱ provided a list of families living in the area who were most affected by the COVID-19 pandemic and other natural disasters to be supported through the project. As a result, CWSA's emergency response team contacted Ratni as a project participant and she received the first cash assistance of PKR 12000 (Approx. USD 72).
"Through the money I received, I paid back the loans I had taken from neigbhours to survive in the last months and bought some food essentials for home. I have also saved some money to buy school books for my grandchildren for when the schools resume."
---
ⁱ Village Committees are voluntary associations established for local administration. They are extra constitutional authorities comprised of 7-8 members including male and female from different caste in the village.