Support to PWDs prioritized in hazard-prone Shangla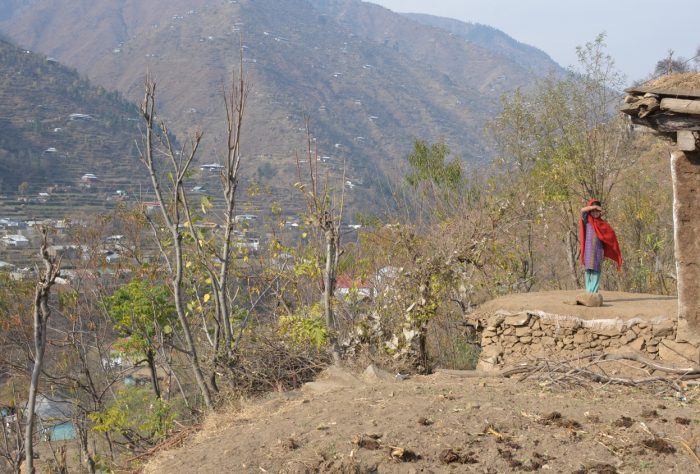 I worked in the coal mines in Hangu district for twenty years. When I was a child my family was unable to pay for my education so I had to start work as a coal miner at the age of 15. This was the practice for all young boys of my age in our village. We had to do it to support our family, 
expressed Mian Syed Zaman, a 55-year-old father of seven children from Serei Kana village of Shangla district in Khyber Pakhtunkhwa (KP) province of Pakistan.
Although Syed Zaman's income was not much, he lived a content life with his wife and children. In 1998, that changed. Zaman started feeling sharp aches in his lower back. The pains kept worsening until one day Zaman felt nothing in his lower body. He was paralyzed from waist down. He tried everything to cure himself, whatever he could afford, wherever he had to travel for it. But it was all in vain. Zaman had become bed-ridden for life. Following his father's early footsteps, Zaman's eldest son, Zia-ur-Rehman,  had to leave school, graduating from Grade 8th, to start work to support his six siblings and mother. He had no choice but to do so.
Married and with two children of his own today, Zia-ur-Rehman is the sole bread earner for a large family of twelve members now.  He works in the same coal mine his father used to work at  as a daily wager. He earns PKR 25,000 (Approx. 215 USD) a month. With this income, it is difficult to make ends meet and provide sufficiently all family members. Neighbours and relatives of Zaman and his wife often gift money and used clothes to the struggling family. Zaman's family also receives Zakatⁱ, in the form of money, once each year from the Government Zakat Department under the quota for disabled people. The family owns a cow, three goats, some poultry and a small piece of land adjacent to their home. Zaman uses the land to grow animal fodder, some vegetables and maize which helps the family sustain their meals for about five months.
Zaman's house is a scantily constructed mud house where they all live together.
In all these years I could not afford to construct a latrine in my house. My family would use the nearby fields or jungle to attend nature's call. Being paralyzed, it was not easy for me to do so. I felt embarrassed. I commuted on a small cart. The cart had a hole in the middle with a plastic bucket attached at the bottom. The bucket was half filled with ash and sand. I defecated in it and my wife would clean it. To avoid this trouble, I ate far less then actually required,
shared Syed Zaman unhappily.
During a survey conducted by Community World service Asia (CWSA)  in early 2016 to identify and select most vulnerable earthquake affected families, Zaman and his family were selected as participants to receive support in rebuilding their house and in construction of latrines. Zaman was selected on the basis of being a Person with Disability (PWD) and because his house had been severely damaged in the 2015 earthquake that epicentered in the Hindukush mountain range.
Zaman received Corrugated Galvanized Iron (CGI) sheets which were sourced by the Earthquake Reconstruction and Rehabilitation Authority (ERRA). They were also provided with raw materials to reconstruct their house by CWSA.  Zaman's house was completely reconstructed in 2016. CGI sheets were used to construct the roof to ensure the family's safety during future hazards in mountainous and risk prone areas like Shangla. Most importantly, in early 2017, a complete latrine with two commodes was constructed and included in Zaman's new house by his son himself.
Our family is living comfortably now. They do not need to go to the jungle for open defecation anymore. There are no flies and smell of excretion around our home anymore and the surrounding environment looks and feels much cleaner and fresher now. I have installed four small wheels in my cart to easily reach the latrine with the help of a stick. It would be great if I can be provided clutches and wheelchair.
In addition to latrine and shelter construction, Zaman's family was provided with hygiene kits, which included two plastic cans with lids, one water pot (lota), soaps and sanitation cloths. The cans helped the family to carry and store drinking water in safely, minimizing the risks of water contamination.
 Health and hygiene sessions were delivered by the project team. We are more aware of hand washing techniques and importance of using latrines now. This protects my family to from diseases and illnesses, 
 stated Zaman.
ⁱZakat is a religious obligation for all Muslims who meet the necessary criteria of wealth. It is a mandatory charitable contribution, the right of the poor to find relief from the rich and is considered to be a tax, or obligatory alms.
Integrated Emergency Shelter and WASH support to EQ affected families project is implemented by Community World Service Asia in district Shangla, Pakistan with the support of European Civil Protection and Humanitarian Aid Operations (ECHO) and Norwegian Church Aid (NCA).