Strengthening School Management Committees in Umerkot, Sindh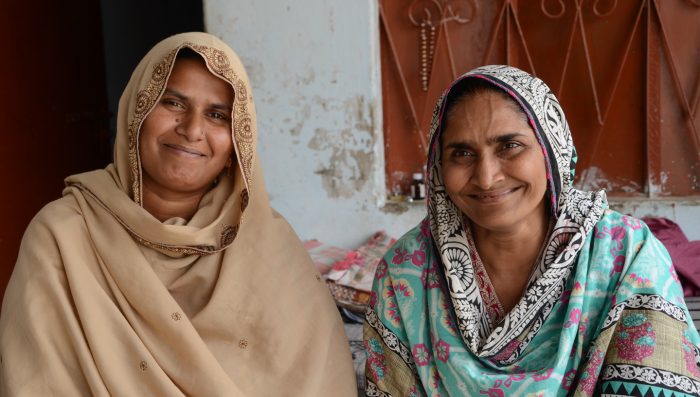 As parents, we have never stopped our girls from gaining education. They are intelligent and have been very confident in pursuing education and we support them in every step of the way,
expressed Shahida, a thirty-two-year-old mother of six children living in Umerkot district of Sindh province. Shahida has been the chairman of the School ManagementCommittee (SMC) since 2017. Bushra and Dua, two of Shahida's daughters, study at the Government Girls Primary School of Abdul Wahid Colony, Umerkot.
The SMC was established in 2016 but was not actively working. Each year when the funds were released by the government, the SMC members, a handful of teachers, the headmaster and the General Secretary of the SMC, would hold a meeting and decide where to spend the money. No parent or student was involved in the meeting. Following the teachers trainings last year and beginning of this year, the trained teachers came to me and emphasized on strengthening the role of SMC for the further development of the school,
narrated Sami, Head Master at the GGPS Abdul Wahid Colony.
The SMC, comprising of a General Secretary, a chairman, two teachers, two parents and two students, held a meeting soon after to highlight the role of each member and encouraged active participation to strengthen its role towards improving the education standards of the school.
Abdul Razzaque, consultant at Community World Service Asia, conducted a session for the SMC in February 2018, emphasizing on the key role of the SMC in strengthening relationships between the schools and local communities. As parents and children are the primary stakeholders of an education system, they need to be given opportunities to be involved in bringing about a change for themselves.
At the session we were briefed on what the prime functions of the SMC should be. Educationally, we are expected to monitor teachers' attendance, increase the enrolment of children and build awareness amongst parents on the importance of education for their children. Administratively, we are expected to actively participate in organizing co-curriculum activities, monitor provision of free textbooks and disburse the SMC fund for the improvement of the school, Shahida shared. Furthermore, Sir Razzaque emphasized on having a clean school to promote a healthy environment. Keeping the facility clean will prevent spreading of germs, resulting in healthier students. Healthy students are able to focus better at school and experience less absenteeism.
The government revived the structure of theSMC in 2015 but did not provide formal trainings for its' members to work proactively for the advancement of the schools. It was after the teachers' training that the SMC of Abdul Wahid Colony was actively involved in the school's operations and academic decisions. The learnings provided by CommunityWorld Service Asia further built on our capacities to work towards better outcomes for our students, teachers and the entire school systems. As a SMC member and a parent, I learnt the fundamental role we can play in improving teaching quality and infrastructure of the school to create a productive academic environment for the students, especially the girls, sharing her learnings, Shahida added, Most importantly, we learnt to make a budget of the annual fund received from the government. Budgeting is an important process that allows delegation of financial tasks and responsibility in schools. Developing and maintaining a budget is key to achieving secure and successful outcomes for the school.

In the near future, we are planning a SMC meeting to plan out a budget to utilize the funds sufficiently. This is a good practice for record keeping as well and will be very beneficial while planning future budgets. We can compare previous budgets and prioritize activities accordingly every year.
The space for girls' education in rural areas like Umerkot is limited. Parents here lay more importance on the education of boys, believing they will be heading households and financially supporting their families in the future. Whereas girls are predestined to take care of their homes and family for which, they think, education is not compulsory.
It is sad to see that parents think way. We encourage parents, neighbors and friends in social gatherings to send their daughters to schools. Things are improving gradually but there is still a long way to go.
One of my daughter's, Dua, primary schoolteachers, Naheed, was part of the Teachers and Master Teachers training conducted by Community World Service Asia under its' Girls Education Project supported byAct for Peace, in 2017 and 2018. The change I saw in my daughter's learning and interest was commendable. And similar improvements and increased interest of students was observed in other classes
I witnessed the enthusiasm children had when they participated in the Creative Art Competition held in May 2018. They were overwhelmed. Students in rural areas are rarely involved in such activities and this is one of the main reasons why parents do not send their children to school as they only see a child studying off a textbook with little motivation. Activities like the seen courage parents to send their children to school. Children are also motivated to come to school as these platforms provide an opportunity to stand out. I would like to request Community World Service Asia to conduct more child centered activities and competitions with different school participating, leading to provincial based competitions. The art competition exhibited that the students in Umerkot have great potential. They only need a platform to exhibit their talent. Moreover, there can be joint ventures where parents can be involved in the management of competitions as this will allow student and parent participation which will be a completely unique and motivating experience for all.