Adorning Bhaga's rural life with warm colors of happiness and contentment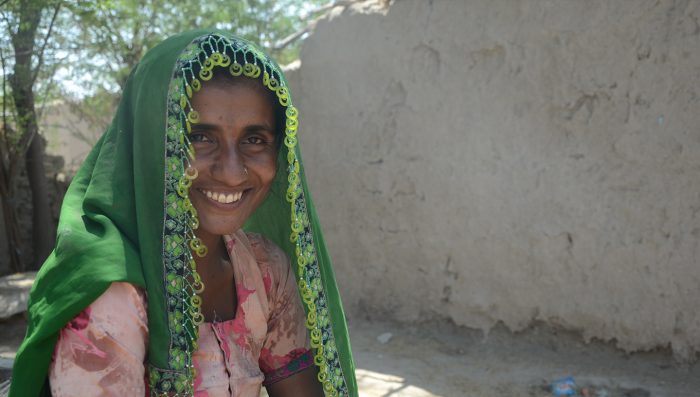 My husband, Utham, takes care of the village chief's livestock. He earns a monthly income of PKR 5000 (approx. USD 42) through it. This income amount served to be insufficient for a household of seven members. All of the PKR 5000 was mostly consumed in purchasing grocery items to run the family kitchen and there was barely anything left to spend on other household expenses,
voiced Bhaga gloomily. Bhaga is a thiry-five-year-old mother of four children and lives with her husband and mother-in-law in Kharoro Charan village located in district Umerkot, Sindh.
Bhaga's family was among the few assigned to Kenwal, a trained gender activist in Kharoro Charan, to work with on raising awareness on gender rights and equality. Kenwal visited Utham and Bhaga's family to encourage Bhaga to join the vocational center to enhance her handicraft skills and develop literacy and marketing skills.
Utham and my mother-in-law supported and motivated me to take the skills assessment in order to join the center. Upon passing the assessment, I joined the center in June 2016.
The three months Adult Literacy Training which was part of the vocational centre classes helped me build upon my basic learning skills. Growing up as part of a financially poor family, I did not get the chance to attend school when I was young. This training gave me the opportunity to learn how to read and write. It also helped build my confidence. I was quite dependent on my husband before. I did not go anywhere without him accompanying me. After taking the trainings, I have now started to commute to nearby markets and to the health center on my own whenever the need arises. I do not wait for Utham to return from work and escort me," shared a confident Bhaga, "The Skills Development Training on the other hand brought new colors to my life altogether. I did not know what color combinations to make in embroidery making and how to use them while designing apparel. I realized that the use of vibrant and mellow color combinations could increase the value of our handcrafts. I have worked on many orders from local and urban markets since I graduated from the centre. I have produced various apparels and home accessories.
Bhaga did not own a sewing machine. She saved money from what she earned through handicraft sales and order delivery at the center and bought herself a sewing machine. She works on orders received for her products at her home now as well.
I work as a tailor in the village now. I earn a good amount of around PKR 6000-7000 a month. I also teach stitching and embroidery to three young girls who come to learn from me at my house. Amarta, Devi and Savita are their names and they between the ages of 12 and 14 years. I am happy to teach them without charging them any fee. I believe it is best to share my learning so that others can benefit from it just like I did.
Utham used to be an ardent alcoholic. Bhaga said there were times when Utham spent a heavy portion of his income on purchasing alcohol.
He would come home drunk very late in the nights. I felt disappointed as I was not able to stop him from drinking so much
added Bhaga. Kewal took a lead to work with Bhaga's family. As a trained gender activist, Kewal was given five households with whom to start work with. He held meetings with the family, highlighting many disadvantages of alcoholism and being one of the root causes of many gender based discriminatory practices and mindsets in their community.
Utham used to beat Bhaga when he was drunk. His behavior was affecting entire family very gravely and it had to stop. I met with the family a couple of times and continuously persuaded Utham to reduce his drinking. I made him realize that this could become the future of his children if he continued to drink this abusively,
expressed Kewal. As a result, Utham reduced his consumption of alcohol. He has also stopped physically abusing Bhaga.
I am more relaxed and the environment of my home has improved due to this initiative. I am glad to see how responsible Utham has become. He takes care of his children more. He respects me now.