Sphere Focal Points in Asia discuss new learnings and collaborative opportunities to implement the new Sphere strategy and promote standards in changing humanitarian contexts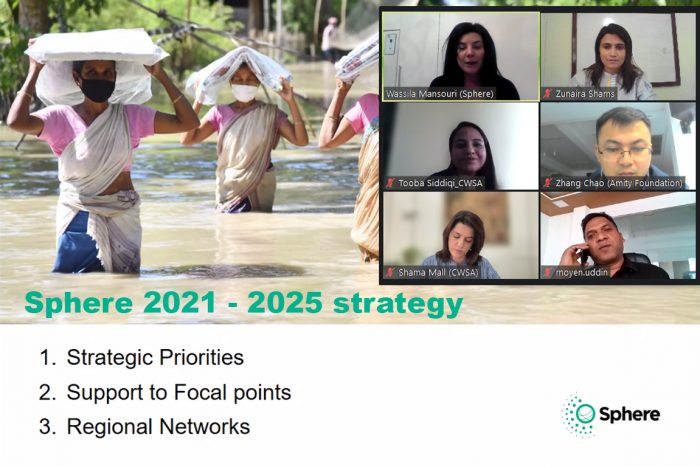 A second virtual Sphere Asia Country Focal Points[1] meeting took place to encourage open dialogue and share new learnings around the application of Sphere and other related Quality & accountability standards among focal points in the region. Hosted in the last week of November by Community World Service Asia (CWSA), which is also Sphere's regional partner in Asia, the meeting was attended by focal points from China, Japan, Korea, Malaysia, Bangladesh, and Nepal. Wassila Mansouri, Sphere Network and Membership Coordinator, also participated in the meeting to share the new Sphere Strategy 2021-2025, offer advisory support and address any related queries by focal points.
Shama Mall, CWSA's Deputy Regional Director, emphasised on the importance of these quarterly meetings to establish open communication, exchange best practices and discuss regional challenges. Participants were encouraged to explore creative ways of continuing to promote quality and accountability standards in their respective countries in the face of contextual challenges and changing dynamics.
"Sphere Standards are being embraced by an increasing international community of trainers and practitioners. Furthermore, we at Sphere have a variety of thematic guides, training packages, learning tools, and online resources that are accessible to all partners and relevant stakeholders to use in their respective locations," shared Wassila as she discussed Sphere's key accomplishments over the years. She went on to define the key priorities of the new Sphere Strategy and shared the new governance arrangements.Wassila highlighted the particular attention that is given to increased awareness, uptake, accessibility and localisation in the new strategy through the use of engaging digital platforms, activities and the provision of handbook translations and physical and online trainings.
Sphere's fundraising initiative was also introduced to focal points in the meeting. This offers funding to focal points interested in working on initiatives that promote localisation and aims to help increase Sphere Standards ownership and application among members.
Participants recommended developing digital handbook platforms for increased interaction between Sphere, partner organisations, and community members to enhance collaborations and best practises across humanitarian standards. The strategic priorities including encouragement of accountability and learning through a better understanding and articulation of evidence of impact. The focal points were encouraged to share impact based visibility material, such as case studies and videos, map annual review against the strategic priorities and increase external engagement and advocacy with international partners and organisations.
Shama applauded Sphere's initiative to focus more on supporting focal points, regardless of the fact that resource mobilisation has remained a challenge. She stressed on the need for focal points to identify creative ways of capturing and sharing lessons learned and best practises. It is important for Sphere to promote Sphere more and more with local organisations as well part of their localisation strategy. The focal points can play a vital role in supporting this since we have access to national organisations in our respective countries and regions.
"Since the Sphere Handbook 2018 was translated into Nepali, the network has distributed over 1500 handbooks to 753 Local Levels in Nepal with the support of the International Organization for Migration (IOM). We have also scheduled trainings with local government officials on disaster risk reduction and management, which will include a focus on the Sphere Standards," shared Raja Thapa of DPNet Nepal.
"Sphere Community Bangladesh (SCB) went through a rigorous assessment process of humanitarian projects. In the previous year, we reviewed a range of emergency response projects after the occurrence of cyclone Amphan, for different organisations. After this experience, we felt the need of developing a tool or a framework to assess quality and accountability standards during the evaluation of such projects. These virtual meetups will help in brainstorming ideas to develop these tools."
In conclusion of the engaging session, CWSA shared some key discussion points for the next meeting, which included developing a paper of best practices, and discussing learnings around working with government counterparts.
---
[1] Sphere Country Focal Points are experienced humanitarian and development organisations, networks, working groups and even some committed individuals working together to promote the Sphere Standards at country-level.