Round-table discussion: importance of inclusion in Protection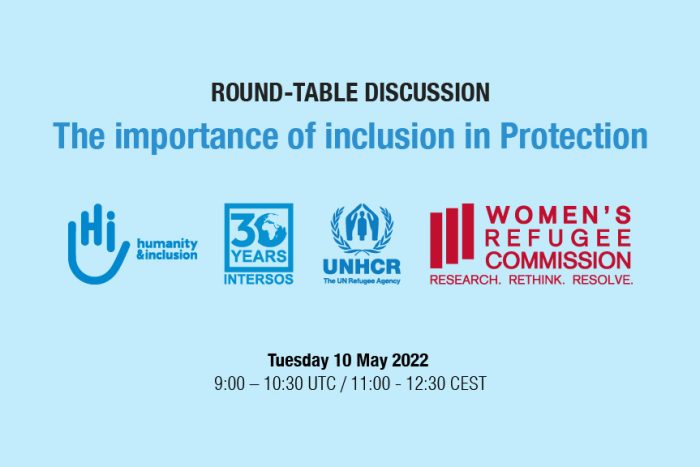 Tuesday 10 May 2022
9:00 – 10:30 UTC / 11:00 – 12:30 CEST
Humanitarian Networks and Partnerships Week (HNPW)
The diverse needs of individuals and communities must be fully understood, recognised and addressed in order for the humanitarian community to provide meaningful protection and equitable access to dignified humanitarian aid to all vulnerable individuals and communities in need. Addressing the challenge of inclusion by holistically incorporating diverse individuals and communities, regardless of gender or age, people with particular protection needs, persons living with disabilities and/or people who are subject to exclusion and marginalisation in complex operational environments – is absolutely essential.
Humanity & Inclusion, INTERSOS, UNHCR and Women's Refugee Commission invite you to a round-table discussion on the importance of inclusion in protection work.
The session will explore opportunities and challenges, as well as ways of strengthening inclusion in humanitarian action, drawing from experience from humanitarian programmes around the world, including protection monitoring and other protection activities. Furthermore, the round-table discussion will launch the new INTERSOS report – Protection Monitoring Lessons Learned report, a fulfilment of INTERSOS pledge made at the Global Refugee Forum (GRF). The report can be accessed here.
Moderator
Ms. Manisha Thomas, Geneva Representative, Women's Refugee Commission
Panelists
Mr. Gregory Garras, Senior Protection Coordinator, Division of International Protection, UNHCR
Ms. Eleonora Sceusa, Global Senior Protection Advisor, INTERSOS
Ms. Ulrike Last, Global Inclusive Humanitarian Action Specialist
The meeting will be in the hybrid format:
Participation in person:
Plénière C meeting room, Centre International de Conférences (CICG), Rue de Varembé 17, 1202 Geneva
For participants planning to connect remotely, the connection details will be provided a few days before the meeting.
Kindly RSVP your participation to miro.modrusan@intersos.org by 8 May 2022, indicating whether attending in person or remotely.