Humanitarian Networks and Partnerships Weeks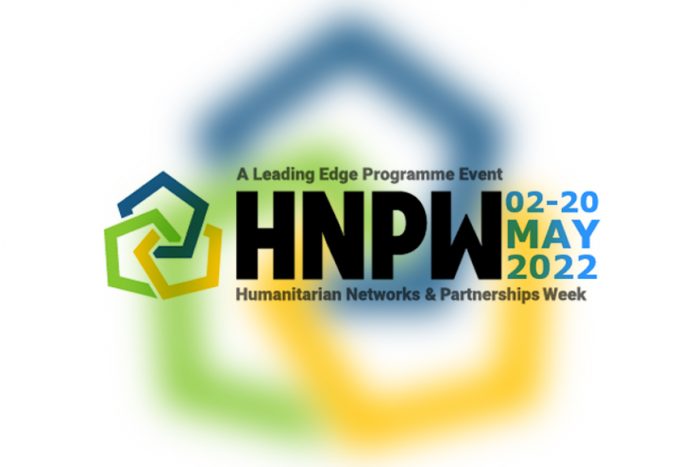 CHS Revision Launch: What should the future Commitments to people affected by crisis be?
The Core Humanitarian Standard on Quality and Accountability (CHS) was launched in December 2014 after an extensive consultation period involving hundreds of humanitarian actors from across the globe. It sets out Nine Commitments that organisations have made to people affected by crisis, and helps organisations improve the quality and effectiveness of the assistance they provide.
Since its launch the CHS has been applied by a large number of organisations, which has led to considerable learning of the strengths and weaknesses of the current version. Also, during these six years, the world has changed, and the aid sector has continued to grapple with its colonial history and inequal power dynamics. It is now time to make sure we have a core standard that continue to push the agency of people affected by crises and ensures every person is treated safely, respectfully and with dignity.
These launch sessions will gather representatives from a wide range of actors in the humanitarian sector (including CHS Steering Committee members, CHS copyright holders, CHS application supporters, donors, national and international actors) and from people affected by crisis, to take stock of the experience with the application of the CHS so far and learn about it future.
Join us to launch the CHS revision process by contributing to the CHS application experience gathering and learn about the revision process (governance, objectives, timeline, process, and opportunities to contribute).
We look forward to seeing you at the session and contribute to setting up the future commitments to people affected by crisis.
Background
This launch event will be held as blended event combining an in-personand online participation. We will first provide a short explanation of thedevelopment of the CHS and the rationale for launching the revision process.This will be followed by a moderated "coffee table" discussion betweendifferent users and supporters of the CHS, focusing on the powerfulcontribution of standards to meaningful people-centered humanitarian work.
Agenda
11:00
Welcome
11:05
Opening remarks
11:15
Brief introduction to the CHS revision (why, who, how)
11: 30
Coffee table chat:
– The role of the CHS for Inclusion at community and country level:
– The donor perspective: tbd
– A regional perspective: CWS Asia
12:10
Q&A, discussion
12:25
Wrap up the discussion. Short consultation survey for those who are interested
12: 30
Close
Speakers
The CHS Revision Launch event will feature an engaging discussion with two representatives from National NGOs who work with the CHS on a daily basis.
Ayesha Hassan is Associate Regional Director at Community World Service Asia (CWSA)
She focuses on campaigning and project implementation on Gender, Human Rights, Quality and Accountability, Livelihood(including food security with focus on DRR), Education, and Democratization. She is trained on Quality and Accountability standards such as the CHS, Do NoHarm Approach, Sphere etc. She has been working in the development sector since1997 and has a keen interest in youth-led projects. Ayesha has a good understanding of socio political and economic issues in the region. Gender, women empowerment and working with youth is her passion and forte.
Rehema Kajungu
Session facilitators: The session is being facilitated by the Co-Managers of the CHS Revision Process.
Aninia Nadig
Aninia'sbackground is in protection and forced migration issues, but she has a long involvement with quality and accountability standards in the sector. She was with Sphere for over 10 years in different roles and was part of the process the development of the CHS. She also played a lead role in two Sphere Handbookrevision processes and coordinated the Humanitarian Standards Partnership(HSP). working hard to ensure the CHS was included as one of the foundation texts for the revised Sphere standards and the HSP. More recently, she has worked as a senior HQAI auditor and a Sphere and CHS trainer, giving her insights on how to train and verify how organisations apply the CHS. SeeAninia's LinkedIn profile for more on her background and experience. Aninia can be reached at anadig@chsalliance.org
Philip Tamminga
Philip has been involved in standards, quality assurance and accountability issues in the humanitarian and development sectors for over 25 years. He spent 10 years with the Red Cross Red Crescent movement, including senior positions in the IFRC. He also directed the annual Humanitarian Response Index (HRI) report for five years, assessing the role of donor governments in supporting effective and accountable humanitarian action. In 2012 he led the SCHR-sponsored consultation process to review standards and certification in the sector. The outcomes directly contributed to the development of the CHS and the establishment of the CHS Alliance and Humanitarian Quality Assurance Initiative(HQAI). For the past 7 years, he has been working as an independent consultant on quality and accountability issues for the Red Cross Red CrescentMovement, UNICEF, IRC, CDAC Network and the CHS Alliance amongst others. Philip can be reached at ptamminga@chsalliance.org