Reshma supports local enterprises through her self-invested business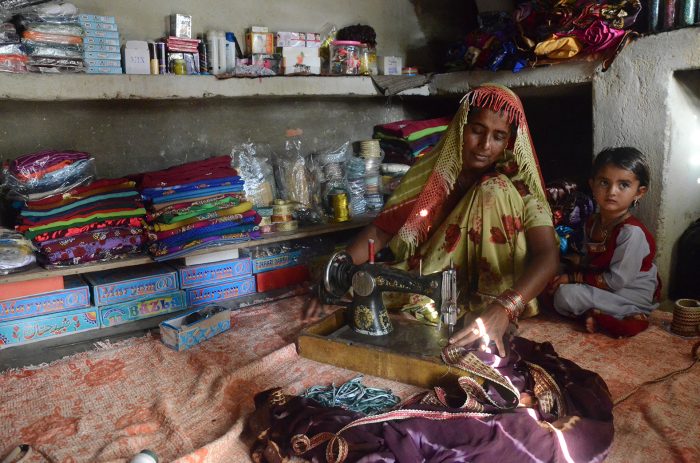 Reshma, a thirty-five-year-old artisan from Haji Chanesar village in Umerkot, Sindh, has been working with Community World Service Asia as an artisan and Women Enterprise Group (WEG) member since May 2016. Reshma has been very active in the skills-building classes and order completion activities at the vocational center in Haji Chanesar under the livelihoods project*.
Living with eight family members, her seven children and her husband, Reshma is responsible for all household chores and seasonal farming activities. Her husband is a mason who earns a daily income of PKR 500 to 600, however this earning is entirely dependent on the demand of his masonry work in the area; if there is ongoing construction, then his services are required, otherwise not. Hence, the income varies and is insufficient to last the family for a whole month. On an average, the monthly income is less than PKR 10,000 (Approx. 86 U$D).
My husband's income is mostly spent on daily household expenses and our children's education. Two of my (four) sons go to school and one of (my four) daughters is married. My younger two daughters have only studied till class 5 and now they stay at home helping with home chores mostly. While two of my elder sons work in Umerkot city at a mobile repairing shop through which they earn a daily income of PKR 300. Their income is insufficient as it also depends on repairing services, a demand for which also fluctuates.
Another artisan from Haji Chanesar village, named Maya, introduced Reshma to the vocational center.
Initially, I used to stitch at home for my children mostly. Sometimes on neighbor's request, I worked on their clothing and stitched a few, minimal pieces. I did not know that I could earn so well through this skill.
According to Reshma, the skill development training taught her new stitching and designing techniques.
I learnt how to make new designs with a series of vast color combinations and different threads. The products we produced lacked tidiness as we worked with dirty hands sometimes or accidently put cuts on the clothes; often ignoring the quality of the products. After the training, every Women Enterprise Group** (WEG) is assigned a Quality Assurance Supervisor*** (QAS) who ensures the quality of work of every product made in the center. In addition, we also incorporate new patterns and color combinations to meet the consumer demands in the markets.
After furnishing my stitching skills, I started to receive multiple orders from local and city markets. I made embroidered apparels including shirts, pants and scarves and home accessories like cushions covers and rillis. I earnt a good amount of PKR 40,000 from all the orders I worked on. I invested my earnings in setting up a raw materials shop, for artisans and tailors, in my house. My shop provides raw material for stitching garments to retailer. There are different colored threads, needles, decorative ornaments, mirror pieces, a sewing machine, cloth pieces, laces buttons and other stitching accessories available in my shop for selling. I founded the shop six months ago and continuously invested the earnings I made through the sales of my handicrafts and the raw materials I provided. Today, I am proud to admit that I have raw materials worth Rs. one lakh in my shop up for sale.
I travel to Umerkot and Mirpurkhas city to purchase raw material to further sell at my retail shop. My son or my husband accompanies me as I need someone to help me with carrying all the material back home. I am happy to see that my sales are increasing. I now plan to travel to Karachi to purchase even more different raw materials.
It is a challenge for home-based artisans, especially women, in remote Sindh to travel to other cities to purchase a variety or good quality of raw materials needed to produce new, competitive and superior handicraft products.
My shop has a variety of products for women to purchase and some also place orders with me for bulk or specific material as they know that I am able to travel to other cities and will be able to bring them what they require for high making quality products.
My journey of becoming an entrepreneur has not been easy. After getting involved in the vocational center, it became a bit difficult to balance out all my tasks. I had to leave home chores behind and come later in the day after my class to complete them. As an elder responsible for the house, I had many errands to take care of at home too. Therefore, I aimed at working fast and starting the day early at home to finish all my home tasks before going to the center. Moreover, urgent orders for handicrafts made my life even more exhausting and busy.
Depending on design and the type of embroidery, there were products that required more time and attention. Some buyers give very short deadlines which makes it difficult for us to meet. We have to work late and seek help from other artisans, whom we also pay for their contribution. It takes twice as much effort but we manage to deliver the orders within given timelines. However, urgent orders affect the quality of our products and our health. We need to earn money that's why we accept urgent orders as well, as it's a good source of income. Opportunities are limited for rural people like us, therefore, we grab any opportunity we get instead of refusing it,
narrated Resham.
Despite these challenges, I believe, this initiative has brought positivity and a good change in our lives. Before, the men in our family did not permit women to go to other cities while today we travel in groups of women and our husbands encourage us to expand our businesses. It is important for a woman to earn; when a woman has money in her hands, she is not overly dependent on anyone. We can buy clothes of our choice. Today our choices matter as much that of the men in the family. Whenever the need arises, I spend on my healthcare as well instead of waiting for my husband's income to come,
concluded Reshma.
* The livelihoods project titled "Increasing financial resilience and economic empowerment" in Umerkot is implemented by Community World Service Asia and supported by YCare International and UKAID.
** A WEG is a group formed of artisans in every vocational center, to produce marketable products and link them to high-end markets for income generation.
*** A trained production supervisor to manage groups to produce quality products in line with market trends.