Providing medical aid in Flood Hit Thatta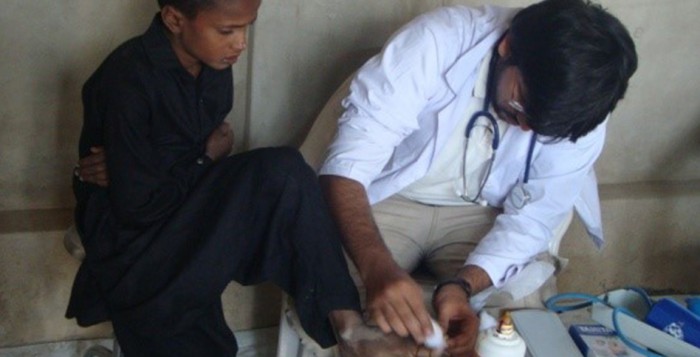 Mir Hussain, a twelve year old resident of village Sher Muhammad Hallo in Thatta distirct encountered a foot injury while working in the agricultural fields. He accidently injured himself with his crop cutting spade while at work.  Mir Hussain's injured foot bled heavily and the pain he was suffering was excruciating.
"I could not see my son in pain and bleeding that much. I was very worried as my husband was at work at the time and there is no hospital near our village", expressed the worried mother of Mir Hussain. The mother was soon told about a Mobile health team that was present in the area, upon advice from fellow villagers and members of the Village Health committee, she immediately took her son to the Community World Service Asia Mobile Health team where Dr. Mujahid Ali Shah examined  Mir Hussain's injury. Dr. Mujahid attended to his wounds immediately, first cleaning the wound and then stopping the bleeding by pressing it with a gauze bandage. When the bleeding ceased, the injury was properly dressed and Mir Hussain was given an antibiotic and pain killer for further relief. Mir Hussain's mother was instantly relieved of her worry and expressed gratitude to the doctor and the mobile health team.
Belonging to an underprivileged family, Mir Hussain shares a home with his eight siblings and parents. His father is a fisherman who goes fishing to the nearby lake on a daily basis.  In the summer of 2015, their house and village was severely affected by the floods that hit parts of Sindh.  "All the residents of our village were moved to safer areas when the flood was approaching. We were moved to embankments as well. No one has assisted the flood affected villages with medical aid since the floods hit us. Community World Service Asia is the only organization that came to our medical assistance. It will take us two to three months more to further settle back into our normal lives", narrated Mir Hussain's mother.
The Health unit established by Community World Service Asia in Thatta, has so far conducted 5,745 medical consultations. Two hundred and seventy Ante-Post Natal consultations have been delivered, while 148 hygiene sessions have been conducted. Two village health committees consisting of twenty four members have also been formed under the current project.