Promoting Interactive Theater as a tool for Social Change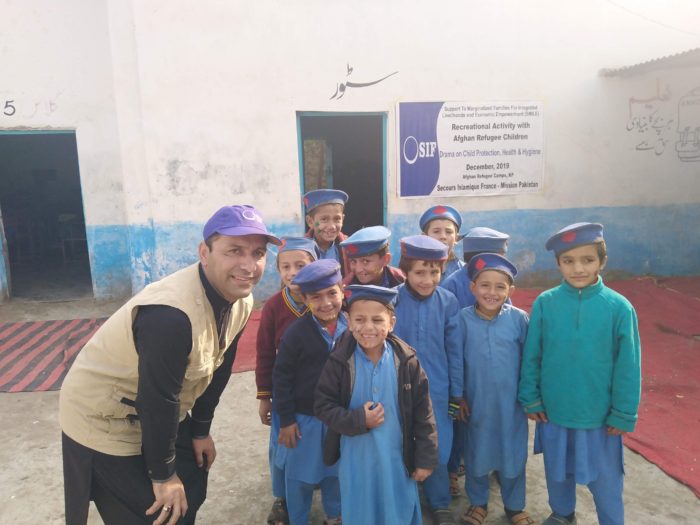 "As a Livelihoods Officer in Secours Islamique France (SIF), I am mainly engaged in preparation, design, execution and follow-up of project delivery requirements which includes evaluations, and proposal development. I also provide professional assistance to established cooperatives and also organise technical trainings on business development, food processing, marketing, livestock management and income generating activities for underprivileged communities," shared Tariq Khan.
Tariq has been working at SIF since 2017, a humanitarian and development organisation that works on WASH, Livelihoods, Child Welfare and awareness raising activities that support the poorest and most vulnerable populations. With over fifteen years of experience in the humanitarian aid sector, Tariq believes raising public awareness enhances community knowledge and helps in changing attitudes and behavior patterns. Tariq has participated in a number of theater plays on awareness issues performed at the community level. Tariq also encourages community members to be part of the plays itself, as he believes the plays and their messages are more effective when people see their own community members performing.
"My purpose to join the Interactive Theater for Influencing training was to improve my immersive theater abilities. Interactive action, particularly drama, successfully highlights the dynamics of conventional management principles, including conflict and negotiation, control and policy, and strategic decision-making. In addition, the seven-day intensive program offered a forum to develop leadership and communications capabilities such as empowering staff, introducing innovative communication strategies and integrating dispute resolution into the organisational practices of the organisation" said Tariq.
Community World Service Asia and partners organised a seven-day residential workshop in October, 2019, that encouraged participating organisations to incorporate issue-based content into an interactive theatre performance and introduced them to methods and techniques that would help them cater to different demographics.
During the training, conceptual clarity and difference was put forward highlighting Cathartic Theater as a play to release emotions such as pity, sadness and fear through witnessing art. The sessions also focused on how theater aids with endorsing community discussions and commitments. Participants were familiarised with the fundamentals of interactive theatre, art, and storytelling as a tool for social awareness.
"The training engaged participants in creative learning on complexities of real-life scenarios. We were involved in conversations that helped us gain different insights from peers and reflections were put on personal experiences."
After the training, SIF, with the help of Tariq's new learnings, organised a recreational activity for child welfare in Peshawar and Charsadah districts of the Khyber Pakhtunkhwa province. Over a hundred children and youth members participated in the interactive theater performance that shared messages and opportunities for innovation that would help eliminate and address long-standing issues like early marriages, child protection and promoted good health, hygiene and education for all.
"As learnt in the training, we designed the content for the theater before the activity and rehearsed to perform better and efficiently," shared Tariq, "I felt the change in communicating with the communities. I had a different kind of energy and positive attitude during the performance. I was more confident and vocal."