Home
Newsroom
Stories
Cash assistance provides relief to COVID-19 affected families and Persons with Disabilities...
Cash assistance provides relief to COVID-19 affected families and Persons with Disabilities (PWDs) in Pakistan's refugee camp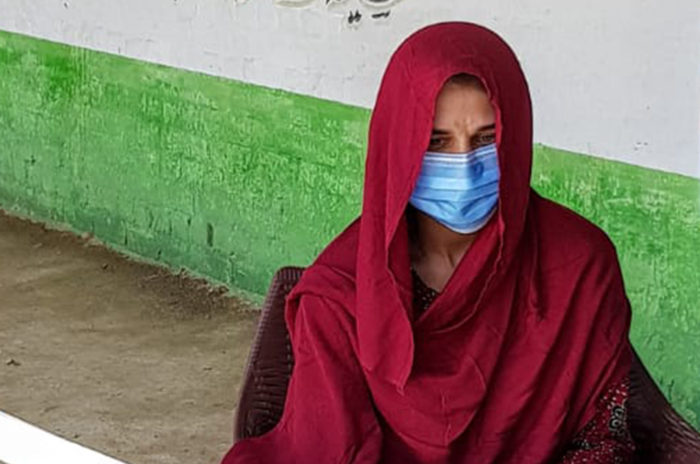 Naima, a 26 year old Afghan woman suffering from a physical disability she was born with, lives with her family in the Refugee Camp of Khaki District in Mansehra, Pakistan. She has two elder brothers who work as daily wage labourers, earning PKR 300 (US $ 1.78) a day. Their father is unable to work due to his old age and their mother is too weak to engage in any form of labour either. The family has been living in Pakistan since 1980 when they fled the war in Afghanistan.
"Naima was born a normal, healthy baby. But by the time she turned one we noticed that she could not move, crawl or try to stand. Both her legs started to look a bit unusual. We hurried to the closest doctor to get her checked. The doctor advised us that it would heal with time as she grew.  Sadly, just the opposite occurred. Her legs became more and more incapacitated with time and she could not walk at all," shared Naima's mother.
"To help us in any little way that she could, Naima started weaving from an early age and always helped us with small household chores. In 2017, Naima experienced another setback. Her right hand started showing signs of impairment which meant she was unable to move it much and eventually she couldn't even engage in the activities that kept her busy and provided us financial support."
In 2012, Naima's sister-in-law was diagnosed with cancer. The family took her to a cancer hospital in Lahore, but she was refused treatment there due to her refugee status. She was then admitted in a private hospital in Lahore.
"We had to take a loan for the treatment of my daughter-in-law. We also received donations from our in-laws and community elders. Despite the generous donations, we were unable to afford all the expenses incurred at the private hospital. We were already unable to cover Naima's medical expenses so this additional expense came as another burden on our shoulders.

Due to COVID-19, there are barely any work opportunities for my sons and we are all struggling to make ends meet. The family has not earned a penny since the lockdown in March. With a disabled daughter and an unwell daughter-in-law, it has become extremely difficult to manage our household expenses and put food on the table three times a day," expressed Naima's father with grief.
Community World Service Asia and Street Child – UK, with the support of the Commissionerate for Afghan Refugees (CAR) in Pakistan, conducted cash distribution activities under a 'COVID-19 Rapid Response for Afghan Refugees in Pakistan' project. As a project participant, the cash assistance provided to Naima's family has brought some relief to the family.
"No organisation has come to our help. CWSA has been the first to respond to our grievance request. Upon receiving the cash support, I purchased food items and some medicines for Naima and my daughter-in-law. This support has provided some comfort for our families, as there was no source of income coming at home," thanked Naima's mother.