Linking Refugee Women to the local Markets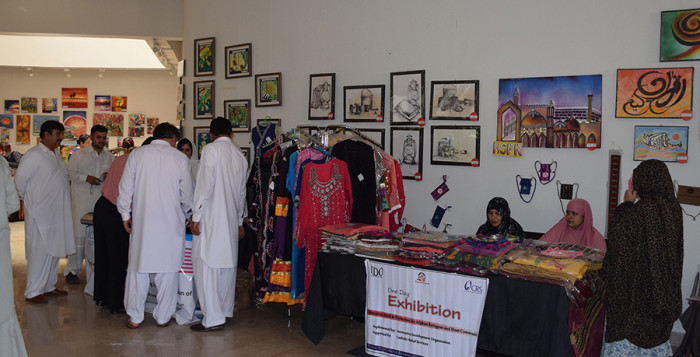 An exhibition organized by Community World Service Asia (formerly CWS-P/A) was held at AQS Art Gallery in Islamabad on May 16th, 2015. The exhibition was supported by the US State Department's Bureau of Population, Refugees, and Migration in which a total of 15 NGOs displayed handmade dresses, artifacts and other handicraft items made by refugee and the women from the host communities in refugee camps in Islamabad, Khyber Pakhtunkhwa and Baluchistan, Pakistan.
The event showcased handicrafts produced by community members from various projects. The income generated through this expo was invested back into the projects to support impoverished refugee women. One of the main purposes of the exhibition was also to provide a shared platform for NGOs and vendors, working on promoting handicrafts produced by women refugees, to engage in networking and to share their experiences and best practices among each other. The vibrant, day long exhibition was attended by donors, private sector individuals, and the refugee women and their families.
Community World Service Asia displayed products manufactured by widows and other vulnerable women participating in their Vocational Training and Market Development Program in Mansehra and Haripur at the bazaar. The projects aims to empower the refugee community with particular skills and to link these skilled individuals to the market. Since 2010, this skills development project has successfully enabled these communities to become self-sufficient and earn livelihoods for themselves and their families.
To support the rehabilitation of refugee communities in Pakistan, Community World Service Asia (formerly CWS-P/A) is implementing a Vocational Training and Market Development Project in Mansehra and Haripur as Gifts of the United States Government since 2010. The goal is to enhance self-reliance and increase income for men and women of Afghan Refugees and host community. A four-month program imparts certifiable skills training to men in welding, electrical works, carpentry, auto mechanics, auto electrician, motor cycle mechanic, plumbing and masonry. Women participate in handicraft and dress designing trades in affiliation with Skill Development Council Peshawar. Upon course completion, graduates received a tool kit designed for their respective trades, which enabled them to establish small scale businesses or more easily find employment in Pakistan or Afghanistan.