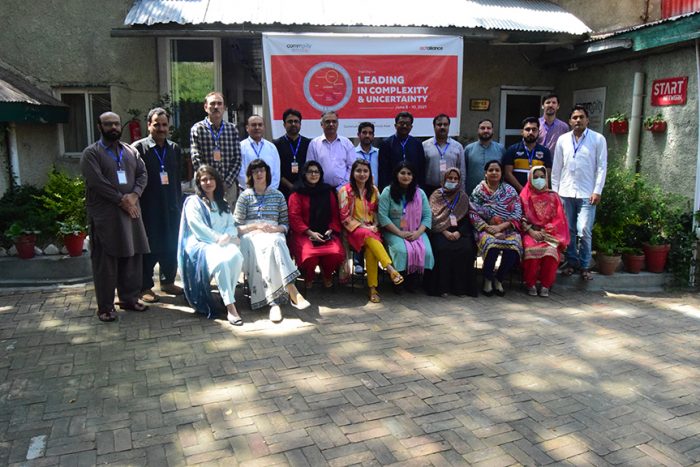 COVID-19 has had a profound impact on the functioning of all businesses, entrepreneurs and industries the world over. Leaders and managers, whether from the business sector, the education system, or the development sector, had to modify their leadership styles to meet the demands and sustain their businesses in these unprecedented times.
Under its Capacity Enhancement Programme, Community World Service Asia (CWSA) developed a strategy to equip Pakistan's current and future humanitarian leaders with the leadership skills necessary to run their organisations in turbulent times such as COVID-19. CWSA has conducted virtual trainings in the first quarter of the year on quality and accountability, but with decline in COVID-19 in April and introduction of vaccines, the organization resumed in-person trainings, following strict SOPs with COVID 19 guidelines in place. The guidelines wereshared along with the invitation, and reiterated every day of the training in addition to placing santizers and masks in all common areas.  
As part of implementing the strategy, CWSA organised an open-call training on Leading in Complexity and Uncertainty in which 17 participants representing 14 NGOs and INGOs participated and exchanged new experiences and learnings.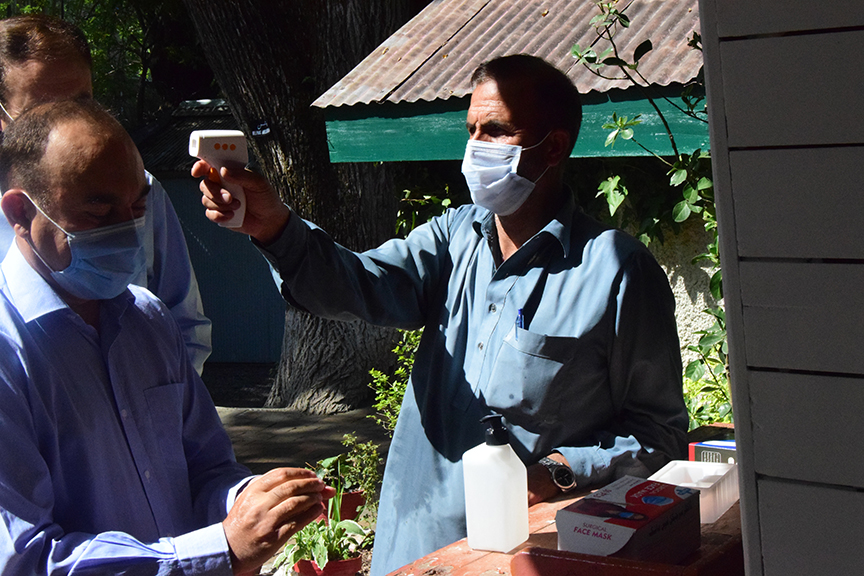 Arif Jabbar[1], a renowned leadership coach with two decades of experience in the local and global humanitarian and development sector lead the training and applied the 'Authentic Leader' approach in most of the sessions, providing equal opportunities to participants to reflect on their leadership style and its relevance and effectiveness in the context of Covid-19. This enabled the participants to learn about new and existing leadership competencies based on research with contemporary leaders. During the training participants also practiced and sharpened their personal leadership skills and competencies through practical exercises.
Adopting a participatory approach through most of the training, Arif engaged participants in group exercises to promote peer learning. In one exercise, participants were divided in four groups, namely Norms Committee, Feedback Committee, Games Committee, and the Complaints Committee. Tasks were assigned to each group with the purpose of completing the tasks with giving the least instructions in twenty minutes. After performing the tasks successfully, the participants shared that they panicked for a while due to the time constraint and absence of detailed instructions but they were ultimately able to reach the goal. In response, Arif Jabbar shared that "the real-world does not give us parameters or instructions and that the real leaders and successful organisations are the ones who can survive in situations like these."
Rabel Sadozai, National Marketing Manager at Fatima Fertilizers, was invited as a guest speaker through a virtual online session. As the National Marketing Manager, Rabel leads the brands, channel and exports businesses at Fatima Fertilizers and has a rich corporate sector experience. In her discussion with participants, Rabel shared the need of exceedingly focused individuals in the development sector with the ability to consistently accomplish humanitarian objectives through attention to detail and being able to thrive in high-pressure, deadline-driven environments. "The challenges faced amid COVID-19, especially during remote management, built a gap between the managers and their teams. It was essential for regular communication in these times as physical contact was minimal. We prompt up our online communication and encouraged teams to provide updates as frequently as possible. This allowed us to overcome the communication gap that arose due to remote working. it was also important to keep teams motivated and let them know that we as managers are here for them even in times of difficulties. We also held casual meetings to maintain staff well-being and be supporting models, as everyone was going through tough times."
A video of Martin Luther king was screened during the trianing to show participants his vision and communication style. The session on Vision and Communication shared various visions of companies including Tesla and Google to give participants a clear understanding on the conceot of vision. Participants learned the essential steps that need to be taken in developing a clear vision for themselves and their organisation. "It is key to know the right communication medium to inspire people thorugh your vision. Storytelling is one of the most effective tools used to impact audiences," said Arif. Participants then worked on developing a personal and organisational vision in an exercise.
Participant Takeaways:
"Effective and continuous communication in key in creating a sustainable working environment during unprecedented times."Javaid Ahmad, Aga Khan Agency for Habitat
"Conveying the organisational vision is key to build trust with communities we work with. It is important that the organisation's vision is understood and enforced in its true meaning." Saima Noreen, Sojhla Welfare Foundation
"Staff at any position can implement interactive activities to promote efficient communication while working remotely. These interactive exercises help staff to overcome challenges and work towards solutions as a team." Nabia Farrah, Secours Islamique France
---
[1] He was the Chief of Party of USAID Ambassador's Fund Grant Programme and has served in Oxfam International as the Global Head of Humanitarian Campaigns, Regional Humanitarian Coordinator for Southern Africa and East Asia and Country Director in Pakistan and South Africa.