Kainat- Sujawal's upcoming "Commando" for Education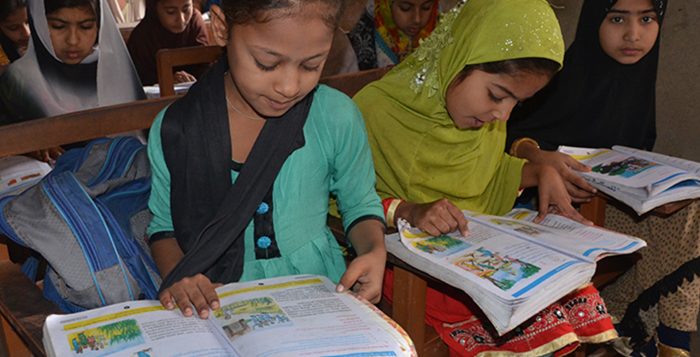 According to the American Camp Association (ACA), youth development experts agree that children need a variety of experiences in their lives to help them grow into healthy adolescents and adults. Summer camps for children, under our Girls Education project supported by Act for Peace, are exclusively planned to facilitate developmental needs of school-going children through physical exercises, activities on self-definition, meaningful participation and creative self-expression.
"The mock elections at the summer camp were a great learning opportunity for all of us. I had to work really hard to win the elections. I prepared a strong, impactful speech which promised to develop an advanced and clean society. I felt very proud on winning the elections as it is the most important achievement for me up until now,"
said Kainat, a Grade 3 student at the Government Primary Sindhi Chandio School.
Kainat belongs to a village in Sujawal District and lives there with her parents and eight siblings. Attending the summer camp and interacting with other students from different schools was just the kind of opportunity Kainat had always waited for and looked forward to.
"My father has always encouraged me to go for my dreams and doesn't want any of his children to clean cars like he does for an earning. He wants us to study and grow up to be intellectual professionals. I come to school to learn new things from my teachers and want to grow up to be a commando one day,"
voiced Kainat excitedly
"I did not know that as a citizen of Pakistan, I had certain duties to fulfill to be a good citizen. We got to know the difference between a good and a bad citizen at the camp. I specifically shared this learning with my class fellows. I also went to other classes of my school and told them about good citizenship. We have to make our country a better place and for that we have to play our role actively."
Disaster Risk Reduction (DRR) trainings were also conducted as part of the summer campts at Kainat's school. According to her teachers, Kainat has been a proactive student in conducting drill activities.
"The DRR trainings have increased our knowledge in relation to emergency situations. Our school has trained all students to take measures for various disasters which come unannounced. I have shared my learnings with my family and friends in my community. My community appreciates my knowledge and commends the school on giving such diverse opportunities aiming to equip intellectual students  with all lots of skills."
 "People from my village are mostly uneducated. I am educating myself so that I can set an example for others, highlighting the importance of education for a progressive society. My eldest sister supports me a lot in education. She helps me in my homework and studies as well."
Kainat is determined to bring a positive change in the unbending and recessive community that she belongs to. She aims to  free the  future generations of her village from poverty and illiteracy.