Home
Newsroom
Stories
Immediate humanitarian aid provides relief to families experiencing widespread hunger and poverty...
Immediate humanitarian aid provides relief to families experiencing widespread hunger and poverty in Afghanistan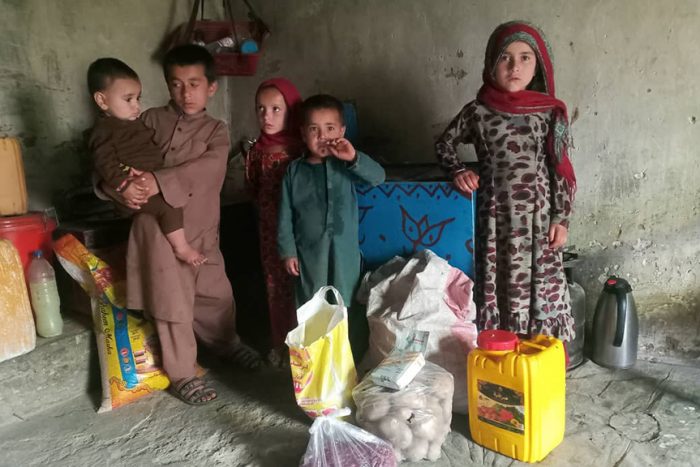 People in Afghanistan today are facing a food insecurity and malnutrition crisis of "unparalleled proportions". A staggering 95 per cent of Afghans are not getting enough to eat, with that number rising to almost 100 percent in women-headed households. Afghanistan continues to grapple with the effects of a terrible drought, the prospect of another bad harvest this year, a banking and financial crisis so severe that it has left more than 80 per cent of the population facing debt, and an increase in food and fuel pricesⁱ.
"We have to collectively support millions of Afghans to rebuild their lives and communities as building a better future will not be possible with prevailing starvation and unstable livelihoods," said M. Sharif Hashmi, Project Manager, Community World Service Asia (CWSA), based in Afghanistan.
Winterisation and food assistance is being provided to 630 households in three districts of Laghman (Alingar, Alishing, and Dawlat Shah) under a joint humanitarian project implemented by Community World Service Asia and supported by Japan Platform and CWS Japan. Following the new regime's takeover in August, millions of people are facing hunger and starvation as a result of a multiyear drought and an economic collapse. "My children were getting weaker by the day. I am unemployed and there is no means of income through which I can buy sufficient food. Our daily meals consisted of a few vegetables, usually potatoes, and sometimes, we would simply eat bread, which was all insufficient to serve all. There was a time when I was afraid of losing my children to starvation," shared Ayan, a 44-year-old father of two.
Ayan belongs to and lives in a remote village named Baram, located in the district of Dawlat Shah of Laghman. He received a cash assistance of USD 90 (equivalent in AFN) to purchase food as a first tranche of distribution under the joint project. Ayan received an additional USD 55.5 (equivalent in AFN) as one-time assistance for winterisation support as well. He will be receiving cash assistance for three successive months (including the first tranche). "The help we got was critical in fulfilling our immediate needs, particularly for food. I rushed to a local grocery store and purchased flour, oil, beans, and rice. It has helped us maintain our dignity by allowing us to use the money as needed to meet our basic household expenses."
Ayan's children were unable to attend school since the family lacked the financial means to purchase uniforms, books, and stationary that is required for even public schools. After receiving the cash support from CWSA, Ayan saved a small amount of money to enrol his children in a local school and buy basic stationary. "When my kids saw their uniforms and books, they were ecstatic to be going to school. The joy on their faces was priceless," Ayan said.
During the harsh winters, Ayan's wife had to fetch wood from the mountains to cook food and keep the house warm. "We would save some wood for ourselves and sell the rest to make a small living. However, with the money provided, we were able to use all of the wood, which will endure for quite some time. My wife will not have to be worried about running out of wood any time soon."
Afghanistan has experienced conflict and crisis for years, leaving countless of families hungry, without shelter and in extreme poverty. There are areas where people have resorted to eating grass and selling children into early marriages as well. "Ayan's voice was tinged with melancholy, as he expressed his heartbreak at not being able to care for his family. Many families, like Ayan's, feel desperate, abandoned, and let down because they are unable to provide their loved ones' basic needs such as food, housing, and clothing. This monetary support is bringing hope and addressing food insecurity and malnutrition challenges, especially among children and women," shared M. Sharif.
---