Gom Chand, a beacon of change in Anwar Pathan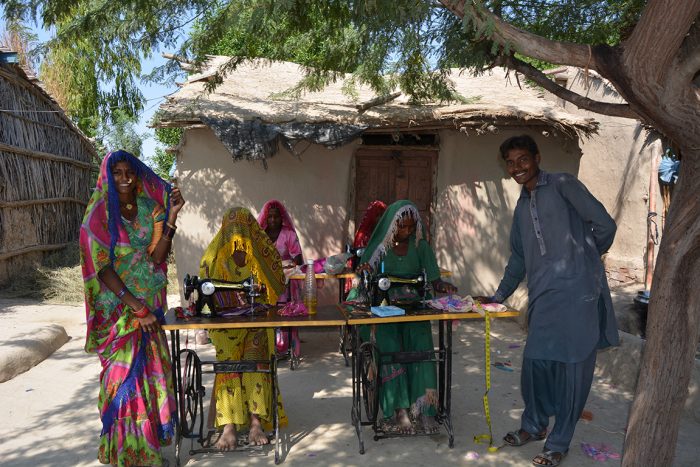 Most families in Anwar Pathan live in a joint family system. Early marriages and living in a big family bring along a lot of responsibilities for new and young brides in this community. The new bride is expected to take on all the home chores, go to the field and harvest the seasonal crops in addition to taking care of all the family members living in the house. A tremendous amount of burden is put on the little shoulders of a child bride. This naturally deteriorates her health. As you see, there are very few or almost no woman here who is overweight. This is because all women here work a lot and are weak due to the many burdens they bear since a very young age. If these women or girls complain even a little, it results in conflicts among family members,
shared a young man, named Gom Chand, who is a member of the Steering Committeeⁱ and Community Group set up in Anwar Pathan village, located in Umerkot district of Sindh province.
Gom Chand and his wife were only 14 years old when they got married. Four years on, now 18 years old, Gom Chand teaches at a local private school in Anwar Pathan.
Women in this village are not educated as most have not attended school and those who did get the opportunity, have only studied up till class 5. Even as a boy, I was forced to marry at a young age and had to leave my education, with no one encouraging me to continue studying. Instead, I was told to earn a living as I had to bring home money for my wife and bear family responsibilities. Soon after my wedding, I began work as a daily labourer, and earned a mere income of PKR 200 a day.
For many centuries, it has been a cultural norm to wed off young couples aged between 12 and 16 years in villages such as Anwar Pathan. Just as a child would be born, their families would start searching for a perfect matrimonial match for them and in many cases even engage them at birth and as soon as they would turn 12 years or reach their teens, they would be married off.
I never supported this idea though,
shared Gom Chand,
And as it turned out, I also suffered a lot by being married so young.
We are a family of six members, including my parents, wife and siblings. My relative, Chander, told me about the EVCⁱⁱ project as the team visited for an orientation meeting at the village. He shared the main objective of the project which was eliminating and discouraging the practice of early and childhood marriages. This convinced me to join the Steering Committee. I saw this as a platform to share my experiences and motivate the youth to gain education and build a bright future for themselves.
Fifteen of us, seven men and eight women, joined the Steering Committee of Anwar Pathan. As members of the committee, we largely work towards achieving for four key objectives. Firstly, we will build awareness on the importance and access to health care for men, women and children. We encourage women and children to avail proper healthcare treatments from the nearest health facility instead of always adopting traditional home remedies. Secondly, we discourage the practice of early childhood marriages. Thirdly, we are advocating for increasing girls' education in the village.   Since this is not encouraged much in our village, we are conducting meetings with parents who do not send their girls to school and are urging them to educate their daughters and sisters as it is equally important as is educating boys. Lastly, we are promoting the role of women in decision-making.
Gom Chand watched a theater play in Bharo Mil village which highlighted the disadvantages of early childhood marriage and encouraged communities to educate their children instead. The play exhibited how societies would flourish if their people and youth were well educated. Upon his return from Bharo Mil, Gom Chand felt the need of opening up a school for girls in his village. And he did as he had planned and did inaugurate a school in Anwar Pathan in March 2019. Gom Chand teaches at this school and earns a monthly income of PKR 14000.
There was no school in our village so no girl in our village ever went. With the help of a friend working in another welfare organization, I registered the school and encouraged parents to specially send their daughters and sisters to the school. Today, 45 girls and 12 boys are enrolled in this school and attend classes every day.
There are 10 pairs of Community Groups established in each village, each pair consisting of a man and a woman. Every one of these pairs is assigned five households to work with and build awareness on the same objectives as the Steering Committee. Gom Chand and his Shama, another resident of Anwar Pathan village, make up one these pairs.
The training that was organized on Gender and Women Empowerment on November 2018, and a refresher course that followed a year later in 2019,  delivered sufficient information on the fundamental rights of women and the importance of education, especially for girls. We understood how the existing gender issues in our community adversely affected the lives of.
 Gom Chand and Shama held meetings with the five households allotted to them and encouraged women in those families to voice out their concerns and participate in decision-making processes.
Gom Chand's brother, Prem Chand, was to be married at the end of 2019.
When I heard about the wedding preparations, I could not hold myself back from standing against this decision and lifelong tradition. He was just a 16-year-old boy and his bride to be was only 15-years-old. My father did not want to go forward with the wedding either but due to the pressure from my brother's in-laws to be, my family decided to go with it. Shama and I visited the in-laws' and tried to convince them on postponing the wedding. After hearing about my early marriage experience and the challenges my wife and I faced, the bride's family postponed the wedding for three years.
In terms of contributing to women empowerment, Gom Chand encouraged his wife to further enhance her embroidery skills by enrolling her at a nearby vocational center. A District Engagement Group member, named Shanti, helped him identify this center and facilitated them with the enrolment process.
A skill building training was held in Mirpurkhas to which I accompanied my wife, Pooja, every day for fifteen days as it is difficult to commute alone in this area. After successfully completing the training, Pooja received five sewing machines.
I am very proud of my wife as she teaches embroidery and stitching skills to other girls and women from our village at our home now. Fourteen woman and girls come to learn the use of different threads, design methods and colors. For running this home-based coaching center and working on orders, Pooja receives PKR 4000 monthly from PCDPⁱⁱⁱ. The attendees of the centre pay a monthly fee of PKR 100. I can see the happiness in the eyes of my wife as this initiative has brought new meaning to her life.
Hina, 16 years, and Seeta, 15 years old, are two of Pooja's students at the center.
Miss Pooja teaches us stitching and embroidery. We come to the center for four hours daily. If it wasn't for this center, we would be doing home chores the whole day. This is a fun activity and us friends get to sit together, share jokes and learn new skills of designing and stitching,
shared Hina.
A video screening, highlighting the goals of the Steering Committee and its role in promoting positive change in the communities by reducing early childhood marriage and motivating women towards decision-making, was organized on December 18th, 2019 in Anwar Pathan, by the Steering committee members.
The members of the committee invited the Chairman of the Union Council as a special guest at the screening. It was an honor to welcome a higher official in our village. The community members were excited to see the video as these visuals are appealing and conveyed the message very clearly. More than 250 people attended the video screening. It was a very proud moment for us.
---
ⁱ 22 Steering committees are formed in each village, comprising of 15 representatives with equal representation of male and female participants. The steering committee works on different issues of the village and supervises the Community Groups. They represent grass root level issues with civil society and local authorities at district level and work towards resolutions in collaboration with the EVC Team. The committees were formed in the month of August 2018.
ⁱⁱ   Every Voice Counts – Community World Service Asia's project
ⁱⁱⁱ Parkari Community Development Program