Home
Newsroom
Stories
Familiarizing aid workers with Theory of Change to effectively achieve project outcomes
Familiarizing aid workers with Theory of Change to effectively achieve project outcomes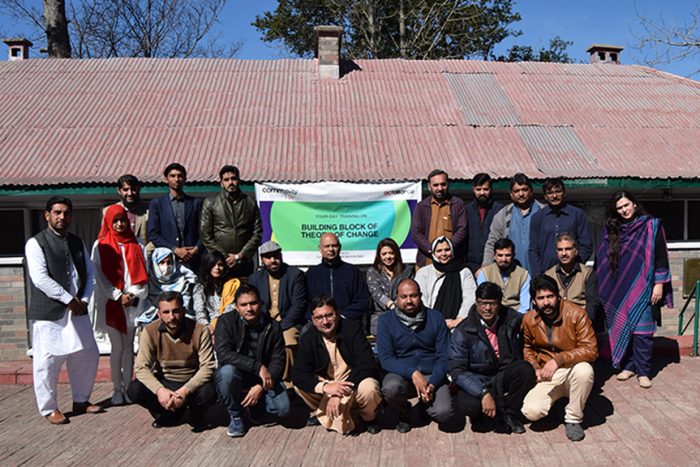 'Theory of Change' (ToC) has emerged as an important planning tool for development projects in the last decade. With its application not limited to technical use, it provides users guidance to analyze and develop political and management choices. Experts recommend ToC as a tool for political literacy that supports organizations with adopting a reflexive approach towards development.
The ToC facilitates organizations with effective project implementation and with mapping its change processes and its expected outcomes. It is often used in conjunction with the log frame approach as it forecasts expected processes and outcomes that can be reviewed over the time. This allows organizations to assess their contributions to change and accordingly revisit the theory of change. It also helps staff in clarifying and developing the theory as per the needs of the organization or its projects.
Community World Service Asia organized a four-day residential training on 'Building blocks of Theory of Change' which was participated by twenty-one humanitarian and development practitioners from eight national organizations. The training was led by Harris Khalique, who is a leading practitioner, advisor, speaker and trainer in the area of social development and human rights. He is the Secretary General of the Human Rights Commission of Pakistan (HRCP) and a senior fellow with Revets Learning Inc. The training was co-facilitated by Zeeshan Novel, who is also a development professional and rights campaigner with specific expertise in project management, capacity building, emergency response planning, policy research and advocacy.
Held in Murree, the training adopted an interactive methodology, based on practical exercises to achieve effective learning. The initial sessions focused on the basic concepts of ToC, why organizations need it and introducing its essential components. Participants understood the concepts of Result Chain Logic, Developing Impact, Output and Impact Statements and Situation Analysis, its causes and effects.
In a group activity, participants were sensitized about cause and effect through the problem tree exercise where they were asked to identify the problem statement and its results through the result chain concept. Through this exercise, participants learnt to identify the impact of the problems and how to overcome them. The ToC as a strategic planning tool was put forward where its implementation mechanism and monitoring and evaluation (M&E) systems were studied in detail.

"The training was very informative and relevant to our needs and expectations. The basics of ToC were thoroughly covered in the training and we, as participants, were able to learn each step to create a theory of change in detail through the participatory approach adopted by the trainers. The group activities helped us get a firm grip on the ToC as per our organizational needs. The management team was cooperative and helpful throughout the four days in Murree.
The training has enabled me to develop a beneficial and convincing ToC for Read foundation which I will construct on my return."
Zain-ul-Abideen (Deputy Manager) Read Foundation -Islamabad

"As an M&E Manager, I am leading the M&E and program development activities of the organization.  In this regard, the training was much needed to enhance my learnings.  I was confident to develop the ToC plan for our organization when we were asked to on the last day of the training.
The training involved the participants in practical activities which made learning successful in terms of knowledge building."
Shah Fahad, M&E Manager in Center for Electronics Research & Development (CERD)

"I aim at developing a ToC for my organization when I join back. The training has provided us with relevant guidance on developing an effective ToC to make the activities of the project productive and make change a reality.
The sessions were highly interactive for which I would like to appreciate the CWSA Team. The most interesting aspect of the training were the live discussions between the groups. In conclusion, the workshop was very conductive with excellent and well-designed presentations and discussions."
Sadia Yousafzai, Project Coordinator in Center for Electronics Research & Development (CERD)
"The practical work and exploration of new things along with developing discussions were all really useful and effective. I believe that the ToC will benefit us by exploring organizational projects and other development initiatives. The guidelines and templates shared in the workshop were efficient and helpful in our field of work."
Erum Baloch, Country Program Coordinator in Secours Islamique France (SIF)