Home
Newsroom
Stories
Leading by example; Dhelan works towards discouraging child marriages and promoting Girls...
Leading by example; Dhelan works towards discouraging child marriages and promoting Girls Education in Khunhar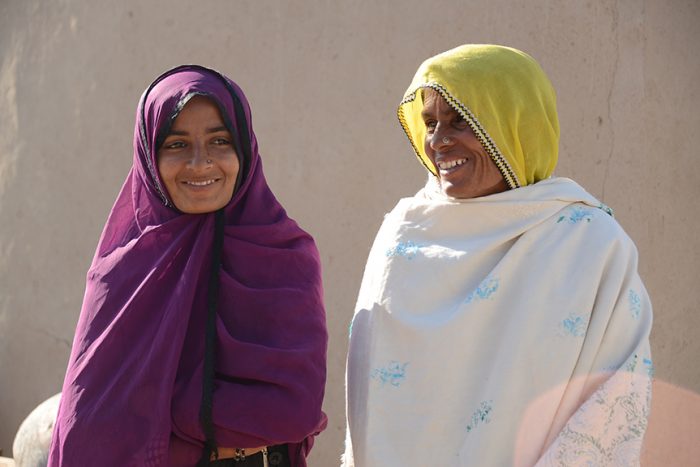 Sixteen years old Dhelan Kumari, is the only girl of her age in village Khunhar, who continues to attain education and attend school to seek higher education. She is currently in 11th grade.
I got engaged when I was only 15 months old. My fiancé is from a different village but is of an equal status as my own family so our parents planned to wed us when we would turn 12 years.
Dhelan's parents have six children and she is one among their five daughters.
My husband, Jumoon, is a farmer and earns a small income of PKR 300 daily. All my daughters are married except Dhelan. She is the youngest of all. Dhelan has always been enthusiastic about going to school and bringing more meaning to her life,
said Dhelan's mother, Lakshmi.
During one of her school activities, Dhelan got the opportunity to attend and watch a theater play organized by one of the local landlords in Kunhar.
It was a play by a local theatre group called Purbhat[1], on early child marriages. It was my first experience attending a play and I got to learn so much about the prevailing issues that were never discussed with us before. I learned the challenges a girl faces when she is married at a very early age. She is unable to complete her studies; she is unable to cope up with the new family which results in a lot of challenges for young girls and their families. Moreover, she is never happy that way.
After attending the theatre play in early 2019, Dhelan's drive to prioritize her education grew even more and she wanted the same for all the other girls in her village.  One day, Dhelan grew the courage to talk to her brother and mother on the issue and they both supported her with this cause and helped her spread awareness on the importance of education for girls and the disadvantages of early marriages.
Dhelan's dedication and energy motivated me to support my daughter and help her in achieving her dreams,
shared Lakshmi.
Although she faced a lot of retaliation from the village community, Dhelan was determined and committed to work for her cause. She wanted to create awareness among young girls and highlight the adverse consequences of early child marriages. She wanted to emphasize on the importance of education for girls and prove that girls are no less; they have equal rights as men and should not be suppressed.
To Dhelan's advantage, a theater group was formed in Khunhar village and was named 'Khunhar'. Everyone from the village was encouraged to join the group, especially young girls and boys. Dhelan showed her interest in joining the group. Ashok, the president of Khunhar's Steering Committee came to Dhelan's family and recommended Dhelan and Lakshmi to join the theater group to inspire other women and girls of the community.
My uncle discouraged us and tried to stop me from joining and participating in the theater plays. He said this will bring disgrace to the family and my in-laws will not approve of it as well. However, the support of my family made me strong and gave me the courage to take the step of joining the Khunhar Theater Group,
 shared Dhelan.
Dhelan was relentless. Her mother Lakshmi and she joined the Khunhar Theater Group along with eight other members from the village. This theater group is the first ever to be formed at a community level along with three others in Umerkot. As part of the group, each member is paid a stipend of PKR 1000 for every play they perform.
Dhelan's education expense is covered by the stipend we earn through the theater group.
said Lakshmi.
Dhelan wanted to continue her studies and did not want to be wedded off soon. She was lucky to have a family that supposed her. Her mother stood by her side,
Education is very important whether it is for a girl or a boy. It teaches you the difference between right and wrong and not the difference between a man and woman. No one can take away the knowledge you gain in your lifetime and that can be your highest achievement in life. I wanted Dhelan to be an educated girl and lead a better life. Dhelan shared with her brother that she did not want to get married and continue her studies instead. I want to see Dhelan in a better position as well, rather than just being a housewife and a labor worker in the fields. We talked to her in-laws and insisted on postponing the marriage. Dhelan's brother also encouraged her fiancé to continue with his studies so that they could build a better future for themselves together. As a result, the marriage was postponed and no date for the wedding is decided as yet. Dhelan continued her studies and is now in 11th grade,
 shared Lakshmi happily.
My college is in the city which is a twenty minute walk from home. I am also taking computer classes in the evenings. I topped the board exams of standard eight, nine and ten in Umerkot. I aim to top again in standard 11. On the weekends, I give free tuitions to young girls in the village. I want to do as much as I can for women and children, not only in the village, but in all of rural Sindh. The plays we perform are aimed at ending child marriages and encouraging girls' education. Many people in the community have become aware of the negative consequences of early marriages. They put an end at child marriage when they witness any,
firmly concluded Dhelan.
---
[1]  A local theater group in Umerkot