Home
Newsroom
Stories
Enabling local communities & experts to be better prepared to face disasters...
Enabling local communities & experts to be better prepared to face disasters in Afghanistan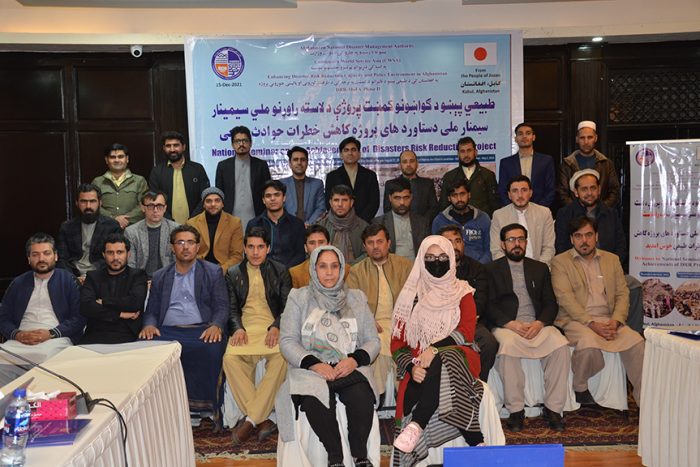 Community World Service Asia (CWSA) and the Afghanistan Disaster Management Authority (ANDMA) jointly conducted a DRR seminar in Kabul city on December 15th, 2021. This national level event discussed and highlighted the 'Emergency Support for Resilience Building' project's achievements and the disaster management interventions implemented under the project by CWSA. This project has been made possible with the support of the Ministry of Foreign Affairs, Japan in partnership with CWS Japan and Japan Engineers Conservation Co. Ltd. Representatives from the aid sector in Afghanistan, academic institutions, and key government departments participated in the event, which also served as a platform to review the initial draft of ANDMA's Landslide Policy and to focus on its legal framework initiatives in the country.
"ANDMA and CWSA have been working together to increase communities' disaster preparedness and response in Afghanistan for the past 19 years. We have worked together to strengthen resilience of local communities and develop the capacity of ANDMA officials through the execution of a 5-year strategic plan (2020 – 2024) through consultative meetings with communities and relevant entities. Our disaster risk reduction initiatives continue to provide up-to-date disaster risk reduction techniques and tools to relevant government authorities and communities, leading to increased disaster mitigation among local communities. We are now working together on the National Landslide Policy," introduced Nejabat, from Community World Service Asia.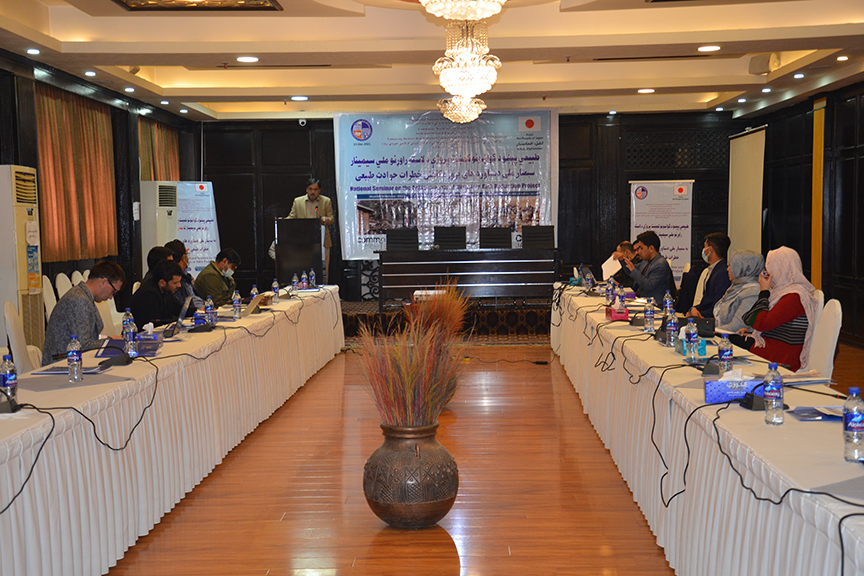 The National Landslide Policy in Afghanistan addresses the societal landslide risk. The policy's development strategy aims to stimulate future development processes and efforts that improve resilience while also supporting priority actions to minimise present landslide vulnerability. DRR and relevant development plans and activities are guided by the policy to focus on key challenges. Lowering landslide risks, offering local economic, social, and environmental benefits, and encouraging local participation in landslide management and monitoring are all goals of the said policy.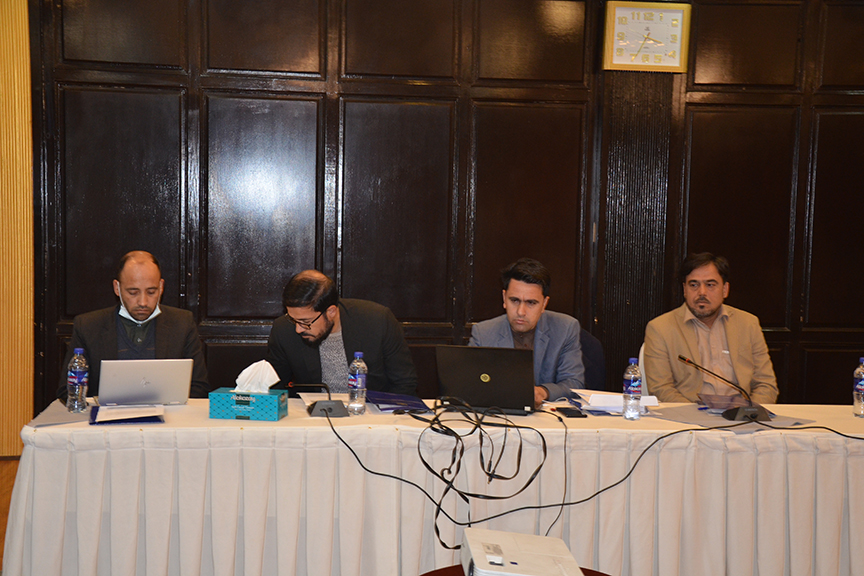 While virtually addressing the audience, Takeshi Komino, General Secretary of CWS Japan, stated, "I have been involved in Afghanistan's disaster management for 17 years now and I have seen significant improvement in people's understanding of hazards, response mechanisms, policies, and strategies, with localised disaster risk reduction plans in place. There are some areas, however, where Afghanistan can step up further. The science around disaster needs to be unpacked and communicated more to the local people. For humans to live in harmony with nature, we need to understand the environment around us. This includes understanding why a hazard has become a disaster in our society. This understanding is crucial in creating plans to reduce the risk for sustainable livelihoods."
The need to have a mechanism in place to consistently produce disaster management professionals from different disciplines, backgrounds working together to create a movement of resilience was emphasized. Takeshi reiterated the need for a stronger commitment and willingness to apply DRR tactics and policies. "Until we put the guidelines and policies into action, they are just pieces of paper. Every person gathered today offers critical expertise and it's important that we practice our learnings efficiently to achieve our disaster management goals and save lives."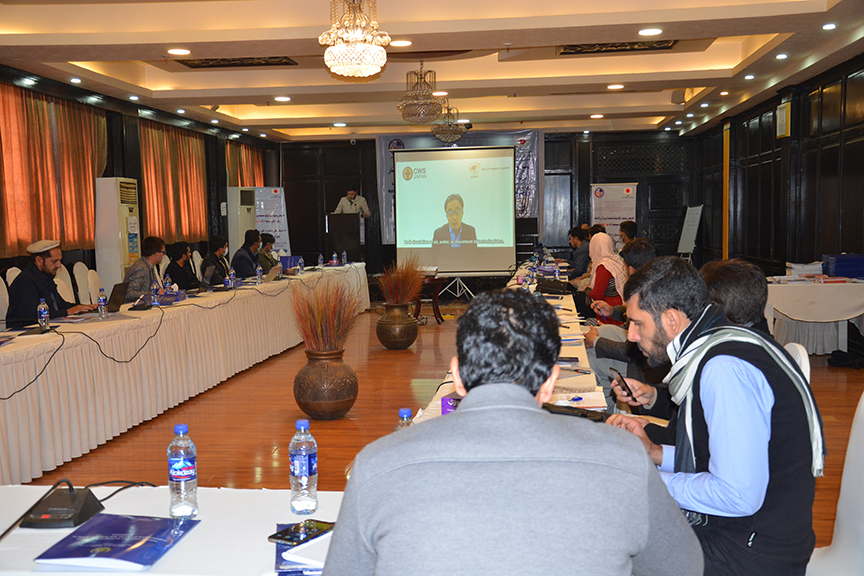 "CWSA has been transferring knowledge of DRR tools and technologies from Japan to Afghanistan for the first time. Project partners, including communities, have shown a keen interest in learning about disaster risk management in their respective locations. The transfer of knowledge is a long-term, sustainable method to providing relevant and helpful information to local and vulnerable groups living in disaster-prone areas," shared Mohammad Sharif, CWSA's DRR team.
Community World Service Asia's continuous engagement with key stakeholders in Afghanistan has enhanced the understanding of local communities on DRR and risk communication through applying contextualised and localised DRR awareness tools and capacity building interventions. The local communities have been enabled to develop technical hazard maps and apply assessment methodologies through specialised trainings. This bilateral coordination among communities, government officials and other relevant stakeholders has increased, allowing local communities to be better equipped to prepare for and face catastrophes and emergencies in the future.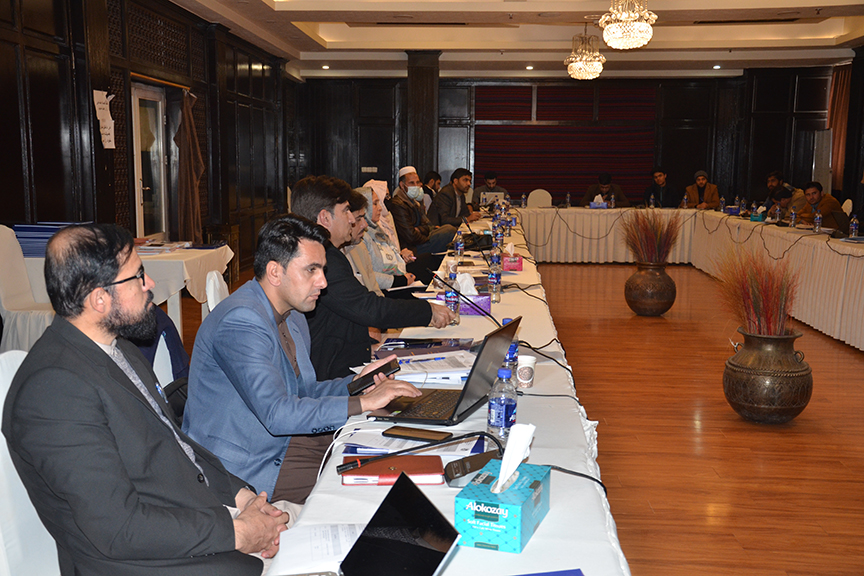 Mohamad Dawood Shirzad, Dean of the Environment Dept. at the Kabul University, commended the DRR team's efforts for its continuous coordination with the faculty, "We are thankful to CWSA and CWS Japan for establishing the Disaster Management Program at a time when it was desperately needed. The program is a long-term strategy to carry forward the learnings and tools gathered from the DRR interventions. This new pool of Disaster Management experts, that are a result of this program, will work towards achieving DRR objectives in a country facing environmental and humanitarian crisis."
"It is a great opportunity for all relevant stakeholders to share their best practices and knowledge on risk reduction. This project has helped increase resilience and DRR knowledge among a diverse group of stakeholders including teachers, students, government officials, humanitarian practitioners and community members. The sustainable approach CWSA adopts while implementing its projects leaves a long-lasting impact, which benefits the communities, and all stakeholders involved in the projects. CWSA has reached yet another milestone with effective deployment of the DRR project," concluded a participant at the event.