A ray of hope and a chance of a better future for Seeta and her daughters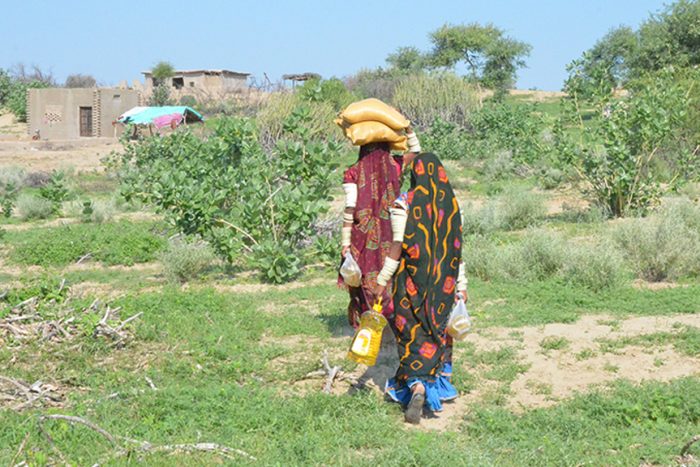 "This humanitarian assistance will enable me to meet my family's food needs for more than a month. The millet seeds will assist me in reviving my agricultural livelihood, which I want to pursue with the help of my nephew and son-in-law in make a better living. This will enable me to send my girls to school so that they may receive an education and have a brighter future. This help came at the perfect time, just when we were struggling to afford a single meal a day even," Seeta explained.
The Village Management Committeeⁱ of Sheedi Jo Tarr village identified Seeta as a project participant under Community World Service Asia and UMCOR's relief projectⁱⁱ. The project is supporting climate induced disaster affected families with the provision of food packages and seasonal seeds for harvesting in the upcoming farming season.
Seeta, a widow belonging to and living in Sheedi Jo Tarr village of Umerkot district, does not have any children of her own but has in fact adopted four daughters of her nephew and has raised them as her own. "I got married at a very young age. I was only 16 years old. While my husband was alive, we decided to adopt two of my nephew's daughters. We have nurtured them as our own, and we adore them. We married our eldest daughter off at the age of 20 in 2009. It was a very joyous moment for us," shared Seeta.
Seeta's husband, Geneso, died of a heart attack in 2010. Following Geneso's death, Seeta's nephew's other two daughters became close to her, as her nephew left them with her when he and his wife went to work in the fields. Seeta would care for the three children by herself all day, and the two younger daughters grew to love her and refused to live with their parents. As a result, Seeta has been caring for the three children on her own since then. Her nephew had a meagre income and would give Seeta a portion of it to help her care for his children. However, this was insufficient to meet all of the children's necessities. "My husband worked in the farming industry. He had rented acreage and cultivated a variety of crops on it. I occasionally assisted him in his agricultural endeavours. However, after he passed away, it became impossible to make a decent living, as I was caring for my three girls alone. The money did not come in as frequently as it used to. I could not work in the fields on a regular basis because I had to care for my house and girls. However, I used to be able to pick cotton and chilli occasionally to earn a little money. 
Our neighbours and relatives sometimes offered cash assistance, but it was insufficient to meet our family's basic needs. At 69 years now, working to earn a living for my family has become too exhausting for me. My daughters help me at home, but I want them to go to school so they may have a better future. My ten-year-old daughter has completed her basic schooling. The two younger ones, who are five and three years old, on the other hand, have not been enrolled in school yet. Unfortunately, I am unable to cover the costs of their schooling," Seeta explains.
Seeta received the food package on October 8th, along with 516 other families at a distribution activity held in her village. The food package consisted of wheat flour, rice, cooking oil, pulse, sugar, tealeaves, iodized salt, matchbox and millet. "Since receiving the food package, we have been eating wholesome meals on a daily basis. My nephew and son-in-law have offered their assistance in preparing the field for millet seed sowing. We now have hope of making money from our agricultural efforts, and I intend to enrol my girls in school," Seeta concluded.
---
ⁱ A community-based structure consisting of key community members, both men and women, who coordinate with and support the project team during project interventions.
ⁱⁱ Humanitarian and recovery support to the vulnerable communities continuously affected by recurrent disasters