Daily wage workers face hunger as 'lockdown' continues in Pakistan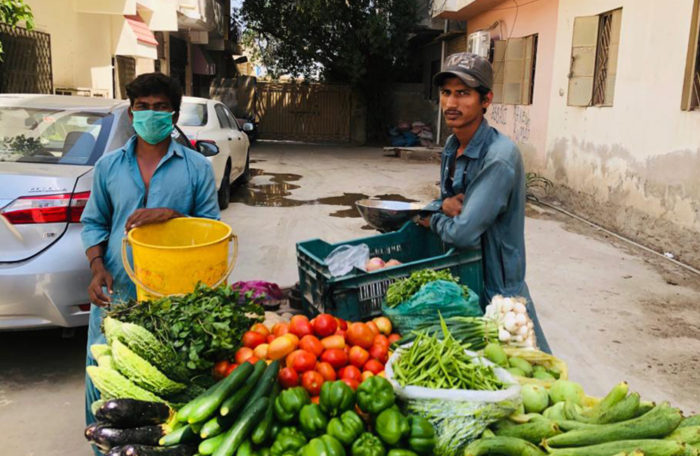 Jeevo Kolhi quietly stands with his vegetable cart, in the scorching heat, by the side of the street in the city of Hyderabad in Sindh, hoping someone will stop by and buy some vegetables from his cart. Though Jeevo's small business has fortunately been excluded from the Province's lockdown measures, his sales have been gravely affected and his problems have multiplied.
There is a new policy everyday. Most days, without any warning, the authorities raise the stringency and lockout measures and ask us to wind up the cart and return to our homes before our business day has even started. Since the vegetables I sell are perishable products, I cannot keep them in storage and shut my business for even a day.
Jeevo was only able to carry on his business for three days out of the whole week at the end of April.
The government has allowed vegetables to be sold till 5 p.m daily as soon as the clock hits 4 p.m., enforcement officials become aggressive and start ordering us to return to our homes immediately. This has made our businesses barely functional
The revenue from Jeevo's daily sales has also dropped since people are reluctant to come out and buy anything from small vendors such as him, assuming vendors on carts would lack hygiene and protective measures.
I take care of cleanliness and make sure all vegetables and my hands are clean so people should not be scared to buy vegetables from me or from those who run small vegetable carts like me,
shared Jeevo.
With nine children and a wife to support, Jeevo is struggling to make daily earnings sufficient to feed the family of eleven.
Before the lockdown our life was good. We were making all ends meet as I was not the only income bearer. My wife and three daughters work as house-cleaning maids in the neighborhood and would earn a monthly salary from it. Since the lockdown, they have all lost their jobs. They will only be able to restart work if the virus is contained and the lockdown is lifted. Until then I am the sole bread earner for my family.
Jeevo and many other families like his are suffering from unemployment, food insecurity and poverty amid the coronavirus crisis. Jeevo is apprehensive that if the outbreak continues and the lockdown does not end, he and his children will have to resort to asking for charity and food to survive.
I look after cleanliness so people should not be conscious to buy vegetables from me and from those who run small vegetable carts.