Communities take charge to keep their homes and families safe from COVID-19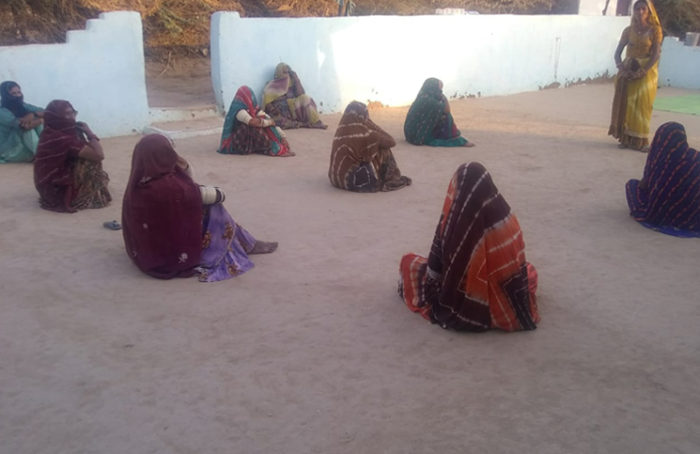 As the Coronavirus pandemic continues to engulf more cities and rural communities, all and any kind of travel and movement between cities and external borders has been halted in Pakistan. Before the travel restrictions were imposed, Community World Service Asia's (CWSA) team working on a Food Security and Disaster Risk Reduction(DRR) project supported by the Ministry of Foreign Affairs Japan, conducted awareness-raising sessions on preventive measures against COVID-19 with the communities that they work with. With the imposed lockdown, those activities had to be stopped as well.
As an alternate way to continue raising awareness and minimize the threat of the virus further spreading our teams decided to engage Village Committees[1] (VC) in the mobilization processes. CWSA project staff teams conducted online sessions over mobile telephones with members of Community Based Organisations(CBOs) and Disaster Risk Reduction Committees, both community-based structures established by the project to ensure community ownership and engagement, of eight villages in Umerkot. The sessions aimed at enhancing knowledge of community members on the COVID-19 disease, its signs and symptoms and precautionary measures to be taken. Through these sessions, selected community members were trained and were asked to replicate the same trainings within their communities.
We received soaps from the  Chairman of the Union Council, which we distributed door to door in Surto Oad village. We also informed the people in the village on frequent hand washing to maintain cleanliness at homes and the surrounding environment. We were told to maintain social distancing and avoid participation in social gatherings to reduce the chances of being infected,
 shared Shiva Ram President and DRR Committee Member in Surto Oad village of Umerkot.
To share our learning ahead, we are mobilizing people to avoid unnecessary movement during the lockdown situation. With the help and guidance of the CWSA's team, we have identified an isolated place where any suspect of the coronavirus will be quarantined. These isolation rooms have been identified and set up in various villages where awareness sessions have been conducted. The villagers have converted their Otaqs, which are drawing rooms or guest rooms located at a distance from family homes in rural household settings, into isolation rooms. All community members been made aware of signs and symptoms of coronavirus and are advised to immediately shift suspected people to the isolated place identified in the village. We have also updated our DRR plan with the emergency contact details of government and other line departments to be used in case of suspected patients or emergency,
added Shiva.
The online sessions not only focused on sharing practical information on COVID-19 but also sensitized communities on building societies grounded in solidarity, equity, and care for one another. Motan, a DRR committee member from Haji Chenasar village in Umerkot said,
Farmers are busy hoeing and harvesting Okra crop. While working in the fields, all farmers wear masks or take over a cloth to cover their mouth and maintain six feet distance. Our earnings have decreased as a result of the lockdown as work opportunities are limited. There is limited aid from the government and civil society organizations. We are being offered to work in agricultural fields but at very low wages. If the situation is prolonged and markets do not open, the food security and livelihood situation will become challenging for us.
In order to minimize the spread of the virus, I wash my hands with soap at least 10 times a day and also teach the same to my children and other children of the village. We wear masks whenever we step outside our homes and cover our mouth when sneezing or coughing. My family and I are not going out or visiting our relatives now. We only go outside when we need to purchase food or household items. When a guest arrives at our place, we ensure social distancing and sit six feet away from each other,
shared Hurmi, who is a member of the Village Committee in Haji Chensar Mari village.
Some Village Committees' members in Umerkot are forced to discontinue their jobs and stay at home until the situation is contained. Social distancing and home isolation are effective measures to control the spread of the virus but is simultaneously having adverse impacts on women and children in terms of gender-based violence (GBV), child-abuse and increased manual labour.
In Pakistan, figures on GBV are expected to rise as the poorest of communities are continuing to lose their livelihoods and income. Women are categorized as the more vulnerable in the current crisis and need to be at the forefront in all awareness-raising, mental and physical health activities associated with COVID-19 response. To ensure their inclusion and to address the risks associated with the pandemic for women, twenty-four sessions on gender implications of COVID-19 and best practices on minimizing these risks were conducted among rural communities (both men and women) in Umerkot in the month of April.
Establishing and strengthening village committees in target villages has proven to be effective in terms of awareness and knowledge building on COVID-19 among communities. This would not have been possible without the communities showing keen interest and being proactive in learning, practicing and sharing the information to reduce the risks of the virus spreading in their homeland.
While rural communities are struggling to make ends meet and to ensure a means of food security for their families, the pandemic is indiscriminately impacting both rural and urban communities in terms of businesses closing down and unemployment rising rapidly. It is expected that between 12.3 million and 18.5 million people in various sectors may lose their jobs in Pakistan. In Punjab province alone, at least half a million textile and garment-industry workers have lost their jobs[2].
---
[1] A body of like-minded people representing households in a certain locality for to help in improving the localities in terms of progress and awareness building on different matters. These community groups have been established by CWSA through its projects to ensure community participation and ownership of programs.
[2] Pakistan Workers' Federation (since March 28th)