Cash assistance helps Razia keep her children warm and fed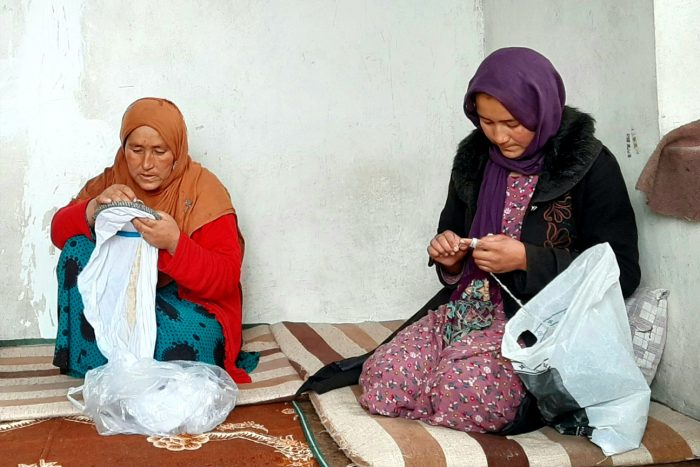 "A year ago, we were displaced from Waras district of Bamyan province as the living conditions in our village had worsened and there were hardly any work opportunities left in the pandemic. To make things worse, my husband suddenly abandoned our four children and me and married another woman. Life became very difficult for me," shared Razia.
At the age of thirty-five, Razia was left to earn and care for three young daughters and a son. With no home to call their own, the mother and children took refuge living in a spare room within a mosque in Dasht-e-Sherai village of Bamyan province. These 4 by 4-meter spare rooms in mosques are mostly used for hosting village meetings and gatherings but became home for the troubled family. Built largely of pure concrete, and with no electricity, gas, or water supply, the room became particularly hard to live in the water.
Razia and her children fetch water for their daily use from a well in the nearest village. Like most residents in Bamyan, Razia uses rechargeable batteries as an alternative for electricity and keeps the room warm by fueling the heater with leaves gathered from the trees in the neighborhood.
Seventeen year old Najib is Razia's eldest son. He runs an ice-cream cart for an ice-cream company in the summer season and works in a small recycling shop in the winters. He walks around with a cart from dawn until dusk to buy second-hand material and dry bread from families in the neighborhood. By the end of the day, he earns AFN 200 (approx. USD 3).
"Najib is too young to be working. He is compassionate and takes care of us at all times. Many times he has offered to drop out of school so that he can work full day and earn a decent income for his sisters and I. But I never agree to it, nor will I ever because I want him to attain full education and make a good future for himself."
Razia's daughters, aged between 6 and 13 years, help around in the house and also engage in some hand embroidery and knitting with their mother to sell handicrafts. However, with limited work opportunities and low buying power due to COVID-19, Razia has not been receiving any orders for her handcrafted products.
Razia registered her family in the database of DoRRⁱsome time ago. This database was shared with Community World Service Asia when it started working on selecting participants for its emergency response project, supported by Presbyterian World Service & Development (PWS&D). Razia was selected and received her first cash grant of AFN 6900 (Approx. USD 90). on December 1st, 2020.
"We were blessed this season as the cash helped us to purchase essential groceries including flour, rice, oil, vegetables, wood and gas. I have also bought warm clothing for my children so the winters will be warm and comfortable."
The limited livelihood opportunities in the winter season leaves many families in the area in a dire situation. Similarly, making ends meet became seriously challenging for Razia's family. Razia says she is not as stressed now because she knows she will receive four more cash grants in the coming months. She will be able to manage her family's household and educational expenses with the money and will spend the winters in whatever little warmth and comfort she can afford for her family.