Home
Newsroom
Stories
Building stronger and resilient communities through primary level DRR Education
Building stronger and resilient communities through primary level DRR Education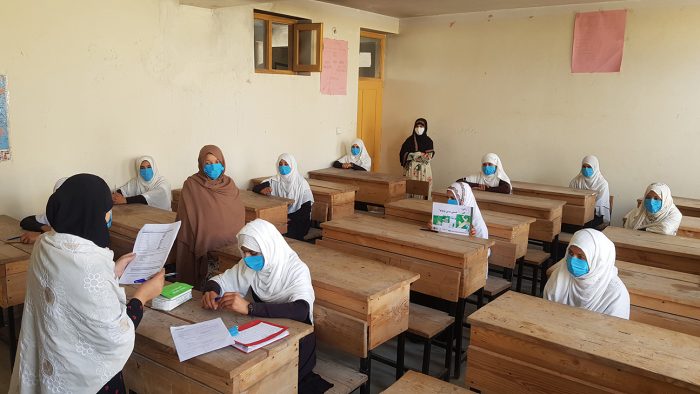 Community World Service Asia (CWSA), in partnership with Church World Service (CWS) Japan and the Ministry of Foreign Affairs Japan (MoFA) has successfully implemented a three-year-old Disaster Risk Reduction (DRR) Project in Laghman and Nangarhar provinces of Afghanistan. The project's prime goal was raising DRR awareness and building technical DRR knowledge and skills of local communities that are frequently affected by natural disasters. Since the communities in the area are most affected by floods and landslides, the project activities focused on enhancing risk reduction skills against floods and landslides. Teachers, students, community members and government officials were all trained on adopting preventive measures against various disasters and building disaster resilience through the project.
Students and young children in Afghanistan are mostly unaware of the geographic landscapes of their country. Human awareness about natural hazards and the threats it presents is minimal. Many children cannot read maps and have insufficient knowledge on evacuation steps. To fill this knowledge gap, teachers in the project target area were provided supplementary textbooks on developing a map reading culture among students and helping them understand the trigger factors of natural hazards. Teachers were given informative DRR material, including hazard and DRR maps and Evacuation Activity Game (EVAG) to make the topic interesting and easily retainable for students.
For the three-year project period, twenty-four teachers were trained each year to further increase their understanding on DRR and comprehensively orient them on the content of the supplementary textbooks. The trainings also introduced the teachers to more interactive teaching methodologies on the subject.
Fahima, a 32-year-old teacher, at the Qala Tak Naswan Girls High School of Khew district in Nangarhar province, was among the teachers trained under the project and one of the most active participants. Fahima replicated the DRR awareness sessions and trainings in her own school after taking part in multiple DRR trainings under the project.
"It was a whole new learning for me. Initially, I was not aware about risk analysis or hazard mapping. However, today, I am equipped with extensive DRR knowledge which allows me to train my fellow colleagues and students on how to read maps, understand different disasters and their causing factors, and also to teach them on how to evacuate if a disaster happens."
Fahima's interest in the subject and her determination to help make her community more disaster resilient motivated her to share all her learnings with her family and community members.
"I really feel fortunate to share my knowledge with my friends and relatives. I encourage my students and community residents to nurture and plant more trees and stock half-filled sand bags at home. As DRR awareness is rare in our region, I keep discussing preventive techniques, hazard mapping and evacuation methods with community members."
Fahima now conducts special DRR classes for her new students as an additional activity.
"I tend to keep the students vigilant and active to learn more on DRR so that they can help their families, neighbours and friends to keep themselves safe and respond confidently during emergencies."