Bringing back girls to schools in Umerkot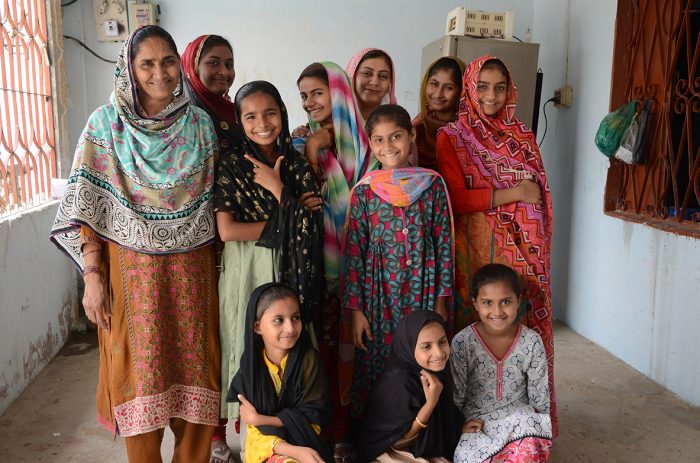 The 2016-17 annual schools census report for the province of Sindh, launched by the provincial education department, encompasses an array of parameters that assess academic standards, enrollments and other services of schools in Sindh. One of the many interesting features of the report is the statistics it shows on the number of government schools in the province, which indicate a yawning variance in the number of primary and  higher secondary level schools. According to the census, 89.9%, of the total 42,383 schools in Sindh provide only primary education.
Schools that provide education beyond primary level only amount to 6%, i.e., 2,241 schools in the entire province. More specifically, there are 1,719 secondary schools and 291 higher secondary educational institutions in Sindh. The Umerkot district only hosts 141 middle to higher secondary schools, while there are 1,887 primary schools in the district; providing education services to 92,416 students in the district. In comparison, the students from class six to college level total about 25,000, which is less than 30% of the strength at the primary level.
Education in Umerkot:
The Sindh government has recognized over 42,000 schools in Sindh. It is difficult to manage and supervise all the schools and to ensure that they all provide quality education with their limited resources. However, the education department is involved in various reforms to upgrade the education system in Sindh,
shared Muhammad Luqman Noori, District Coordinator, Local Support Unit, Education Department. Luqman Noori has been working in the education department since 2013. He confirmed that the Sindh government had initiated an Education Management Surveillance System. In this system, the data of all the school registered in the district is collected and saved online. The system is updated annually and most of its data is currently available online.
Moreover, a model school concept has also been introduced to ensure the effective manageability of over 40,000 schools in the province. According to this model, the education department has identified 4,560 schools; those that have a reasonable enrollment, more than two teachers and at least two to three rooms in a building. The education department is working actively on further improving the infrastructure and education quality of these selected schools to gradually improve the education status in Sindh. Out of the 4,560 schools, 151 schools are established in Umerkot.
To promote girls education, a stipend system is introduced for girls studying between grades 6th to 10th. All girl students are entitled to a stipend of PKR 3500 per annum, upon enrollment in any local village school. This activity has encouraged girls to continue their studies through middle and high school. Despite these reforms and other initiatives undertaken by the education department, there is still a long way to go to meet international standards of education in the province.
The ratio of school going girls in the city is higher as compared to that in interior villages of Umerkot. The main reason for the low number is cultural and social barriers. There is a lack of awareness and the rigid mind-sets of rural villagers do not allow girls to be independent and bold which they think they will get with being highly educated,
expressed Dwarko Mal, District Education Officer, Primary School Umerkot.
Dwarko further explained the common practice of early age and child marriages prevalent in many of the villages in the district and other areas of the province. With such customs still predominant, young girls are burdened with countless household and family responsibilities, leaving no time or priority to education and other ambitions.
Majority of the girls here only study till 5th Grade also because there are hardly any  elementary and high schools in many of the villages here. Parents are very reluctant to send their daughters to travel long distances to attend middle or high school due to security and cultural issues. Some parents believe that the sole purpose of a young girl's life is to be married and to take care of her husband and children. There is a dire need for awareness building for parents to overcome such thinking and allow girls to avail higher education.
 Dwarko also pointed the overall shortage of girl schools, especially in the rural areas of Umerkot, as a major contributing factor to low girls enrollment in the area. Additionally, the over numbered vacant teacher positions have lead to a high shortage of teachers in the existing primary and high schools.
When teachers are retired, their vacancies are rarely filled. For this reason, some schools do not have appointed teachers.
The Girls' Education Project:
The Girls Education projectⁱ (GEP) was initiated in Thatta and Umerkot districts of Sindh, Pakistan, in 2016, with an aim to improve access to and quality of education for girls.
The GEP team was in close coordination with the Sindh Education Department since the initial stage of the project. We have been involved in all stages of the project; selection of teachers, selection of schools, participation in training events and summer camps. One of the most productive activities were the teachers' trainings conducted under the project. Not only did they train the teachers on new teaching methods, they monitored the performance of the teachers and the schools to effectively evaluate the impact of the new learning and how it is benefitting students and schools. The teaching material provided in the trainings to the teachers also motivated them to continue applying the new initiatives that they had learnt. The learning kit included colored chart papers, stationary, a dictionary and a globe. Most schools in rural areas lack resources, hence these learning kits encourages teachers and students towards being more motivated and creative,
 narrated Luqman.
Dwarko Mal and Luqman Noori were invited to some of the closing ceremonies of the teachers' trainings. At these events they observed the increased confidence and innovation of  teachers during group presentations and practical activities.
The training provided a professional and comfortable environment to both men and women participants. Teachers delivered presentations with confidence and the response of other participants was very encouraging. The new teaching techniques adopted by teachers have created student-friendly classrooms where students participants openly without any hesitation,
 said Dwarko Mal,
The new methods of teaching through practical activities will inspire students towards learning as children learn fast when they enjoy studying.
We now support and welcome initiatives focused on child-centered education. The learning outcomes of this method are great  and we have witnessed the growth in teachers and students after the camps and trainings. Enrollment has increased in targeted schools and students are more regular. Teachers have become more observant and friendly towards the students. The traditional role and mind-sets have changed and new teaching techniques have resulted in positive outcomes. The behavior and attitudes of teachers have become child-friendly which has encouraged students to perform better in classrooms. Teachers are now playing a supportive role rather than an authoritative,
added Luqman positively.
This project does not focus on girls' schools; but it focuses on girls as individuals and productive minds.
The most beneficial aspect of the project was that it included both girls' and boys' schools,
 added Luqman excitedly,
I encourage initiatives as these that support communities by providing resources, services and opportunities instead of just giving cash assistance. The money is mostly taken by the parents and not utilized as planned. The resources, skills and opportunities provided through this project directly affect the students which results in increased learning, increased enrollments and healthy student development.
Steps Ahead
The new management appointed in the education department is in the process of hiring Early Childhood Teachers (ECTs). Only women are encouraged to apply for the position. Advertisements have been published with the intention to hire professionally qualified ECTs. This is a positive change and a step forward to implement the early childhood education law in Pakistan,
proudly added Dwarko Mal.
According to Luqman, the teacher trainings have to be a continuous process.
Time and teaching methods are changing frequently on national and international levels. With time, more innovative and unique teaching methods and tools are being introduced. For this reason, the trainings of teachers become mandatory to sustain the quality of education.
 Through the project we have seen that extra curriculum activities motivate students to attend schools and retain an interest in education. Local academic competitions and events such as camps, art or debate competitions, allow students to groom their personalities and exhibit their talents.  However such opportunities are rare in rural villages of Umerkot.
Extra-curriculum activities will encourage students to come to schools and will make parents proud to see their children involved in local or even national academic competitions. All of this requires resources though, which many of these local schools lack. The procedure of accessing resources and support from government funds is very lengthy and time-consuming. Therefore, i will request for organizations to support schools with our coordination and collaboration. If the government and humanitarian organizations work together, change will come fast with fruitful outcomes.
ⁱ Improving Access and Quality of Education for Girls in Thatta and Umerkot project is implemented by Community World Service Asia and supported by Act for Peace.