Bridging gaps to bring about agricultural development in Sindh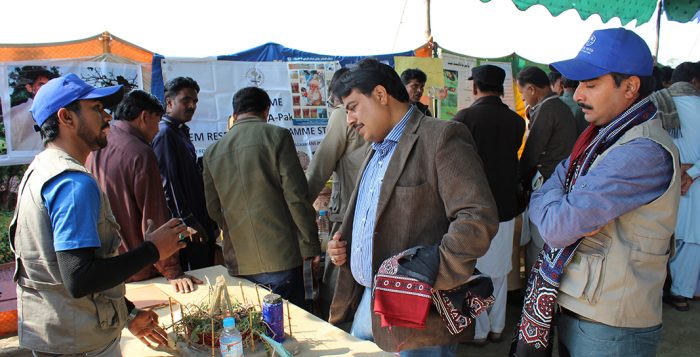 Community World Service Asia organized a two days farmer festival in two union councils of Khairpur Gambo and Pangrio of in district Badin of Sindh under its "Promoting Sustainable Agriculture practices" project for vulnerable and marginalized farmers. The festival which aimed at highlighting local agriculture based issues with line departments and sharing project learnings with other stakeholders, was held at two venues; one at Babar Kaloion village and the other at Kamil Khosoon village, in January this year. Around six hundred people attended the festival. Representatives from from Community Based organizations (CBOs), farmer Field School Members and community women, trained in kitchen gardening and nutrition, participated took part in the festival.
Organizations working in the area, including Arche Nova, Plan International, National Rural Support Program (NRSP), SEEWA Pak, Participatory Village Development Programme (PVDP), President's Primary Healthcare Initiative (PPHI) and Local Support Organization Meharn, had held stalls at the festival as well. The stalls displayed local handicrafts and pictorial presentations reflecting project activities. Models on Key Hole Kitchen Gardening and Biological Pests Control were also on display. Local women held stalls selling the fresh vegetables grown in their kitchen gardens. Community members shared their experiences and learnings in sustainable agriculture while working under the project with visitors at the festival.
Government and Line department officials including Assistant Director Social Welfare Badin, Agriculture Officers' from Agriculture Extension department of Badin and Deputy Director Water Management Hyderabad appreciated the efforts of the farmers and their hard work in the fields.  Local government officials, including Vice Chairman UC Khairpur, Vice Chairman UC Saman Sarkar, Ex-Taluka Nazim Tando Bagho and progressive farmers from local nearby villages also attended the festival.
An interactive theater play was performed by Perbhat, a local theater group, focusing on "Promoting Sustainable Agriculture Practices to Improve Food Security and Livelihoods local farmers". Mir Kaloi, a local poet and radio presenter, played a folk song and a group of rural women,Prem Nagar, sang a song on social development as the fun-filled festival.
The festival provided a platform for local farmers and government officials to interact directly with each other. The farmers communicated their problems and challenges faced during agricultural activities while people representatives of the line department recommended possible mitigation measures to them. The Agriculture, Irrigation and Social Development departments shared informative details about their departments and the subsidies they are providing to small-scale farmers.