As Pakistan looks to flood recovery, support for women and children is key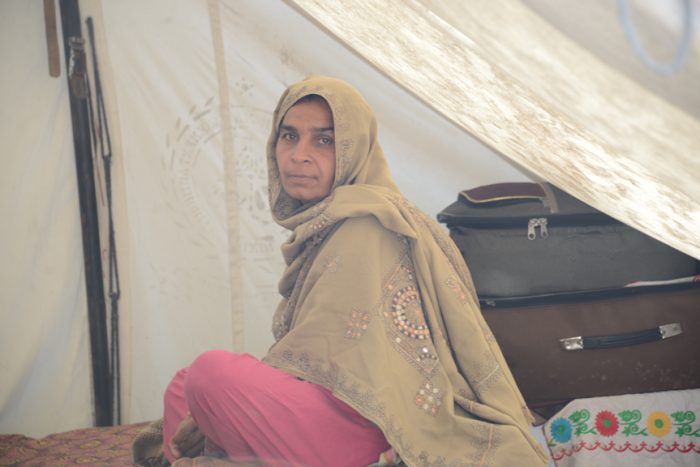 Pakistan's 2022 monsoon season produced significant rainfall, devastating floods and landslides, affecting millions of people. At the beginning of 2023 and several months after one of the worst flooding experienced in the country, an estimated 4.5 million people remain exposed to or are living close to flooded areas. Displaced people have started to return to their places of origin, but they are returning to challenging situations and almost zero infrastructure.
During these floods, Hafiza Bibi, a single mother of four children, not only saw her home crumbling down in front of her eyes but also experienced the grief of two dear family members passing away. "My husband was suffering from cancer. We could barely afford his medicines. He passed away in August during the middle of all the heavy rains. While I was struggling to get over the loss of my husband, my daughter also suffered from a nervous breakdown in October due to the trauma and stress of the floods. It took us a whole day just to reach to the nearest hospital when she fell to the ground. She stayed in the hospital for ten days but did not survive. She was only 21years old."
Hafiza's husband worked as a farmer and a labourer. Hafiza stayed at home, taking care of her four children, dedicated to household and care-taking chores. She watched water daily and ensured the family consumed their meals. "Our relatives would sometimes help us by giving wheat or money as charity. However, after the floods everyone suffered badly and no one we know was in a position to help."
Many homes were washed away in Muhammad Fazal Khokar village where Hafiza lived. And her house was one of the many totally destroyed. She now lives with her brother-in-law in the same village but she knows that this living situation cannot not be continued for a long time. "I live in a makeshift tent just outside the house. It scares me that one day my brother-in-law will ask me to leave his place. This thought terrifies me as I have no money to build a place of my own". Hafiza and her children have struggled to survive and slept for days on an empty stomach since everything she once owned had vanished within a blink of an eye.
"We went door to door assessing flood affected people who were in dire need during our visits to the most remote villages of Khairpur district. That is when we came across Hafiza Bibi. Members of the village committee were kind enough to inform us that a widow with four young children was in urgent need of money and assistance," shared Hassan, Community Mobiliser in Community World Service Asia.
Community World Service Asia (CWSA) with the support of Canadian Foodgrains Bank(CFGB) and Presbyterian World Service & Development (PWS&D) is supporting flood affected families with Cash for Food (CFF) in some of the most remote and climatically vulnerable villages of Khairpur district in Sindh, Pakistan. Under the initiative, flood survivors are provided cash to meet their immediate food and other essential needs.
Hafiza Bibi received PKR 12,000 in three tranches under the project so far(a total of PKR 36,000). "I bought essential food items such as wheat flour, rice, sugar, tea, milk and vegetables. This assistance has provided me some relief and allowed me to put food on the table for my children. At least for now. The rising prices are a huge concern and we do not know how we are going to make ends meets with no source of livelihood. I wanted to save some amount in case of emergency but I could not. A small packet of rice costs in hundreds these days. We need opportunities to revive our livelihoods."