Applying Community Mobilization Training to Resolve Conflicts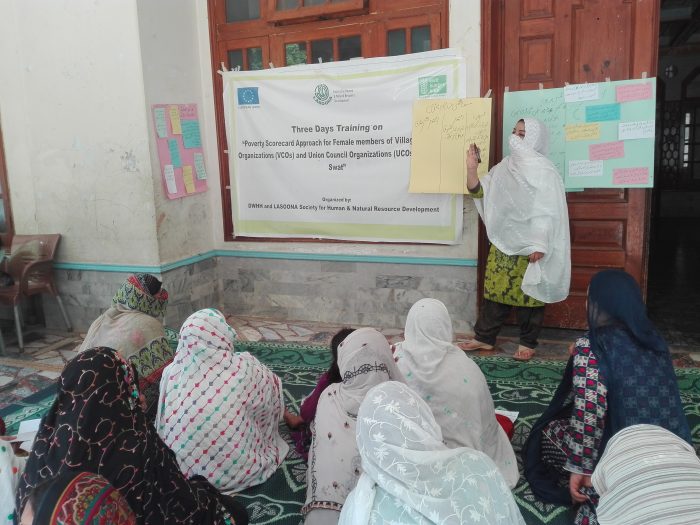 Hira Gul has worked in Pakistan's development sector for more than 10 years. As a Community Mobilization Officer, Hira works with LASOONA to mobilize communities around improved livelihoods, governance reforms and health in Thana in the Malakand District. Her job is busy and multifaceted—she conducts sessions on developing market linkages, skill development, water and sanitation, inclusive development, improved governance, women's empowerment and much more—and she is always eager to learn how to better support the communities she serves.
When Community World Service Asia announced the "Essentials of Social Mobilization" training, I immediately showed interest in attending the workshop as I was eager to learn modified and effective processes of social mobilization,
she shared.
Hira was one of 22 participants from five national nongovernment organizations who gathered in Peshawar in March 2019 to enhance their social mobilization skills to raise awareness of and demand for a particular development objective through dialogue. Lead Trainer Muazzam Ali, a seasoned expert in community mobilization with CWSA, facilitated the four-day training workshop on practical skills for successful social mobilization.
The training enhanced our understanding of social mobilization as an approach. We learnt the key elements and the true role of a social mobilizer. Basic communications skills, ethics and tools were provided for successful mobilization processes. Moreover, the training taught us how to manage community expectations and keep them engaged through the project life cycle, 
Hira recalled.
After the training, Hira said she was able to use the learning right away, including actively implementing the Do No Harm Policy while engaging communities in project activities.
In addition, through rapport building with women, I gave a session on the Do No Harm policy and mobilized them towards the outcomes of the project. This way the project participants are provided assistance with dignity and safety.
She also found the training useful in managing an ongoing conflict in communities she supported. Under LASOONA's Governance Reform project, two communities in Union Council Miadam in Swat were engaged in a conflict in relation to Community Physical Infrastructure (CPI) Schemes. Thanks to Community World Service Asia, Hira managed to resolve the conflict through her learning she gathered from the session on Conflict Resolution.