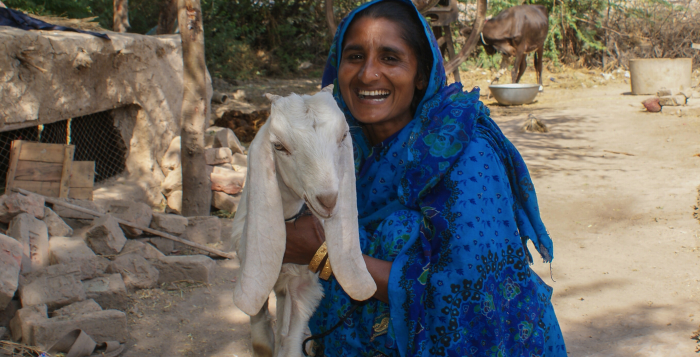 Aqlan, a thirty-two year old mother of five school going children financially supports her family, including her husband and brother-in-law. Her main source of income is earned through agricultural fieldwork and livestock management.
"Badin district is situated at the tail end of canal irrigation system. Therefore, the agriculture fields are faced by severe water scarcity. The land has low productivity due to unfertile soil and lack of water. We have to depend on livestock rearing to supplement family earning,"
an exhausted Aqlan explains.
Nominated as a kitchen gardening training participant of a disaster response project in Badin, Aqsa received vegetable seeds for home-growing at her home yard in her village, Mohammad Abbas Thebo.
"Puran Nadi, a natural flow of River Indus, not only irrigates thousands of acres of land but also provides drinking water to the surrounding communities. Sadly, the disposal of chemical waste in the river has not only made the water undrinkable but unusable for irrigation as well. The contaminated water is gradually devouring the fertile soil land as well. After receiving the kitchen gardening training and vegetable seeds, I decided to prepare a patch of land for sowing the seeds to produce fresh vegetables, with the support of my family."
As a result, Aqlan's family grew garden-fresh vegetables on a daily basis, improving the quality and quantity of their food consumption.
"Kitchen gardening enhanced my family's food diversification as it helps me to grow different kinds of vegetables seasonally. Our expense on purchasing vegetables from market has decreased exceptionally. I have also generated revenue of PKR5000 by selling the surplus in the nearby market."
Aqsa revealed that she also bought a male goat from her savings which will benefit her family in the long run.
"We are planning to sell the goat on the festive of Eid for a good price of PKR25000. I am so pleased that I have been given a chance to do something meaningful in my life for my family's support and care."