A determination undeterred by cultural barriers and gender disparity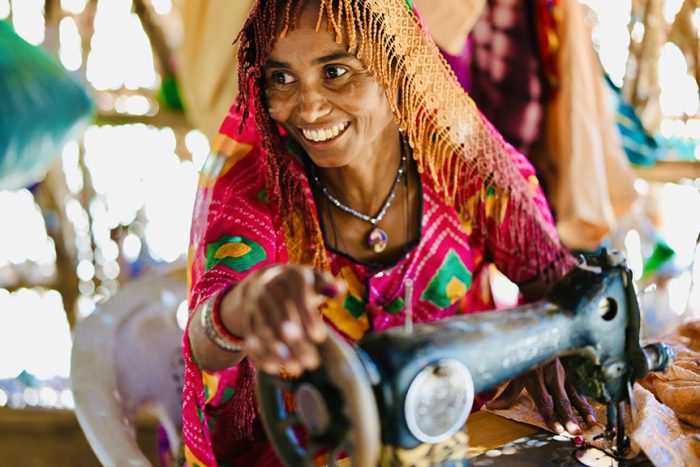 Gauri is the star of Rohiraro. As a very young girl in her parents' village near Chachro, she taught herself cutting and sewing, got a hand-cranked sewing machine and started work as a seamstress. With a laugh she insists that she did not have a teacher, that she is entirely self-taught.
Marriage brought her to her husband's village Rohiraro. Her man did not own any land of his own and worked as an unskilled labourer daily commuting the sixty kilometres to Umerkot for work. Together they had two children and with Gauri contributing to the family's income from her tailoring, life seemed to be as good as it could be in a typical village of the desert area of Umerkot. But misfortune struck in 2008 when her son was still very small and her daughter yet to be born: her husband passed away in a road accident.
Perhaps another woman would have succumbed to despair, but Gauri was made of different mettle. She went into her tailoring work in overdrive. About this time she also learned to make those fancy and colourful naras (drawstrings for the shalwar). Virtual pieces of art, these strings are ideally meant to hang a little below the hem of the kameez1 and be seen.
Today as seamstress to her village, Gauri charges PKR 300 (Approx. USD 1.5) for a women's dress and says she can do about seven dresses every week. That means a monthly income of roughly PKR 8000 (Approx. USD 39). At the same time, her colourful naras fetch up to PKR 800 (Approx. USD 4) apiece.
Though herself illiterate, Gauri is not unaware of the advantage of education. She enrolled her son in the local school, saw him through primary education and then sent him to the middle school at Ramsar village seven kilometres away. Though government schools do not charge tuition fees, she still had to pay for books and other materials the child used in class. She met these expenses from her tailoring income. At the same time, she graduated from her hand machine to a second-hand foot-operated model.
When the time came, she enrolled her daughter in the village school. The girl progressed to the third grade and that was the end of her education because, as it generally happens in remote rural schools, the teacher went absent. The son, however, did well and in 2022 was sailing through grade eight in an Umerkot school. Gauri had set her eyes on his education to at least grade twelve. Then, she said with a laugh, she would wed him off. She said she had no connections and could not get him a job, so being married was an appropriate alternative.
However, one could clearly see the mother who would succumb to her son's desire to continue his education beyond higher secondary level and make something of his life.
Attending the village school and the one at Ramsar may have been affordable, but since the boy could not commute out to Umerkot and back on a daily basis, he had to live in a hostel. That cost money. And for that Gauri toiled every single waking moment daily on her sewing machine and the drawstring loom. Even so, she would sometime have to borrow to pay the hostel in Umerkot.
The first instalment of food aid saved her a considerable sum from her monthly income normally spent on food. Judiciously, Gauri paid up at the school hostel. With her loud, happy laughter she says she splurged the remainder attending a wedding in her parents' family. The next goal is to save enough to wed off her daughter in style. After all, the girl is already thirteen. Gauri listens attentively to advice on waiting until the child is at least eighteen and smiles the smile that says mother knows best.
This was the day before the second instalment of food aid was due in Rohiraro, the question that came naturally was how she proposed to use the money saved from the purchase of food. Gauri looked thoughtful when Ashar of CWSA suggested it would be a good idea to stock her tailoring shop with material. This would make for greater convenience for her customers and more business for her because then she could also earn reasonable margin on the material.
The way her eyes lit up shows that well before the Humanitarian, Early Recovery, and Development project ends, Gauri might have a proper tailoring establishment in Rohiraro. This would then be the only such business for miles around in this part of Desert area of Umerkot. That would mean real business for a person as dynamic as Gauri.
---
[1] Shalwar kameez is a traditional combination dress worn by women, and in some regions by men, in South Asia, and Central Asia. Kameez is referred to the long shirt and shalwar is the trouser.