7-day Interactive Theatre Bootcamp aims to bring positive change among impoverished communities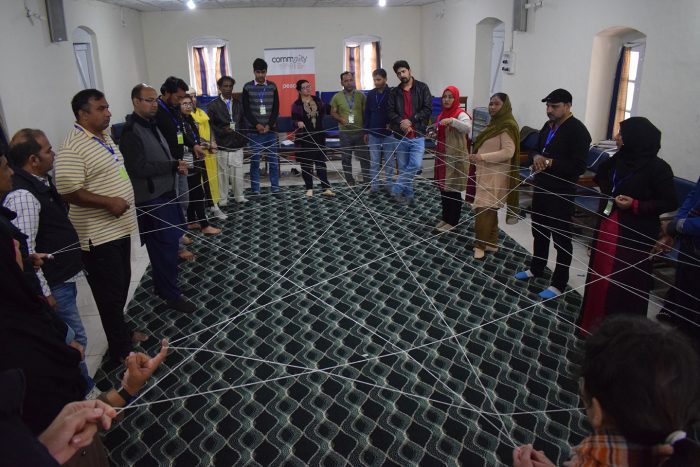 As a component of Community World Service Asia and University of Peshawar's collaborative interventions[1], a seven-day residential training on "Interactive Theatre for Influencing" was conducted at the University's Baragali campus in the northern hills. Twenty-four aid workers and theatre activists from thirteen local NGOs and performing art groups participated in the training.
Participants were engaged in theoretical and practical learning exercises that aimed to improve acting skills and communication, enhance abilities, introduce stage ethics and sharpen dialogue delivery. The workshop style training also worked towards introducing and enhancing script writing techniques, issue identification and performance techniques among participants.
Practice sessions of real theatre plays were conducted as part of the training to enable the participants to link awareness raising on prominent issues with their play theme and performance. They were sensitized on utilizing this art form to deliver messages of positive social change. The various activities of the training provided participants with an opportunity to share experiences and ideas with each other that would help them in highlighting community issues through designing interactive theater performances in the future.
During the week-long training, participants developed action plans to ensure the implementation and application of the learning and techniques they had learnt in their respective communities. The training increased the capacity of local theatre groups to use theatre as a tool to influence communities to bring about progressive societal changes and uphold their rights. Participants also learnt theatre improvisation techniques such as effective use of body language, eye contact with the audience, balancing vocals and following a rhythm during the play to make more impact. All these skills would facilitate the theatre activists with helping rural and under-priviliged communities to overcome their collective issues and inspire positive perceptional changes,
Participants Voices
Interactive theatre for Influencing was a platform where I got the opportunity to get to know myself better and look at my capabilities from a different perspective. My confidence level boosted and as a result, I participated in the group exercises without hesitation. In addition, I was able to improve my vocal and dialogue delivery, body movement and gestures.

All participants were engaged in interactive activities through which we learnt how to engage and influence the audience in interactive theater performances. We appreciate the organization and the management team for providing learning opportunities to continuously upgrade our skills and deliver the content effectively.
Mujahid Ali, Programme Manager, Bunyad Literacy Community Council
This training played a vital role in educating me about the effective ways and tools that can be used for influencing communities. Such trainings are a source for personal development and knowledge building. We learnt different tools to bridge the knowledge gap existing in communities. The training enhanced the ability to highlight sensitive and ignorant problems prevailing in our society. I aim to utilize the theater delivery techniques shared in the training to achieve our objective of a progressive and developed society.
Tariq Khan, Livelihoods Officer, Secours Islamique France (SIF)
I had no prior knowledge of theatre before attending this training. This experience provided the history, types and the importance of theatre. The activities conducted during the sessions in the training built my confidence and allowed me to effectively influence communities and encourage change to make progressive societies. Theater in one of the most effective ways to influence communities and encourage them towards development and change.
Misbah Naureen, Training Coordinator, Institute of Rural Management
---
[1] Under CWSA's Capacity Enhancement Project supported by Bread for the World