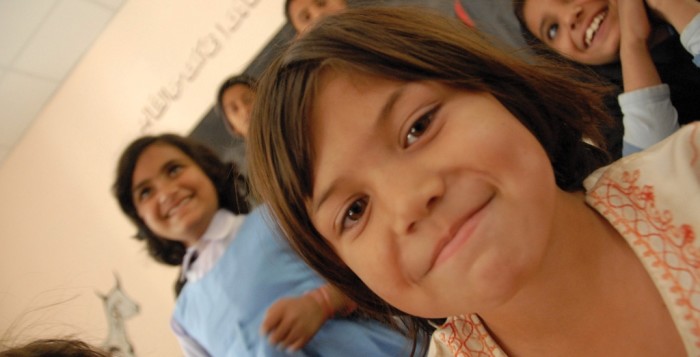 As the foundation of the long-term development of communities, CWS-P/A believes that education develops the capacity of children, youth, and adults to fully understand their rights, roles, and values.
CWS-P/A education efforts in Afghanistan and Pakistan strive to meet communities' contextual needs in order to help children realize their right to education and to add to the knowledge and future prosperity of societies. It is through this understanding of the local context that CWS-P/A aims to create the greatest impact on the education of communities.
For example, in the Swat area of Pakistan, one of the education needs of communities is in the area of school reconstruction following their destruction by militant groups and the conflict in Swat in 2009. While in the Laghman province of Afghanistan, the greatest need is the resources and support to communities to promote education for girls. And wherever possible. CWS-P/A liaises closely with government departments and district management to ensure that efforts are in concert with local authorities in order to minimize duplication of efforts and to develop the long-term capacity of education institutions.
As CWS-P/A works with communities, local governments, and partners to address the diverse education needs across the two countries, the crosscutting focus continues to be on teachers and students from rural areas. It is through teachers and students – seen as key assets for the development of marginalized communities – that CWS-P/A strives to create new opportunities for learning.
Promoting Quality Education
The political, economic, and social conditions in both Pakistan and Afghanistan have contributed to an ever-increasing gap between the rich and the poor. And as the countries experience periods of high inflation, unemployment, poverty, and unrest, the access to quality education has become even more difficult for marginalized groups.
CWS-P/A recognizes that promoting quality education requires multi-leveled approaches that encourage communities to support education for both boys and girls, constructing and improving school facilities where needed, and developing the capacity of teachers to improve the quality of schools and the quality of learning. Key work includes improving classrooms to foster better learning environments and helping teachers to better be able to teach in multi-grade situations. And CWS-P/A continues to build upon its history of training more than 2,300 teachers.
By investing in resources to train children, youth, and teachers, CWS-P/A projects work to develop skills, raise awareness and build the capacity of communities to understand key social, political, economic, and cultural issues ranging from topics like democracy to health awareness.
And in the aftermath of disasters, particularly the 2005 Kashmir earthquake, CWS-P/A constructed and retrofitted schools that were destroyed or badly damaged – giving new priority and support to the importance of education in communities.
In other projects, adult literacy sessions for parents are conducted with a focus on skills development. And monthly meetings of parent teacher committees promotes the improved performance of children and an environment for parents to increase their commitment to the education of their children.
Enhancing the School Enrollment of Girls
In addition, the literacy gap between men and women highlights the disparity present within educational institutions in the region. In Pakistan, the youth literacy rate for males is 80 percent, while that for females is 60 percent. Whereas, in Afghanistan the literacy rate for males is 49 percent and for females is just 18 percent. Therefore, the promotion of gender equality in educational institutions is critical to empowering girls and women to achieve their rights and to foster societies of tolerance, peace, and prosperity.
In addition, this gender disparity in schools in Pakistan and Afghanistan forms additional barriers to the overall development of communities. The challenge in particularly poor areas remains retaining female students in schools. Often times girls will start their education, but after several years, families choose to only send their boys to school due to security concerns for girls and as the costs of education become too much for large families. CWS-P/A through its education programs encourages the enrollment of girls both by raising awareness among communities and stakeholders, and also by helping offset the education costs for girls by providing textbooks and stationary to girls schools.
Developing Skills Among Parents and Children
One other area of child development where CWS-P/A focuses is the raising of awareness among parents on children's mental, physical, emotional and social growth. Through children rehabilitation centers, CWS-P/A works directly with communities to assist the most vulnerable children including orphans, children of disabled parents, and those most affected by trauma.
Children are given the attention they need to deal with behavioral issues and to improve their daily nutrition through healthy meals. And through regular meetings with parents, teachers have an opportunity to raise awareness on family nutrition, hygiene, girls empowerment, and to link students to public schools. These sessions create positive impacts beyond just the children in the centers, but impact the life of the entire community as parents are empowered to create more opportunities for their children.