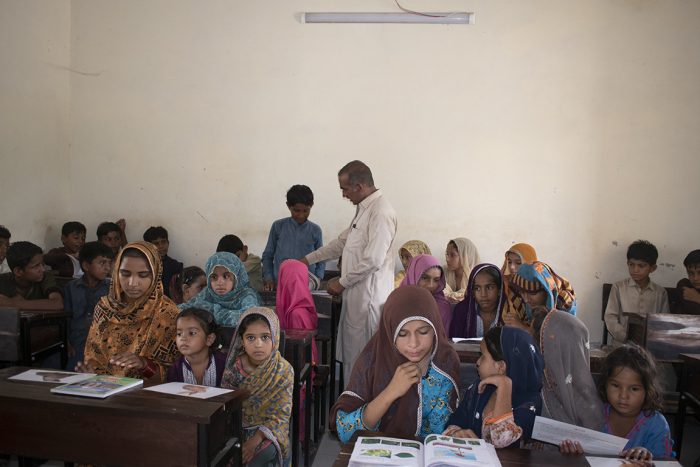 Village Soheb Khan lies some 25 kilometres south of Umerkot, in the nook formed by the Cheelh-Kantio road and the one coming south from Umerkot. It is now a sprawling village, but when the primary school was established here back in 1992, it was just a sprinkling of houses. What began as a two-room primary school with two dozen students then, now has six rooms and a strength of two hundred and fifty students going up to the middle level.
Schoolmaster Farooq Ahmed recalled the time when he was the only teacher at the primary school. But there were so few students it was easy to manage them. Slowly the rolls began to grow and the school was upgraded to middle level in 2012 and more rooms were added to the original two. With that expansion the number of teachers was also added to and it began to look like a real school. In March 2023, there were five teachers and as these lines are being read, another has been added to the primary level.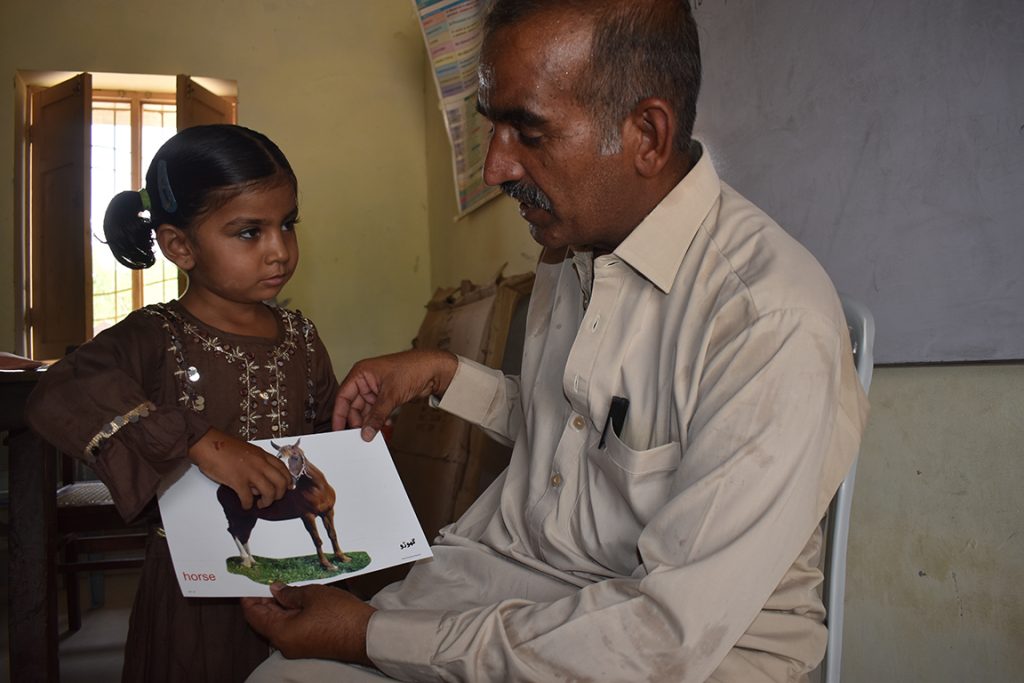 Farooq said he underwent the teachers' training, under the education project of Community World Service Asia (CWSA) and Act for Peace (AfP), from which he benefited greatly. By his own account, until this training, he assiduously kept to the schoolbooks and did no 'events' with his students. He said the Early Childhood Care Education (ECCE) training organised by CWSA opened up a whole new world for him: education could be innovative rather than drab and run of the mill. Activities now include science experiments, skits and discussions between students and teachers. According to him, his top of the class students are still top of the class, but with a higher average of marks than before. He admitted that earlier there were occasions when he lost his temper, but the positive learning training changed that altogether.
It was good to note that Farooq's students, even of the primary level, spoke very clear and unaccented Urdu. Kashif, twelve years old and in Grade 6, loved to read English books and wanted to be a doctor. His father worked for a petrol filling station the income from which was augmented by the income from his small holding of agricultural land. Kashif topped in his class in the last exam for promotion to Grade 6. Although two years earlier, he was again first, but he ceded the first position to another student in the exams for Grade 5. That was when he vowed that he would regain his position at the top of the class and hold it all the way through school.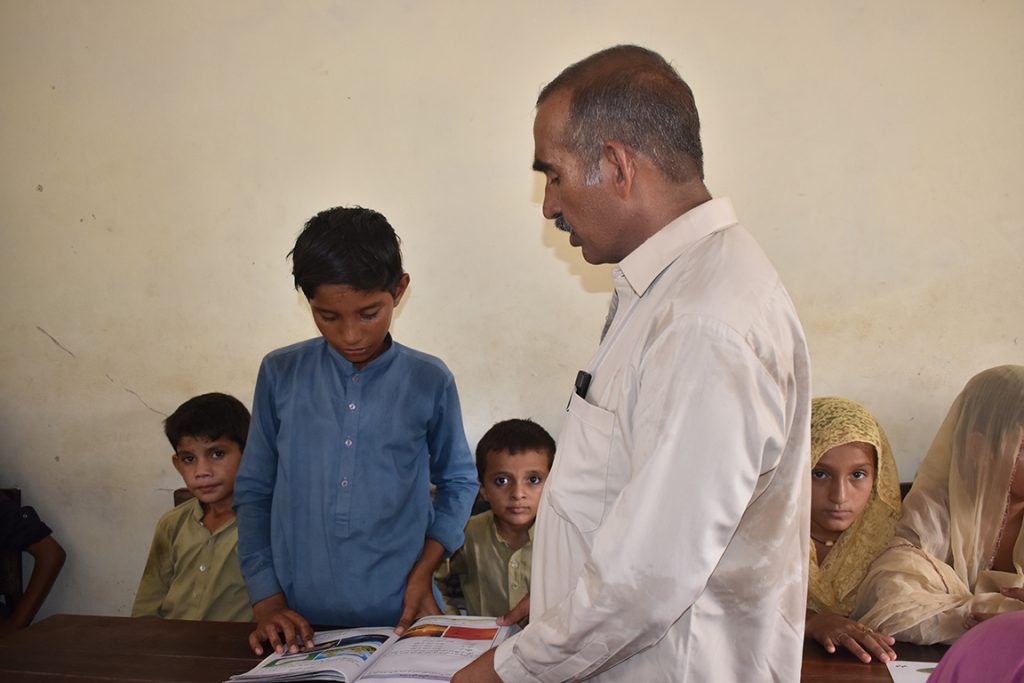 The child is clearly very ambitious and had already charted his course: after he finished middle school in the village, he would enrol in the high school in Kunri1 and then college in the same town. Thereafter it will be Hyderabad and medical college. Kashif said he liked to play cricket in his spare time after he had done his homework. Why he wanted to be a doctor, the child was very clear: "There is no doctor in the village and sick people have to go to the city. I will be the doctor always at hand to be of help."
Eleven year-old Afshan of Grade 6 was schoolmaster Farooq's daughter. Though she played football in her spare time, she was clearly inspired by her father and wanted to be a teacher. Her reason for choosing this profession was because she wanted to help others get ahead in life just as her father was doing. Throughout her six years in school, Afshan topped in her class even though she rarely got help in her homework from her elder brother who is studying to be a lawyer or from her father. When she was not playing football or doing her homework, Afshan read English books.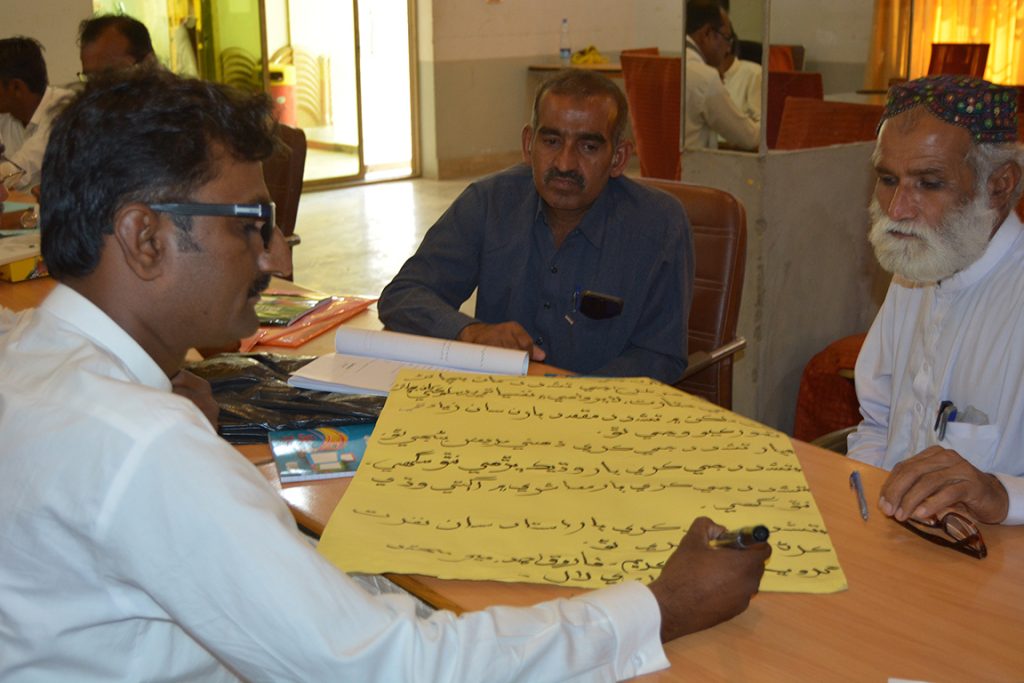 Azeeza joined school late: at age fifteen, she was still in Grade 5 where her favourite subject was English. But that did not take away ambition and dedication from her for she was always at the top first or second position in class. Though both her parents were illiterate and ordinary farm labourers, she being greatly inspired by her teachers, wanted to be one herself. However, it went entirely to the credit of her parents who despite their own illiteracy saw that all five of their children were educated. Her elder brother having completed his graduation from Sindh University, Hyderabad was now on the lookout for a job.
Little Iqra, small for her nine years of age, was in Grade 3 and again among the two top pupils in her class. Unlike the others spoken with, her favourite subject was Urdu. Her father who managed a petrol filling station was full of encouragement for his daughter who wanted to be doctor when she grew up.
---
Kunri is a tehsil and town located in the Umarkot District, Sindh province in southern Pakistan.