Using social media to achieve development and progressive social change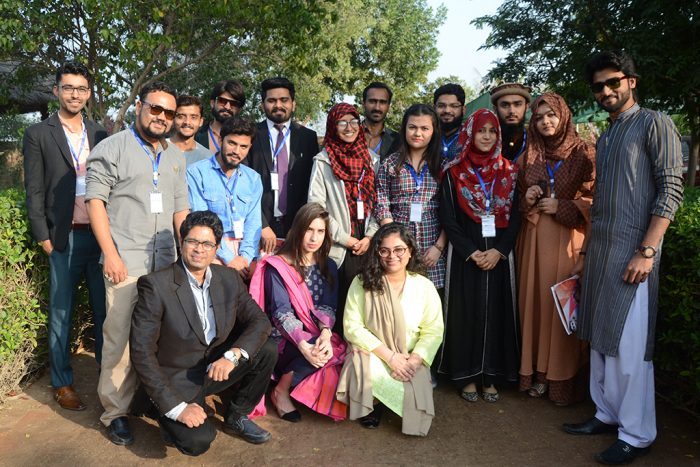 A series of trainings on Social Media Management for alumni students of the Youth United for Change network from different universities across Pakistan were held in the cities of Hyderabad, Mirpurkhas, Lahore and Faisalabad. The trainings aimed at enhancing the knowledge of students and graduates on social media, its key tools, its impact and usability for bringing positive changes and awareness.
Popular social media campaigns and their impact were shared with participants. Through assignments and interactive exercises alumni students were guided on how to plan and develop their own successful social media campaigns on social causes, awareness issues and development goals. Inspiring and innovative video and photo campaigns successfully run on social media platforms by UN agencies, international aid organizations, CSOs and global academic networks were shown to participants to get inspiration from. Group activities on developing informative viral campaigns, #Hashtag activism, infographic development and creating facebook pages encouraged students to bring out their creativity and put on their thinking hats. At the same time, these youth representatives were cautioned on the cons of mis-using social media and the ethical considerations to take while developing and implementing campaigns on social networks.  A significant session of the training emphasized on using social media tools to share knowledge on the Sustainable Development Goals (SDGs) and to develop campaigns that would help us achieve the global goals unitedly as a nation.
Students' Corner:
"Youth must be united for progress and development of their country and in today's age social media is the most effective and engaging platform which is easily used and available to everyone. Together we can bring positive change through innovative social media and #hashtag campaigns,"  Mohammad Shebaz, alumni of University of Sindh, Mirpurkhas Campus.
"The training was very fruitful. The facilitator of the training delivered all sessions effectively and efficiently for us to build a clear understanding of social media and how to use it. We learnt to use social media ethically as well which most of us overlook and do not take concern of. These kind of trainings fulfill the need of today's society where social media is frequently used by most individuals, especially youth," Ajay K. Rathore, alumni of University of Sindh, Mirpurkhas Campus.
"This experience was very informative, creative and productive. We learnt new ways of interacting in different social media sites and how to make our content effective and eye-catching." Maham Ansar, alumni of University of Sindh, Jamshoro.
"The way of delivering sessions step by step was helpful to understand the different terms and sites of social media. In a short period of one day, we managed to gain interesting facts regarding the techniques of using social media which we were initially unaware of." Hoorab Ansar, alumni of University of Sindh, Jamshoro.
"Being an Alumni Member, this training was very helpful as social media has become one of the main modes of media to get connected globally. The frequent use of social media is productive and impactful, for youth especially. The training helped in understanding blogs and article writing and how to start campaigns within ethical boundaries. Furthermore, it helped to understand getting over the distance gap and stay connected and united with youth from the South-Asian region through social media platforms. It also enabled me to develop effective and productive messaging for positive social changes in the region." Mahnoor, alumni of University of Sindh, Mirpurkhas Campus.