Supporting national aid organizations to adopt Competency Based HR Practices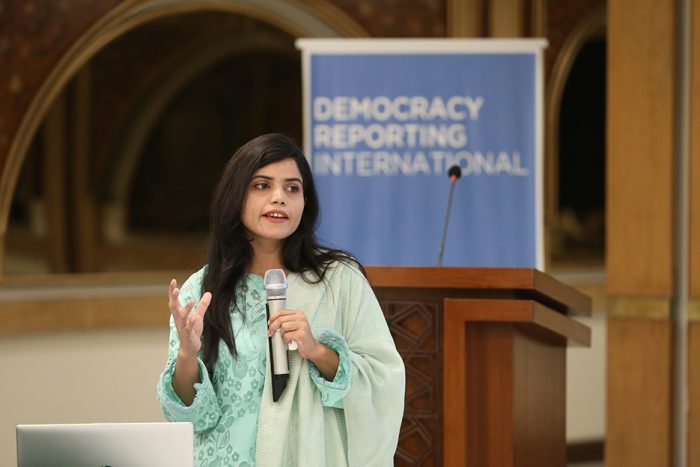 Sajida Qamar, Project Manager at Sojhla for Social Change has been working in the development sector since 2010.
With five years of experience in Sojhla, I have been working on various programs through monitoring, evaluation and managing of field activities. I am responsible for grant management and handling, along with coordination and networking with external stakeholders. The thematic areas on which our organization works are Gender & Development, Health, Education and Good Governance.
Sajida is also involved in Sojhla's program staff recruitment processes.
I felt the need of having more knowledge on the essential tools of Human Resource Management. When I heard about the training to be held on Competency Based HR Practices, I immediately showed interest in attending the workshop.
The training, titled "Competency Based HR Practices", organized by Community World Service Asia, was held in mid-July, 2019, with a participation of nineteen humanitarian practitioners from sixteen national and local organizations working in Pakistan. Uma Narayanan, an expert consultant on human resources, organizational development and system development and with facilitation experience of over 200 international trainings, conducted the training as a lead trainer.
Throughout the four-day training, participants were engaged in interactive sessions, learning new approaches for selection and recruitment of suitable and competent staff for their organizations.
It is vital to know the competencies of the candidates required to fill vacant positions which will eventually help in the achievement of project and organizational goals. The trainer's extensive profile in the field of HR inspired me to participate in the training as her diverse experience of over fifty countries helped us learn international practices and standards required to retain staff and maintain work performances.
According to Sajida, the training provided sufficient information on HR standards and techniques to align HR strategy with the organizational strategy and goals. The tools and methods on adopting the Core Humanitarian Competency Framework (CHCF) were underlined and participants were made familiar with competency-based approaches to promote organizational and individual development.
One of the most interesting tools we learnt during the training was the Blended Learning Approach and Toolkit on CHCF. Such tools enable HR and relevant hiring staff to select competent candidates to fill vacant positions in the organization. Uma highlighted the effectiveness of hiring competent staff because they are a long-term asset to the organization. The CHCF applies to arranging job interviews, developing job descriptions, managing aptitudes and performing appraisals and assessments. It provides efficient guidelines to perform these functions and attain productive outcomes.
On my return from the training, I planned a session with the staff of Sojhla, including the Executive Director and the HR department, to share the new concepts and toolkits for effective HR practices.
In August 2019, Sojhla initiated a new project on community peace building, for which new staff had to be hired.
During the hiring process, I assisted the HR team in developing competency-based job descriptions for the vacant positions. Keeping the CHFC in mind, we composed relevant questions for the interviews. The questions focused on specific experience with relevance to the nature of the job. Scenario-based questions were included which aimed at assessing the capacity to handle different situations and provide new ideas for quality implementation. Moreover, we are planning to develop and conduct biannual appraisal systems which will include self-assessment as per CHCF.
However, one of the challenges we faced during the implementation of the learning was that the CHCF processes are lengthy. This makes them more effective for long-term projects but time-consuming for staff. In Sojhla, we are working on short-term projects and therefore, these lengthy processes are not fully applied and adopted within the short period of time. For this reason, I would recommend that a training is provided on implementing the CHCF in short-term processes as well to adopt maximum guidelines of the framework in our field of work.