Starting young: no time to learn or play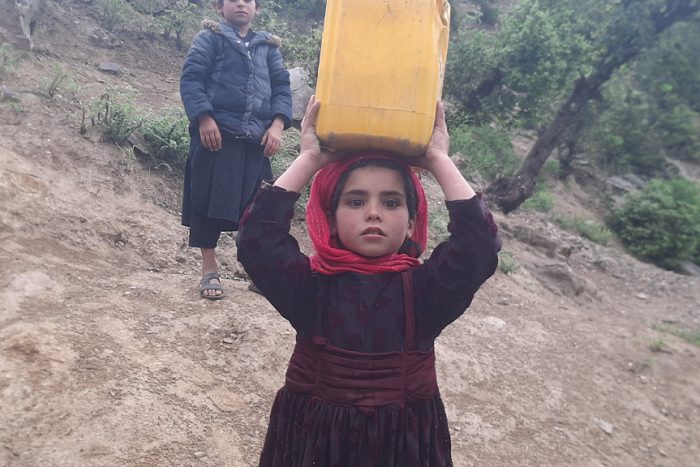 "Is it possible to guarantee a normal and healthy life for me?" asks Qudsia.
The people of Sayak Dogran Vale had not received any form of assistance from the government or the aid community since it is very far away and is perched high up in the mountains. In April 2022, however, Community World Service Asia's team was able to reach this remote district and support crisis affected communities under its ACT Appeal. Qudsia's father was chosen as a project participant under the appealⁱ. He received USD 90, with which he bought groceries for his family including fruits and vegetables. "My siblings and I were so happy to have fruits and vegetable in our meals. It had been a while since we had such wholesome meals," said ten-year-old Qudsia.
The girls in Sayak Dogran Vale of Dawat Shah Districtⁱⁱ, start work at a very young age, sometimes even before they turn ten. They work long hours collecting wood, water and cultivate seeds on agricultural lands. Qudsia is one of them.
With four sisters and three brothers, Qudsia's family of ten members reside in a small, mud and brick made house in a far-off settlement in the Sayak Dogran mountains. "None of my siblings or I attend school. In fact, none of the children in our village go to school. This has always been the practice here. There is no healthcare facility nearby either. It takes four hours to walk the 25 km to the closest medical facility. When one of us is ill, my mother typically turns to homemade cures," shared Qudsia, who seemed to have matured much sooner than her age required her to be. Household chores and responsibilities force young children like Qudsia to grow up fast and face life as it is.
Qudsia's day starts with collecting woods from the mountains uphill. After that she goes to collect water from a nearby spring to consume at home. Later in the day, she helps her father in the agricultural fields. "I am mostly working the whole day. Many girls like me also work the same chores all day round. We also go uphill to the spring to wash clothes and dirty dishes at least once in a day," said Qudsia candidly.
There are not many labour or livelihood opportunities for the men to engage in Sayak Dogran Vale due its terrain. "In the highlands, my father pastures his livestock. He makes a little living by selling the milk, ghee, and cheese that his cattle produce." Qudsia's daily meals included corn and wheat. The family could not afford to buy vegetables locally, therefore they seldom ate them. Some milk and cheese would be saved for personal use, but most of it was sold so that the earnings from it could be utilised to purchase tea, sugar, and cooking oil.
The cash assistance under the ACT Appeal has helped Qudsia's family to overcome their food insecurity and has protected them against the uncertainty caused by the regime change in August 2021.
---
ⁱ Multi-sectoral emergency assistance for crisis affected population in Kabul, Bamyan, and Nangarhar provinces of Afghanistan
ⁱⁱ In Laghman Province