Home
Newsroom
Alerts
Situation Alert: Heavy Rainfall cause devastating floods in COVID-19 hit areas in...
Situation Alert: Heavy Rainfall cause devastating floods in COVID-19 hit areas in Afghanistan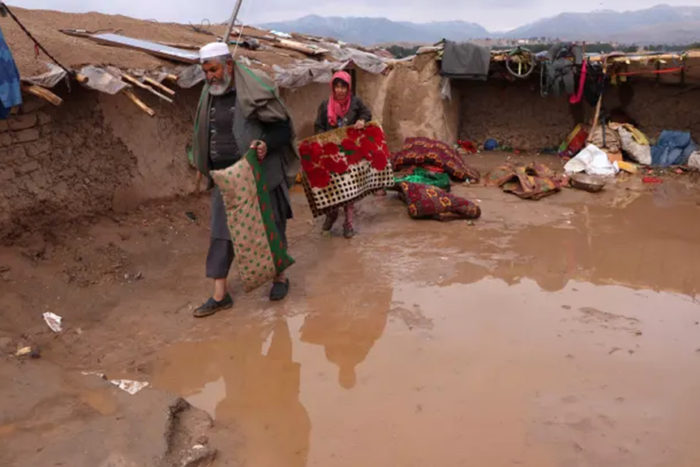 Photograph: Jalil Rezayee/EPA
Prepared by Community World Service Asia's Communications Office
August 26, 2020
Heavy rainfall has triggered massive flash floods in parts of Afghanistan on August 26th. Parwan, Kapisa, Panjshir, Maidan Wardak, Logar, Paktia, Paktika, Nuristan and Nangarhar provinces are regions severely affected by the floods.
Based on an initial report released by the Afghanistan National Disaster Management Authority (ANDMA), 72 people in Parwan, 2 people in Nangarhar and 2 people in Maidan Wardak have been killed by the rains and the subsequent floods. More than 300 residential houses, 200 meters of retaining walls, 100 meters of roads, over 100 Jirebs of agricultural lands, 2 shops, public facilities, and overall infrastructure has been damaged in the affected districts.
The Parwan Public Health Directorate reported over 90 people wounded, in addition to those that lost their lives, due to the floods and heavy downpour. Most of those affected have been women and children. Officials have warned of an increasing death toll in the days to come.
The ANDMA further reported complete and partial destruction of hundreds of houses in the Charikar, Bagram, Jabal al-Seraj and Salang districts of Parwan province. Reports also confirm many people missing and still trapped under rubble of destroyed houses and wet soil in the flood-hit areas. The ANDMA and the Provincial Disaster Management Committee of Parwan have started search and investigation operations to rescue survivors and affected people trapped under the flood debris. There is no final report on the extent and exact magnitude of the damage yet as the numbers of affected people and reported infrastructural damage is increasing as the investigation process continues.  
A day earlier, on August 25th, the Afghanistan Meteorological Department (AMD), issued an alert forecasting heavy rains and floods in Kabul, Kunar, Nuristan, Badakhshan, Panjshir, Kapisa, Parwan, Laghman, Nangarhar, Logar, Khost, Paktika and Paktia provinces of Afghanistan.
The AMD has predicted a further possibility of more rain and flash floods in the mentioned provinces of Afghanistan in the coming days as well. As per the overall weather outlook released by AMD, the rainfall is expected to be between (10-40 mm).
Loss of lives due to any natural or man-made hazard causes definite irretrievable damage to the populations. But apart from natural disasters such as these monsoon rains and floods, COVID-19 has severely demobilised the global economy, including Afghanistan. In order to restrict further transmission of the disease in the community, Afghanistan, like many other affected countries, decided to impose a complete lock down. A large majority of the people in Afghanistan are now suffering from food insecurity. lack of access to clean drinking water, and other essentials. The increase in unemployment due to the COVID-19 pandemic has made it more difficult for more vulnerable communities to counter the floods and its impact.  These floods are expected to impact marginalised communities even more severely due to the on-going economic stagnation and COVID-19-related health risks. The probability of these communities being pushed further into poverty is much higher now. Flood-affected communities are in a dire need of emergency humanitarian assistance at this point.
Community World Service Asia is monitoring the situation and is coordinating with relevant government authorities, clusters and non-governmental organisations to provide updates and will assess the needs to make a decision on an potential emergency response.
Contacts:
Razia Muradi
Project Manager
Email: razia.muradi@communityworldservice.asia
Cell: +93 765 683 200
Palwashay Arbab
Head of Communications
Email: palwashay.arbab@communityworldservice.asia
Cell: +92 42 3586 5338
Sources:
Aljazeera
Afghanistan Natural Disaster Management Authority (ANDMA)
Local government officials