Session 2: What Does It Take to be Good Enough: Quality, Accountability and Safeguarding in Pakistan Flood Response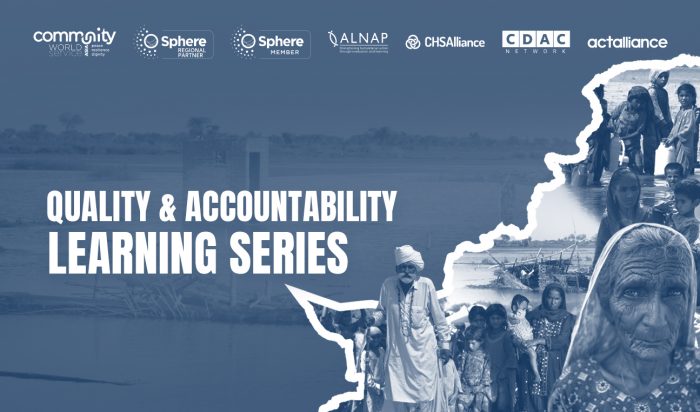 Where: Zoom (register here)
Date: 19th September 2022
Time: 12.00 pm to 01.00 pm (Pakistan Standard Time)
Language: English
Objectives
By the end of the session participants will be able to:
Understand the Do No Harm and People-Centred Approaches in the current context
Discern how the Humanitarian Charter, Code of Conduct and an effective Complaint Response Mechanism can play a role in ensuring accountability of aid
Learn how to place people and communities at the centre of their work throughout the program duration
Background
The catastrophic flooding in Pakistan's southern and northern regions has killed thousands of people and carried away cattle, houses, and treasures worth billions of rupees, for which long-term assistance is anticipated by the humanitarian sector. Several local non-governmental organisations (NGOs) are engaged in emergency flood relief.
Delivering aid through the current emergency reflects our humanitarian values and principles. However, in some cases there may be unintended negative consequences. These have to be considered from upfront and minimized in case they would harm the people we intend to serve.
Community World Service Asia is launching a Q&A learning series for NGOs currently engaged in flood response in the country to ensure that quality and accountability aspect is covered through humanitarian relief activities. Participating organizations and their staff will be able to learn from each other and improve humanitarian coordination to effectively respond to the people affected by the crisis and align the support to their needs.
Sylvie Robert Speaker

Sylvie Robert is an adult learning expert with over 25 years' experience in the humanitarian sector, passionate about and dedicated to Quality, Accountability to Affected Populations (AAP) and Prevention of/ Protection from and Response to Sexual Exploitation and Abuse (PSEA). She works primarily with field practitioners to identify lessons from the implementation, learn from those and stimulate change, specifically in complex environments.
Community World Service Asia is the regional partner and country focal point of Sphere and member of CHS Alliance for promoting quality and accountability (Q&A) standards, tool and principles.