Session 1: Using Core Humanitarian Standard in Pakistan Flood Response 2022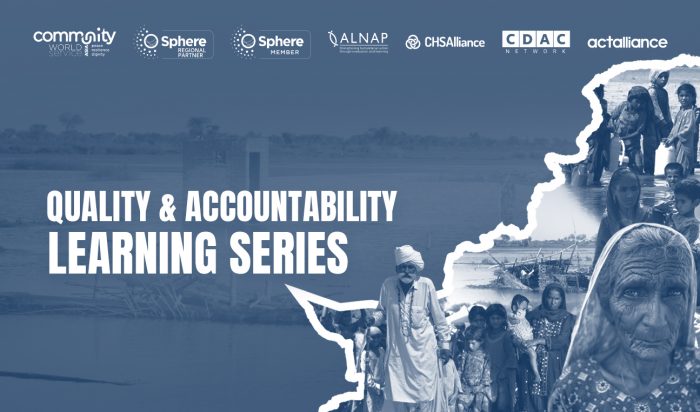 Where: Zoom (register here)
Date: 9th September 2022
Time: 10.00 am to 11.30 am (Pakistan Standard Time)
Background
The catastrophic flooding in Pakistan's southern and northern regions has killed thousands of people and carried away cattle, houses, and treasures worth billions of rupees, for which long-term assistance is anticipated by the humanitarian sector. Several local non-governmental organisations (NGOs) are engaged in emergency flood relief. Experiences and lessons from emergencies such as earthquakes and floods in Pakistan, Myanmar, Haiti and Kenya have shown that effective coordination and mutual learning among agencies enhances the quality and accountability of humanitarian action to people affected by crisis.
Community World Service Asia is the regional partner and country focal point of Sphere and member of CHS Alliance for promoting quality and accountability (Q&A) standards, tool and principles. Community World Service Asia is launching a Q&A learning series for NGOs currently engaged in flood response in the country to ensure that quality and accountability aspect is covered through humanitarian relief activities. This forum will also provide a platform for sharing experiences, best practices and challenges for ensuring quality and accountability in the flood response. Participating organizations and their staff will be able to learn from each other and improve humanitarian coordination to effectively respond to the people affected by the crisis and align the support to their needs.
Objectives
By the end of the session participants will be able to:
Introduce the CHS guidance in response to floods
Revisit fundamental principles of CHS which are crucial to a successful, holistic intervention
Explore the relevant commitments & guidance in CHS
Elicit examples and challenges from participants to promote further learning
Moderator
Tooba Siddiqi is an experienced Engagement Manager with over 10 years of experience in partnership management, advocacy, youth mobilization and community-led campaigning. In her time at Community World Service Asia, she has played a significant role in pushing the Quality and Accountability standards with local NGOs as well as regional organisations. She is a trainer on Core Humanitarian Standard practices that has been developed by an expert team at Community World Service Asia. She also leads workshops to train other national and regional staff on this valuable knowledge.
Resources