Raising Awareness & Mobilising Action to Restore our Ecosystem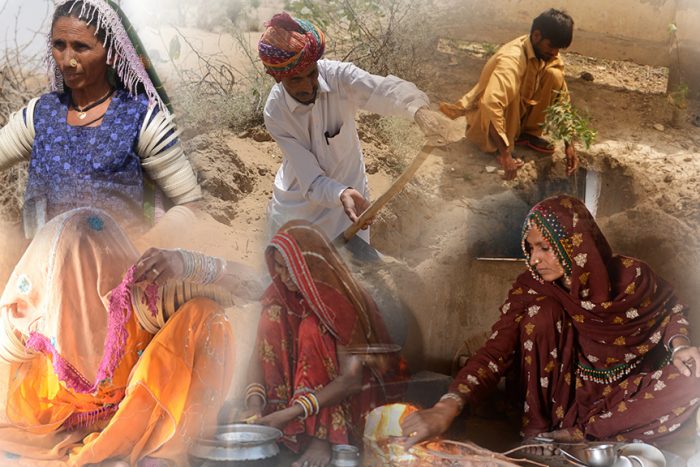 World Environment Day 2021
For too long, we have been exploiting and destroying our planet's ecosystems. Ecosystem loss is depriving the world of carbon sinks, like forests and peatlands, at a time humanity can least afford it. Global greenhouse gas emissions have grown for three consecutive years and the planet is at one pace for potentially catastrophic climate change.
The emergence of COVID-19 has also shown just how disastrous the consequences of ecosystem loss can be. By shrinking the area of natural habitat for animals, we have created ideal conditions for pathogens – including coronaviruses – to spread. Considering all these challenges, this World Environment Day focuses on the restoration of our ecosystem, with the theme "Reimagine. Recreate. Restore."
Only in a healthy ecosystem can we sustain people's livelihoods, counteract climate change impacts and reduce the degradation of biodiversity. A recent German Watch Report of the Long-term Global Climate Risk Index 2020, a global think-tank working on climate change, had rated Pakistan number 8th most affected country due to adverse impacts of climate change. Community World Service Asia continues to encourage and build awareness on environment conservation with communities on the ground that are most affected by climate change and pollution.  We are continuing to invest in preservation, prevention and preparedness, together with the communities, as a necessary part of all systematic efforts to increase resilience to climate change and disaster risks and protect the environment.
Growing Sustainable Kitchen Gardens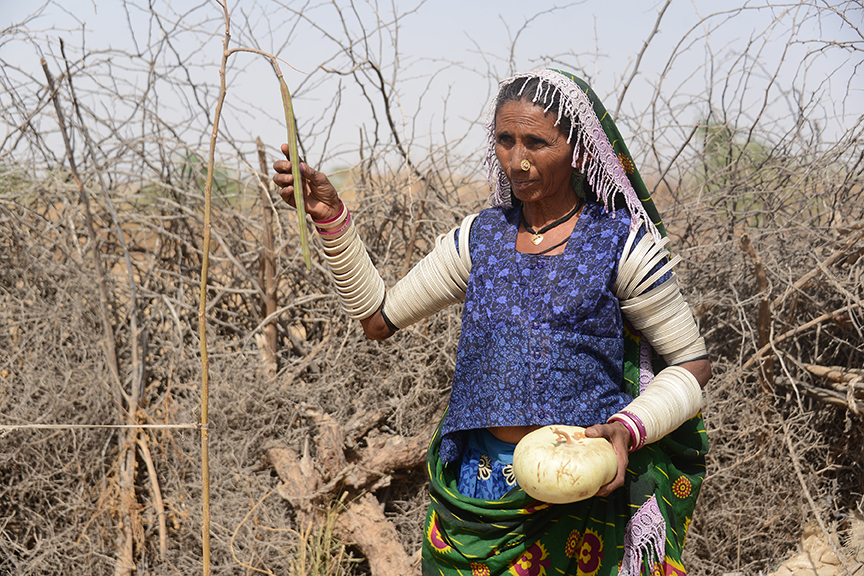 Sustainable farming and kitchen gardening impacts everything from the air we breathe to the carbon footprints we leave behind. Community World Service Asia has been working with the most vulnerable, flood and drought affected rural communities by promoting sustainable agriculture among them to improve their food security, health and nutrition. These activities are allowing community members to sustain livelihoods, ensure good well-being and be an active part of preserving their environment.
Growing your own food allows you to stop relying solely on traditional methods of purchasing your produce from a grocery store. When you buy foods from these shops, you should take into consideration the sad, but true, fact that these foods travel several miles before ever being consumed. Not only does this impact the freshness and flavor of the food, but more importantly, this emits dangerous amounts of carbon emissions and waste associated with air freight and other transportation methods into the atmosphere. The concept of kitchen gardening is helping to reduce the high amounts of burning fossil fuels that fill our environment as a direct result of importing foods from commercial farmers. This initiative is also reducing waste from food packaging materials such as man-made plastics and cardboard, that also travel hundreds and thousands of miles. Women in Sindh feel safer and satisfied knowing what they are eating and what has gone into producing their food.
Under its Livelihoods portfolio, CWSA has conducted 291 workshops for more than five thousand people, a majority of these rural women, on kitchen gardening since 2015. Through these trainings, rural communities, especially women, have started growing kitchen gardens in their homes and have applied low-cost irrigation methods in their agrarian farming.
Introducing Eco-Friendly Farming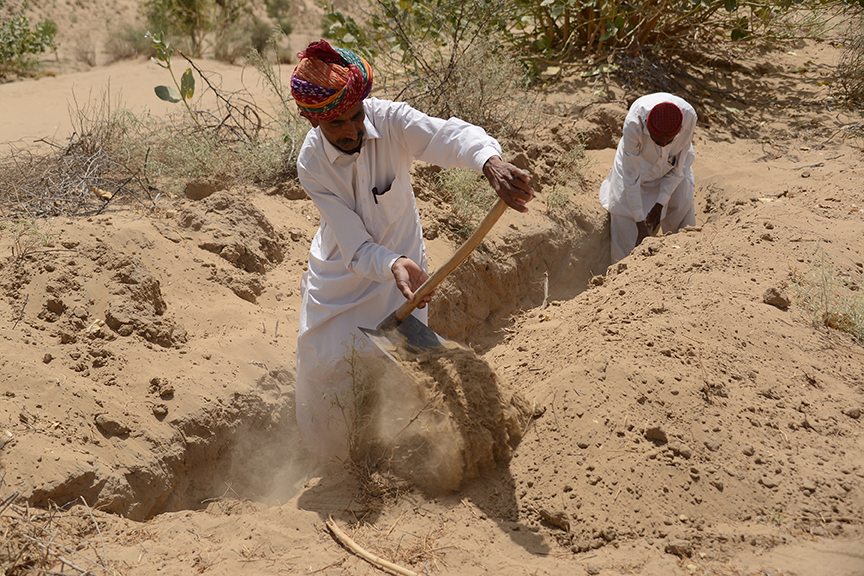 Most local communities in interior Sindh rely heavily on agriculture, but farmers in this region have struggled to cultivate bountiful harvests in the vicinity due to extreme water scarcity, harsh weather conditions and limited knowledge and resources on sustainable farming.
Under its food security projects, CWSA promotes sustainable farming and agri-based enterprises and provides continuous technical support and guidance on business development to rural farmers to enable them to achieve high quality agricultural produce. To further strengthen the skills and expertise of these agrarian communities, CWSA facilitated six exposure visits of 476 farmers, including men and women from twenty-five villages, to renowned agricultural research institutes in Sindh. During these visits, the community members observed multiple ongoing researches and agricultural activities. Some of these included kitchen gardening activities using drip irrigation systems, pitcher gardening schemes, solar desalination units and hydroponic cultivation systems. They were also familiarised with the use of bio fertilisers as one of the most important components of integrated nutrient management, being cost effective as well as being a renewable source of nutrients to supplement chemical fertilisers.
Through workshops on sustainable farming, 13,125 farmers, more than 50% women, from ninety villages in Sindh have been trained on sustainable agriculture. Communities have learned about crop production sustainability and productivity in changing climatic conditions. Most of these trainings focused on increasing productivity in agriculture and the level of economic prosperity among target communities while working on resource and environment conservation.
Improving ecosystems by restoring natural balance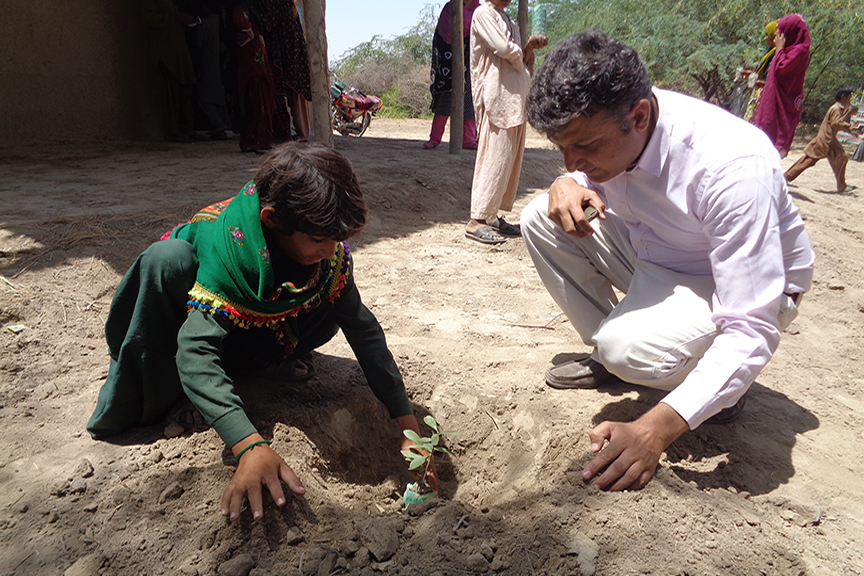 Afforestation is key to sustaining the ecosystem and accelerating socio-economic development. Trees have remained a main contributor for sustaining resources including food, fiber, livelihood resources and water. Community World Service Asia has launched aeroculture[1] campaigns with farming communities in Sindh. These campaigns have promoted and enhanced biodiversity and mitigated adverse impacts of climate change in the areas that we work. One of the more long-term outcomes of the campaigns has been to provide an alternative livelihood source to water-deprived farming communities in the area. Tree Plantation activities have strengthened peoples' bond with nature and helped purify the environment.
A variety of fruit and plant saplings such as Sapota, Lemon, Azarirachta indica (neem), Moringa, Falsa, Jujube and Guava, have been distributed among 690 targeted agrarian families of Badin and Umerkot. As many as 34,192 samplings were given out during the campaign that chanted the slogan "Let's make a promise to grow more trees."
Ensuring human wellbeing and environmental health through Fuel-Efficient Stoves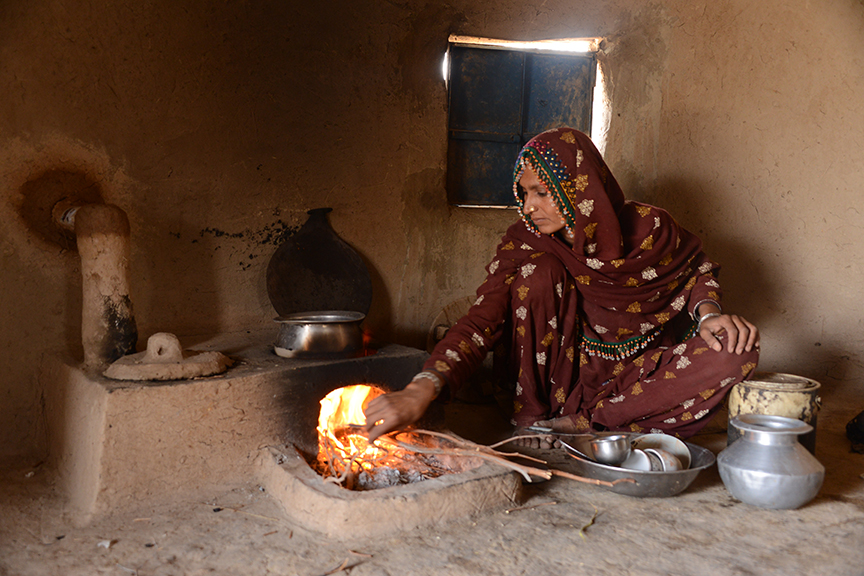 To reduce smoke emissions and decrease deforestation, CWSA, under its Climate Action and Risk Reduction portfolio, is training women on effectively using and adopting a new technology of fuel-efficient stoves in their homes. The fuel-efficient stove is an energy system that has a positive impact on the ecosystem while providing basic cooking needs. The stoves are made of mud and straw enabling caretakers in the house to cook on two burners simultaneously while being able to control the flame at a required temperature. As a result, it reduces smoke emission and fuelwood consumption. A total of forty-seven trainings have been conducted by women community mobilizers for almost a thousand rural women on the use of the stoves and raising awareness among them on its environment-friendly nature. A cleaner environment and reduction in kitchen expenses has been seen as a direct impact of these trainings. More than three thousand stoves have been effectively installed in 2002 households in 16 villages of Umerkot district of Sindh province since 2019.
Ecosystem restoration can take many forms: Growing trees, making cities greener, rewilding gardens, changing diets or cleaning up rivers and coasts. This is the generation that can make peace with nature so let us all join hands to play an active role in Reimagining, Recreating & Restoring our precious ecosystem.
---
[1] A method of growing plants without soil by suspending them above sprays that constantly moisten the roots with water and nutrients.