Home
Local Capacities for Peace to Combat Religious Extremism
Local Capacities for Peace to Combat Religious Extremism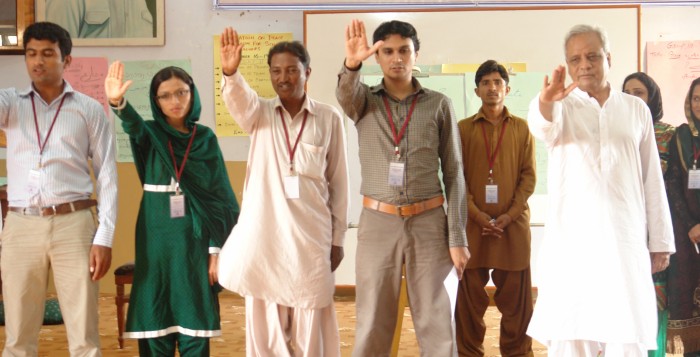 Duration

Jan 01, 2012

—

Dec 01, 2014

Location
Pakistan and Nepal
Key Activities

Development of curriculum and workbooks to enhance the knowledge, understanding, and skills of teachers and students relating to the Do No Harm approach and Local Capacities for Peace tools
Conducting training for teachers to enable them to engage students in activities that encourage cooperation, consensus building, and reflective listening
Organizing youth camps for students to explore these themes in-depth and train young people as peace ambassadors
Regional exposure visits for young people from Pakistan and Nepal to develop linkages and learn from each others' experiences.

Participants

60 teachers




135

Pakistani youth




5

Nepali youth
I had a conventional way of teaching previously. During the training, the trainers treated us as school kids which helped me build perception of understanding the student's point of view. I was highly moved by the problem sharing exercise where the teacher has to listen to every student's problems individually. I am now more aware of child psychology.

Ghazala Gill, a primary school teacher at DAWS Allied School Burewala.
I was a scared girl once at home, but teaching brought me to a challenging world and believing in myself. This workshop has given me another perspective to teach through interactive methods, keeping the students energized. I stayed with people of different religions and culture and developed a sense of living through no discrimination and interfaith harmony.

Fatima, a school teacher at ARM Child and Youth Welfare, Karachi