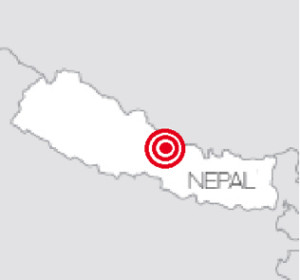 On Saturday, 25th April 2015, at 11:56 a.m. local time, a violent, 7.8-magnitude earthquake struck Nepal. Its epicenter was in Lamjung District, 77 kilometers northwest of the capital, Kathmandu. Strong aftershocks, including one of a magnitude of 6.5 on 26th April, threatened even more lives as already damaged buildings and infrastructure continued to convulse and crumble.[1] In the midst of these reoccurring aftershocks, another tremor measuring a magnitude of 7.3 struck on Tuesday, May 12th at 12:50 p.m from an epicenter located in Sindhupalchowk District, 76 kilometers northeast of Kathmandu.[2] The strength of this tremor intrinsically classified as a second quake, battering the bit of progress that had been made in recovering from the initial quake less than a month prior.
The last reported death toll of the first quake had been 8,019 people, along with another 17,866 reported as injured.[3] However, after the second quake on 12 May, another 65 people were reportedly killed, while another 2,000 were injured.[4] In response to the initial 25th April quake, the UN had issued a flash appeal for a total of US $415 million to respond to the humanitarian needs for the next three months. Since the occurrence of the second quake on 12th May, the UN has yet to issue an appeal for any further funding of the second quake. Many countries and donor agencies have answered this call, however, as of 4th May, only US$7.5 million, or two percent, of that appeal had been guaranteed. An additional US$68 million has been provided in the form of humanitarian pledges, commitments, and contributions.[5] These contributions are helping support activities in the follow clusters: Early Recovery, Food Security, Shelter and NFI's, Health, and Education.
UN OCHA has established two humanitarian hubs in Gorkha District and in Sindhupalchowk District in order to coordinate its field operations. There are also an additional five logistic hubs being established in Birgunj, Parsa District; Bharatpur, Chitwan District; Deurali, Gorkha District; Dhulikhel, Kavre District; and Chautara, Sindhupalchowk District.[6] These logistic hubs will be essential for reaching remote districts and villages quickly. This is especially urgent as the next monsoon season is expected to begin in approximately six weeks.[7] Some examples of other humanitarian needs and responses by sponsored clusters are noted as the following:[8]

Early Recovery
Needs: 72 Village Development Committee (VDC) offices were destroyed. Immediate support is required to facilitate authorities' delivery of public services.
Response: As of 3rd May, forty two government personnel are deployed to the VDC's to support early recovery activities.
Gaps & Constraints: The condition of twenty one VDC's have not been accounted for as of now in Gorkha District due to remoteness.
Food Security
Needs: More than three million people are estimated to be in need of food assistance. Of these three million, 1.4 million have been identified to need immediate food assistance.
Response: A total of 2,094.123 metric tons of food is being distributed across 15 districts (Gorkha, Dhading, Nuwakot, Sindhupalchok, Dolakha, Rasuwa, Lamjung, Kavre, Makawanapur, Kathmandu, Bhaktapur, Lalitpur, Okhaldhunga, Ramechhap, and Sindhuli).
Gaps & Constraints: Two helicopters available for food distribution, but more helicopters are needed to transport food to areas inaccessible by road.
Shelter
Needs: As of 4th May, it was reported that 191,058 homes had been destroyed and 175,162 are damaged.
Response: A total of 52,000 tarps have been distributed; 10,794 tarps are in-country ready to be distributed, and an additional 234,161 tarps are en route to Nepal.
Gaps & Constraints: Logistics of providing shelter options to remote areas is proving challenging. There is also a particular constraint on time and supply of materials with the upcoming monsoon season.
Health
Needs: Foreign medical teams are needed to establish field hospitals in Bidur, Chautara, Dhunche, and Ramechhap as the central hospitals in each of these locations have been destroyed.
Response: A total of 28,240 patients have been treated in Kathmandu Valley hospitals as of 3rd May.
Gaps & Constraints: Physical rehabilitation services for amputees and services to address mental and psychosocial support are insufficient.
Education
Needs: Twenty nine teachers are reported dead in the fourteen of the worst affected districts. Additional teachers will be needed when public schools resume on 15th May.
Response: Twenty two Child Friendly Spaces have been established for displaced communities in Kathmandu, Lalitpur and Bhaktapur districts serving over 2,200 earthquake affected children.
Gaps & Constraints: Tarps and materials are necessary to expansion of services beyond the Kathmandu Valley.
In addition to these efforts in the five clusters, other work is being conducted on camp coordination and management, emergency telecommunications, logistics, nutrition, protection, and WASH. Examples of immediate response achievements in these areas include the distribution of 250,000 boxes of multiple micronutrient powder for malnourished children in twelve districts. The dispatch of police vans patrolling camps and makeshift shelters in order to maintain law and order for the IDPs' security is also being done.[9] Although these are all significant achievements, much more funding, in-kind donations, and manpower will be needed to scale up these operations to bring the Nepali people some sense of normalcy in their lives once again.
[1] OCHA & UNHCR. (29 April 2015). Flash Appeal for the Response to the Nepal Earthquake April – July 2015. Retrieved from: http://reliefweb.int/report/nepal/nepal-flash-appeal-response-nepal-earthquake-april-july-2015
[2] OCHA. (12 May 2015). OCHA Flash Update – Nepal Earthquake. Retrieved from: http://reliefweb.int/sites/reliefweb.int/files/resources/20150512%20OCHA%20Flash%20Update%20Nepal%20Earthquake.pdf
[3] CNN Staff. (10 May 2015). Death Toll in Nepal Earthquake Tops 8,000. CNN News. Retrieved from: http://edition.cnn.com/2015/05/10/asia/nepal-earthquake-death-toll/
[4] Nepal Earthquake: Rescue Resumes after Deadly Tremor. (13 May 2015). BBC News. Retrieved from: http://www.bbc.com/news/world-asia-32716211
[5] OCHA. (4 May 2015). Nepal: Earthquake 2015. Situation Report No. 10. Retrieved from: https://www.humanitarianresponse.info/en/system/files/documents/files/nepal_earthquake_2015_-_situation_report_10_4_may_2015.pdf
[6] OCHA. (4 May 2015). Nepal: Earthquake 2015. Situation Report No. 10. Retrieved from: https://www.humanitarianresponse.info/en/system/files/documents/files/nepal_earthquake_2015_-_situation_report_10_4_may_2015.pdf
[7] OCHA. (4 May 2015). Nepal: Earthquake 2015. Situation Report No. 10. Retrieved from: https://www.humanitarianresponse.info/en/system/files/documents/files/nepal_earthquake_2015_-_situation_report_10_4_may_2015.pdf
[8] OCHA. (4 May 2015). Nepal: Earthquake 2015. Situation Report No. 10. Retrieved from: https://www.humanitarianresponse.info/en/system/files/documents/files/nepal_earthquake_2015_-_situation_report_10_4_may_2015.pdf
[9] OCHA. (4 May 2015). Nepal: Earthquake 2015. Situation Report No. 10. Retrieved from: https://www.humanitarianresponse.info/en/system/files/documents/files/nepal_earthquake_2015_-_situation_report_10_4_may_2015.pdf