Mohammad Hussain and his family pull through Afghanistan's harsh winter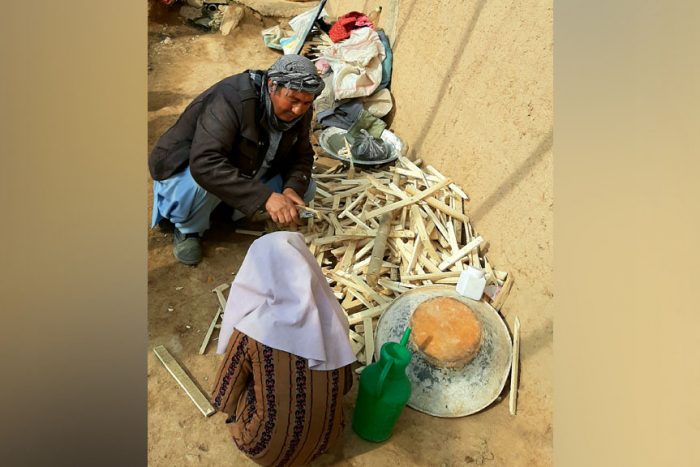 Father of six young children, Mohammad Hussain is the sole bread-winner for his family of ten members. His parents also live with him in a one-room house in Zargaran Community District Council (CDC) located in Bamyan province of Afghanistan. With the advent of COVID-19, Mohammad Hussain, who was a labourer on daily wages, lost many work opportunities in his hometown of Saighan, and was forced to move out of his village with his entire family. Mohammad Hussain currently pays a monthly rent of AFN 1300 (approx. USD 17) for their house in Zargaran.
Employment opportunities for Mohammad Hussain in Zargaran are also low. Building sites, where he usually works, are also only operational in the summers, making the harsh winters even more difficult to survive through for families like Hussain's. Every day, Mohammad Hussain visits the market in hope to find any kind of job to earn an income for his family.
"Sometimes I go to the greenhouse to fix the plastic covered walls. I do not get paid for the job, instead I get some wood which we utilize as heating fuel at home to keep ourselves warm. Through some little work, I raise AFN 1700 at least, in the winter each month, which is not enough to meet the needs and expenses of my family."
Of Hussain's six childrenⁱ, four attend school. His eldest child is his 16 year old son. When the family fled Saighan earlier this year, Hussain and his father were hurt by nearby rocket blast during travel. Both of them suffered serious injuries.
"My father lost his eye-sight from his left eye, while my right knee was severely injured. Even now, my knee hurts when I stand for too long and the pain intensifies in the winters. However, I do not complain about the pain to my family, since my children are too young to shoulder drudgery and my father is too old to work. My mother is old and not too well. She suffers from a waist bone problem which causes a lot of pain and she has high blood pressure. My father often accompanies her to her visits to the hospital in and outside of Bamyan for treatment," narrated Hussain.
Hussain's wife further shared, "My mother-in-law got weaker after caring day and night for her husband and son when they were injured during travel. She is in a lot of pain nowadays and can barely sit, walk or sleep properly. Unfortunately, Hussain earns very little money these days and it is difficult to avail good treatment and regular medicines for her."
Though the winter in Afghanistan has been tough, some relief was brought to the family through Community World Service Asia and PWS&D's humanitarian response project.
"I was fortunate to be selected as a project participant under the emergency response projectⁱⁱ. The first cash assistance I received of AFN 6900 (Approx. USD 90) on December 1st, 2020, was very helpful as I was able to buy food items such as rice, pulses, oil, fruits and meat for our family. My wife was delighted to see the groceries as she finally had wholesome food to cook and put on the table for our children for at least a month. I also rushed to the pharmacy and bought medicines for my unwell mother," shared Muhammad Hussain.
Muhammad Hussain will receive five tranches of cash assistance in total under this humanitarian project. His family plans to buy food stock and medicines for Hussain's parents during the cold winter and the current pandemic.
"I am grateful to be part of the project. This assistance has brought relief in my life. I am able to focus on finding better work opportunities without stressing on whether there will be something to eat by the end of day or not."
---
ⁱ  Three sons and three daughters
ⁱⁱ Humanitarian Assistance to Temporarily Displaced People (TDPs) And Returning Refugees Project in Bamyan Province, Afghanistan', supported by Presbyterian World Service & Development (PWS&D)