Home gardens: a promising approach to household food security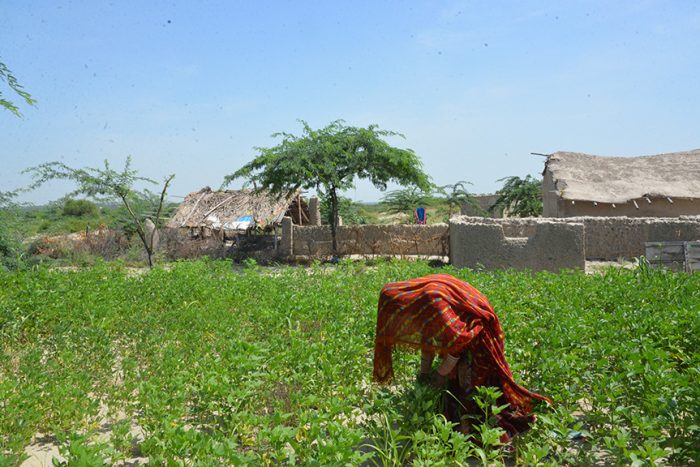 Living with her seven children, Shaibaan is constantly multi-tasking to meet the everyday needs of her family. The children demand attention and unconditional care.
"All day long I am busy taking care of the children, engage in household chores and in cooking meals. My husband, Karshan, is a labourer, earning a monthly income of PKR 7500 (Approx. USD 46). My five younger children go to school but my two elder son and daughter don't because we cannot afford to pay the fees of all seven."
Shaibaan and her family live in the remote village of Ratan Bheel in Umerkot district of Sindh. Though many households depend on local vegetation in the area, Shaibaan never thought about growing a kitchen garden in her front yard.
"I had no experience of growing crops before and it was not very common to grow crops at home. We purchased vegetables to cook. When we did not have money to buy vegetables or any other food item, we ate red chilies with rotiⁱ," said Shaibaan.
Selected alongside thirty other women from Ratan Bheel and nearby villages, Shaibaan was trained on kitchen gardening techniques in March 2019. The group of women were familiarised on the concept of kitchen gardening and how it improves food security of households. They were taught different vegetable sowing and pest control techniques. Shaibaan and other participants were also trained on how to conduct seed germination tests which would help them save time, energy and resources when cultivating difficult to grow seeds. Germinationⁱⁱ tests measure the resilience of seeds, thus allowing farmers the option to decide on how many to plant or whether to plant at all.
Shaibaan replicated the training in fourteen other households in her village.
"I did not think of growing a kitchen garden in this desert area. When Shaibaan came to my house with this initiative, I was amazed to know how we can grow clean and healthy vegetables in our yards for our daily consumption when cooking food. We now have the pleasure of eating homemade nutritious vegetables of various kinds. The garden in the kitchen is now a means of food diversification and food conservation for us," said Saleemat, another Ratan Bheel kitchen gardener.
"Today, my family supports in maintaining the kitchen garden with me. My two elder children take keen interest in taking care of the garden and growing new vegetables and plants in it. It has been a year now since we have been growing vegetables in our green garden. We are now growing cluster bean, lady finger, ridge gourd and brinjal. Moreover, we are also able to save PKR 500 (Approx. USD 3) every week, which we previously consumed in purchasing vegetables from the market. We use the money we are saving to buy other household essentials such as linens, bed sheets and curtains."
Shaibaan prepared grounds for sowing vegetables in the recent winter season.
"I prepared half an acre of land in my garden to plant spinach, mustard leaves, coriander, radish and fenugreek. I plan to sell the surplus in the local markets and support my family financially."
---
ⁱ Roti is a round flatbread native to the Indian subcontinent made from stoneground wholemeal flour and water that is combined into a dough.
ⁱⁱ Germination is the process by which plants, fungi and bacteria emerge from seeds and spores, and begin growth