Maternal Care – Liberating Rubeena of her worries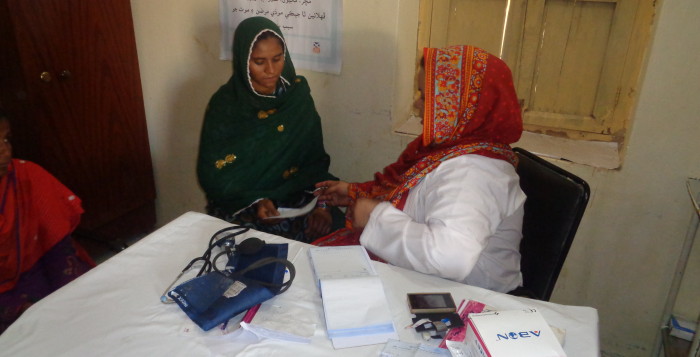 Dispirited by poverty, Rubeena was extremely concerned about the expenses she had to bear for delivering her first baby. Rubeena lives with her husband and his family in village Ranta, union council Bijora. A laborer by profession, her husband, the only breadwinner of the family earns PKR.200 per day, which is not enough to meet the essential requirements of seven family members.
"In view of my family's current financial situation I was apprehensive about the high cost we would have to pay for my delivery. With transportation and medicine bills included, I knew the childbirth would cost us a lot, which we could not afford."
Once Rubeena became aware about the quality of medical services provided at the maternal, neonatal child health center (MNCH) at very nominal rates, she planned to visit the center. Examined by an experienced,female medical officer, Rubeena was satisfied and began to visit the center for regular antenatal consultations. She gave birth to a healthy baby boy at the health center in mid-March, 2015. "Previously I was unaware of childbirth assistance available at such low costs. If I had been taking medical consultations at another health facility, we would have paid PKR.2000 or even more by now. I am glad that we managed the entire treatment at a very minimal cost of PKR.30."
While Rubeena enjoys her early motherhood days, she continues to visit the health center for postnatal care and also consults with the medical staff regarding her baby's health and vaccinations.
"I am thankful to Community World Service Asia, for establishing a MNCH in a remote area and for providing quality services at a very low cost. I hope this facility continues to provide support to us and to other communities."
Community World Service Asia with financial support from Church of Scotland is successfully implementing a project on Maternal, Neonatal and Child Health Centre (MNCH) in union council Bijora, district Thatta, Sindh. The aim is to improve maternal, newborn, and child health by providing curative and preventive basic health services, ante and postnatal care, family planning, and vaccination campaigns. The community also benefits from health education sessions on a variety of topics including HIV & AIDS, infant and child feeding, prevention of childhood diseases, and malnutrition. During the first quarter of the year, 1,569 community members received medical assistance at the health center. One hundred and fifty six participants including women, children and men participated in thirteen health sessions, and four health management committee meetings were organized till date.