Home
Newsroom
Stories
Kheeral Village's local hero helps rural communities remain safe from COVID-19
Kheeral Village's local hero helps rural communities remain safe from COVID-19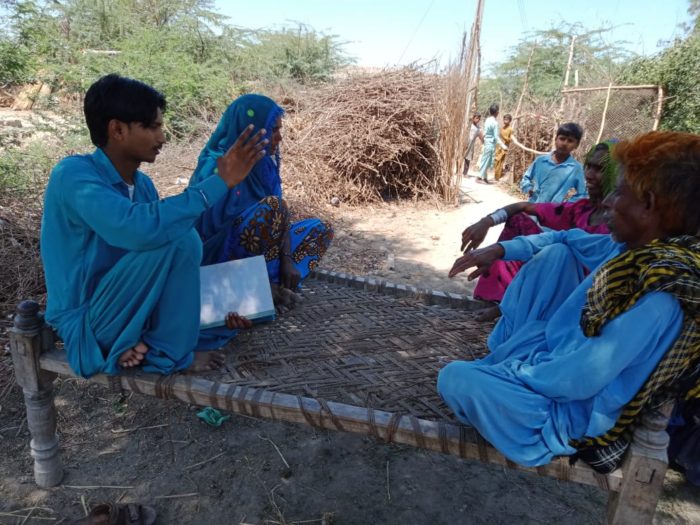 A local farmer from Sujawal[1], Phul Jhakro, has become a key member of the Health Management Committee[2] (HMC) in his union council. He is 50 years old and owns a small piece of land near his home in Phul Jhakro village located in Kheeral Union Council (UC). Phul Jhakro and his family's primary source of livelihood is farming.
While crop production in Sindh is highly dependent on the availability of water, the continuous onslaught of droughts in the region has left Kheeral with an extreme water shortage since 2018. Village residents of Kheeral have been finding it difficult to maintain food security and access health and medical treatment that are far away from their village due to their wavering livelihood conditions. Most health facilities are at a distance for which they need sufficient money to travel to each time. The closest health center to Kheeral is a Maternal, Neonatal and Child Healthcare (MNCH) centre in the village of Ranta. Kheeral is five kilometers away and people approach by foot as Ranta is at center point of the UC. In addition, people also use motorbike or local transport to commute to the health facility.
The MNCH has been established by Community World Service Asia (CWSA) and its partner, Church of Scotland (CoS), in Ranta village to provide basic and accessible healthcare to rural communities in the area in 2015. However, the health centre has also been non-operative since the COVID-19 led lockdown.
"The lockdown in March has forced schools, shops and many small businesses to shut down. Children have remained in their homes without access to education for over four months. No classes have been carried out because the schools nor the students are equipped with remote teaching and learning facilities. As a result, education in our part of the province has suffered severely. Additionally, without access to health-care, it has been difficult to deal with the suspected or rumoured cases of COVID-19. To overcome the challenges, it was vital to raise awareness about the coronavirus as a key step to encourage people towards adopting precautionary measures and prevent the spread of the deadly virus," shared Phul.
CWSA's health team initiated awareness sessions on prevention and safety from Coronaviruses 19 for the communities that they work with under their Health and Livelihood programs. The sessions have been planned and conducted in coordination with local government health departments and the community Health Management and Village Health committees. As a member of the HMC, Phul was trained in April to organise and conduct awareness-raising sessions in his village and other surrounding villages. He was trained remotely through mobile phone videos and audio sessions through which his knowledge and understanding of the COVID-19 was enhanced and he was told about the preventive and hygiene practices that must be adopted to stay safe from the virus. Phul Jhakro, among other HMC members, was oriented on COVID-19 effective hand washing, the use of hand sanitizers, use of safety gear and the maintenance of social distancing.
After taking the virtual trainings, Phul started conducting his own health awareness sessions for his community members. He started with his own village on May 11th. As a person who was liked and respected by many in his village, Phul had a significant influence on his fellow community members and was able to sensitise them well on the threats and risks of being infected by the coronavirus. He encouraged people to maintain physical distancing and wear protective gear such as masks and gloves when going outside.
"The Taluka Hospital is fitted with 37 beds and one isolation room. With minimal healthcare facilities, we need to make sure that the epidemic does not spread here. Twenty-eight people have so far tested positive with COVID-19 in the district. We need to keep sensitizing people to reduce the rapid spread of this virus," added Phul.
Phul continues to share news, updates, and awareness messages through his mobile telephone and whatsapp messaging with the people who have mobiles in his community. People like Phul Jhakro are looked up as role models for others in the local community.
"If the communities are willing, we can bring about development and positive trends in our locality. Being united in following safe behavior patterns will help us defeat this virus."
"So far no case of corona virus has emerged in my union council. It is my moral responsibility to educate people about the alarming threat," shared Phul confidently.
---
[1] A district in southern Sindh, Pakistan
[2] Health Management committee is the body of 20 male and female members from different village of targeted Union council in order to monitor daily proceeding of MNCH Ranta and support staff members in building health awareness.