Khan struggles to feed his family as the COVID-19 spreads fast in Afghanistan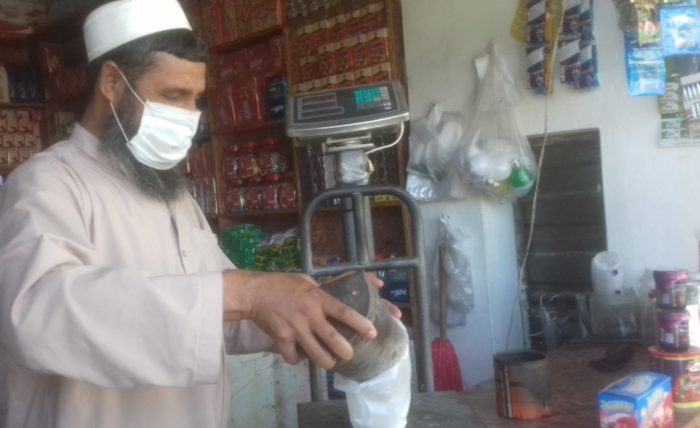 Despite the country's rattled infrastructure and its ongoing conflict, Afghanistan has been trying to deal with the world-shattering COVID-19 crisis but are struggling to say the least. The total number of confirmed COVID-19 infected patients has risen to 22,890, of which 426 deaths have been reported due to the disease[1]. There are currently only eleven testing labs available to diagnose suspected patients for the entire country.  Meanwhile, large numbers of travelers have been reported returning from Iran to Afghanistan through Herat province which is experiencing sustained community spread of COVID-19.
COVID-19 poses grave dangers to the health of Afghans. Community transmission is expected to escalate due to the infeasibility of social distancing measures, particularly in overcrowded homes, IDP settlements, detention centres and prisons. Though many villages across the country are remote and isolated, if the virus reaches them, very few healthcare options are available.
Lockdown measures to control the spread of COVID-19 are exacerbating economic vulnerability of already impoverished households, particularly in families where daily labour is the only source of income[2].
"People particularly in rural areas with lack of facilities live under stress. People's lifestyle here is rooted in a mix of political conflicts, lack of awareness, incredibly bad social habits, and a war-torn health care system that has contributed to our inability to control everyday life," says Khan Mohammad.
Khan Mohammad is a local shopkeeper residing in Qalai Akond village of Kama district of Nangarhar province. With five children to feed and his supply stock depleting, Khan is concerned about meeting his household expenses if his small business completely closes down.
"Many locals have lost their businesses as a result of the pandemic. Villagers are facing hunger issues due to the lack of resources in the area. Just about 50 people out of a total of 3890 households were provided with assistance by the government while the remaining people are waiting for some kind of support. This year the existing income streams will decline, further constraining our everyday lives. I have been unable to purchase vegetables for my family to cook. We are surviving on tea and bread since end of April. I am afraid of losing my shop as supplies decline and because of financial restrictions, I cannot restock my shop with more goods."
Kha Mohammad's earning decreased by 85% as the business slowed down during the lockdown. He had groceries supplies worth AFN 93,000 before the lockdown (Approx. USD 1200). However, now he barely has supplies worth AFN 24,500 (Approx. USD 315). Afraid of keeping his children hungry, Khan Mohammad made the difficult decision of selling his only cattle, a cow, just about two weeks ago.
Khan believes there needs to be more focus on provision of humanitarian aid to COVID-19 affected families such as his own. He feels that the aid community, the government, public and private sectors need to work together effectively to respond to this different kind of a crisis.
"This COVID-19 is a unique and snowballing strike to Afghanistan's weak, conflict-affected economy, affecting the vulnerable and needy populations the most. We are not afraid to get infected with the virus. Instead, the bigger challenge for us is getting our families the money they need for food supplies."
Three of Khan's school-going children are now home-bound due to the lock down and imposed safety measures that have kept schools closed.
"The pandemic has not only affected our livelihoods, but is having a negative impact on other aspects of our life, including health, education and the overall economy of the country. The government needs to start preparing how it will tackle the forthcoming economic crisis."
---
[1] Ministry of Public Health – 6/11/2020
[2] Relief web – Situation update Afghanistan